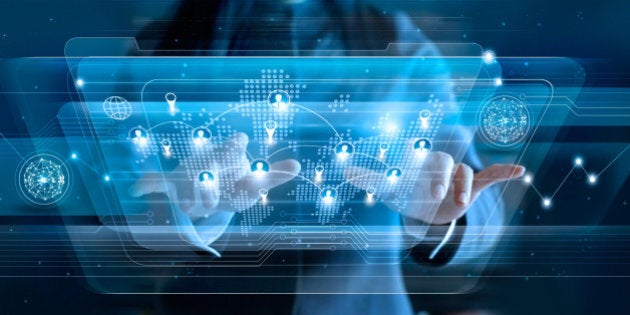 According to John Chambers, former CEO of Cisco, "in 10 to 15 years, more than 500 billion devices worldwide will be connected to the Internet. This will irrevocably change how we live our daily lives, conduct business, deploy heath care and invest [among other things]." The Internet of Things (IoT) is the concept of connecting any device with the Internet, and it's clear that IoT will have a profound impact on our daily lives at a much faster rate than previously anticipated. IoT is but one example of a transformative technology; and while the impact of technologies like IoT isn't new, we are seeing an acceleration in new innovations and developments across many fields, with breakthroughs in one area serving to propel another forward.
New innovations are being announced daily in robotics, artificial intelligence, connectivity, neuroscience, digital biology, and bioengineering. The fourth industrial revolution is now upon us, a fusion of technologies that is blurring the lines between physical, digital and biological systems, and promises to fundamentally alter the way we live, work, and relate to one another as humans.
While we've witnessed the rise of the Internet, smart phones, and a variety of consumer services like content streaming and online banking, most companies haven't yet embraced methodologies like lean startup, design thinking, agile engineering, or technologies like cloud architectures, IoT or machine learning. There's a huge missed opportunity for companies to ship digital products and services to their customers, many of which have rising expectations and increasing places to take their business.
The pace that most companies seem to approach digital transformation - both for the inherent benefits and toward the new breed of digitally native competitors (companies born in the digital age, with a focus on digital technologies) chomping at their heels - is slow to stagnant. A recent study by Microsoft found that 69 per cent of large companies claim to have a digital transformation strategy and have started this journey, yet progress is slow overall with over half citing digital skill set shortages.
Digitally native companies are outperforming traditional companies that slowly crawl into the digital playground. These digitally native companies have already dramatically improved customer experiences, streamlined operational processes, and disrupted business models. Companies like Amazon, Spotify, eBay, and Netflix -- whether digitally native or fast followers -- have all completely disrupted their respective industries, displaced incumbents, and have created massive followings.
If we look at technologies like Blockchain, a digital ledger of economic transactions, we can see further evidence of the digital transformation that's overtaking traditional industries. Dan Tapscott, CEO of The Tapscott Group, suggests that Blockchain will pair with IoT as the 'Registry of Things', enabling new services, trust-less transactions, and unparalleled transparency, serving as a platform to rewrite the Internet. Blockchain and Bitcoin technologies have already fostered new developments in the world of cryptocurrencies and smart contracts with companies like Coinbase and Ethereum just getting started with their digital disruption.
According to a study released by Bain & Company, the 15 per cent of companies that are farthest along on the digital maturity curve are eight times more likely to have gained market share than the 15 per cent of companies that are least mature -- and this is independent of industry and geography. So, while most companies are slow to get started, those that push ahead or lead will rapidly begin to see gains. Unlike digitally native companies, few traditional enterprises are on the bleeding edge of digital. Now is the time to make digital transformation a top priority.
In a study conducted by Microsoft and Harvard Business Review, four out of five business leaders are optimistic and think their industry will be positively disrupted by digital transformation within the next three years. However, less than half of those leaders have a digital strategy set up to take advantage of the digital transformation movement -- a troubling outlook.
If the promised benefits aren't enough, a range of estimates on the fate of today's companies should serve as a dire warning. Chambers believes that 40 per cent of companies currently operating around the world will not exist in a meaningful way within the next two decades. With incredible innovations and new technologies at our finger tips, it's important for businesses to heed the call of digital transformation and begin the process today. According to Microsoft and Harvard Business Review "companies that form their strategies now, shift resources to new digital initiatives, and redesign their organization and culture will have a distinct advantage."
Follow HuffPost Canada Blogs on Facebook