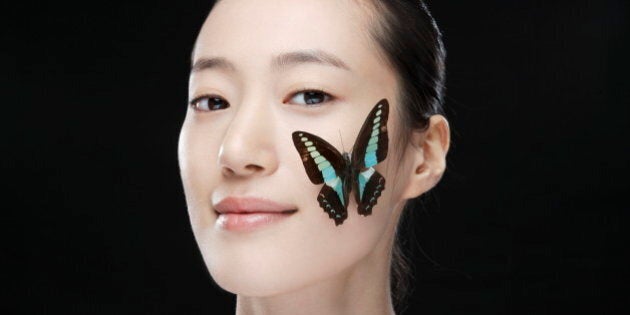 Introducing the butterfly facial, a skincare treatment that promises to "cocoon your face for silky, beautiful skin."
This week-long treatment (yes, one whole week!) isn't for the faint of heart, however. Should you undergo this facial, you'll need to last seven days with several chrysalis (the third stage of a butterfly caterpillar) on your face. A liquid diet is mandatory, and going to the washroom can prove to be quite challenging (for the record, a special helmet is placed on the person's head, to avoid the chrysalis from escaping).
Throughout the week, a special lamp is used to help speed up the butterfly cycle. The chrysalis, or pupa, then undergoes "metamorphosis" to transform into a butterfly, and hence, transform your skin.
Once the caterpillar has finished all of its forming and changing inside the pupa, the adult butterfly emerges. They are left to rest on your skin for roughly 10 minutes, before they fly away, leaving a beautiful, rejuvenated complexion.
The treatment is available in a small spa called Mayanbar located in Bancroft, Ontario, and so far it has been receiving rave reviews.
Celebs are flocking to the small town after their visits to Toronto to experience this bizarre, but surprisingly effective treatment.
But having caterpillars all over our face for a whole week?! We're not too sure we could deal with that.
What do you think? Would you try the butterfly facial? Let us know in the comments below!
Oh and, by the way...April Fool's! Did we trick you?