The incident occurred in December 2015, but UK mom Ella Clarke only recently opened up about her experience.
During her pregnancy, Clarke was diagnosed with placenta previa, which occurs when the placenta partially or entirely covers the mom's cervix. This condition is known to cause complications during childbirth, so Clarke was scheduled for a C-section to deliver her eighth baby.
Previously, the 31-year-old mom had had one vaginal birth and six C-sections, so she was not concerned about the procedure. "It was the first time I'd suffered from placenta previa but I wasn't nervous about being cut open again to have a baby, as I was a pro by now," she told the Daily Mail.
Clarke's daughter, Winter Rose, was born safe and healthy at Torbay Hospital, but unfortunately, during surgery, the mom suffered a serious complication called placenta accreta.
This complication is common among women who have had previous caesareans and became a hot topic last year after Kim Kardashian revealed that she had suffered the same condition while pregnant with her first child North West.
Placenta accreta occurs when the placenta embeds too deeply into the uterine wall. When this happens, the placenta does not detach after childbirth, which can lead to severe blood loss.
While on the operating table, Clarke lost six litres of blood. She then received five blood transfusions and medical staff performed an emergency hysterectomy to save her life. The new mom was then placed in an induced coma.
"I'm a shadow of my former self and my kids are scared to cuddle me because my stumps frighten them."
Blood clots are common following surgery, which is why the medical staff was supposed to check on Clarke every hour. However, this did not happen and the mom was allegedly left unattended for six hours, the Torquay Herald Express reports. A clot formed in her legs.
By the time the clot was discovered, nothing could be done to restore circulation and the mom's legs had to be amputated below the knee. Clarke woke up from her coma five days later.
"I remember the moment. I thought I was waking up from my C-section," Clarke said. "I expected my beautiful little baby girl to be passed to me. I had no idea I'd been in a coma."
"The reality started to hit home when Winter Rose was placed in my arms and my restricted future flashed before me," the mom continued. "I'm a shadow of my former self and my kids are scared to cuddle me because my stumps frighten them."
Clarke received counselling and prosthetic legs before she left the hospital. However, she is now bound to a wheelchair and is still grappling with this traumatic experience.
Clarke's partner, Ian Ross, said he was also devastated by what had happened. "When doctors told me what they had to do, my heart sank," he said. "But I was just happy she survived. I'm now more hands-on around the house. I'll do whatever it takes to get back to our happy place."
"This has impacted us far worse than you can ever imagine."
Clarke and Ross have since received an apology from Torbay Hospital.
"I have eight children to look after, what life can I have now?" Clarke said. "This has impacted us far worse than you can ever imagine."
The UK couple has eight children in total: Abbie, 13, Holly, 8, Heidi, 7, Blossom, 5, Oakley, 4, Izzy, 3, Freddie, 2, and newborn Winter.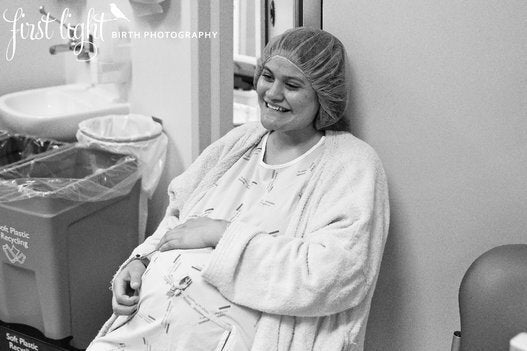 C-Section Birth Photo Series