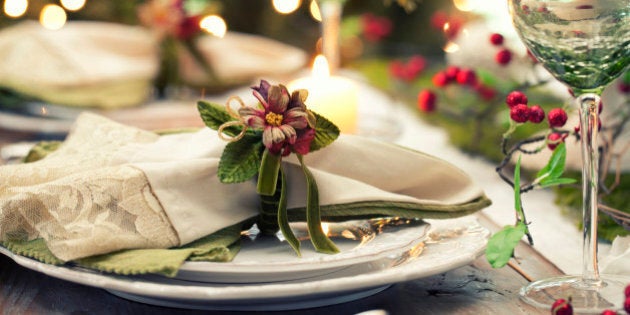 Spending and splurging appear to be the norm during the holiday season. Are you one to throw caution to the wind and go all out? Or are you fantastically frugal?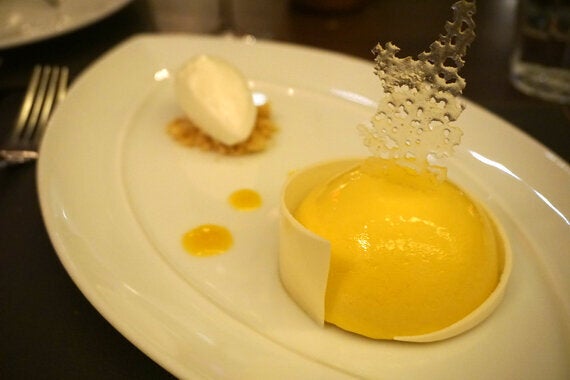 *Mango Dome: Tropical paradise offered for Dessert*
Admittedly, the special menus are on the costly side (starting at $85 for a three-course meal) but to me, it's well worth the price of admission. From the quality ingredients sourced to the steadfast service during the hustle-bustle of the holidays -- there's little in the way of negativity to critique. And isn't that the reason we go out for a meal in the first place? We dress up festively, devour recklessly, sip with abandon and leave without being required to clean anything up. And if we follow it up with some Netflix and chill? Well, that's just called my version of utopia.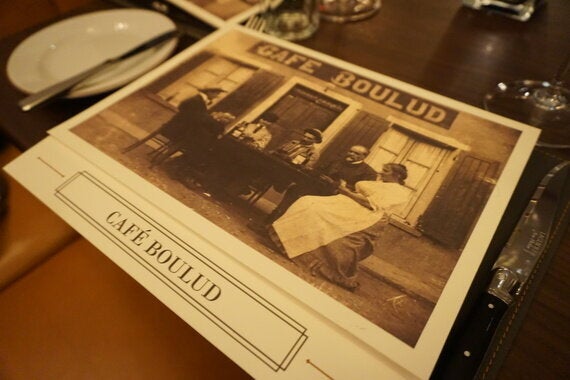 But first, you'll want to at least linger for awhile in the newly redesigned space of Café Boulud, envisioned by the talented by Martin Brudnizki. In addition to a menu revamp, the much-needed interior design transformation has given the space a welcoming glow -- akin to a French brasserie with flourishes of modernity.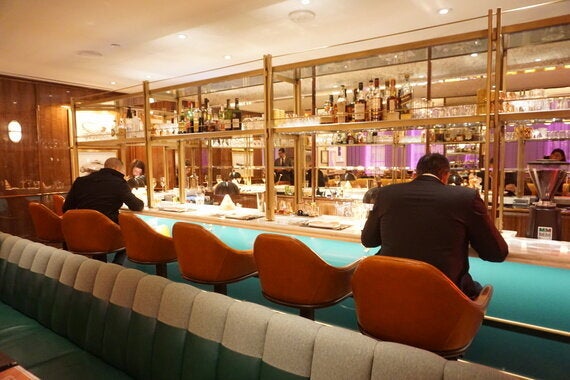 It is in this space you'll be able to enjoy brunch, lunch, or dinner. In fact, I was able to preview their Christmas Eve dinner. While you may glaze over at the idea of having hum-drum turkey or think it's their version of Thanksgiving 2.0., you'd be wrong. Next to it being cradled and massaged by the Boulud kitchen brigade, the bird receives just as much care as it cooks slowly in a rotisserie -- luxuriating and basting itself in its juices and fat. And this being French food -- it wouldn't be complete without copious amount of butter slathered over the meat to ensure it stays succulent and tender.
The accompaniments were so plentiful, that they arrived separately. The cranberry relish was vibrantly tangy, but to me, wasn't required because the meat was already so flavourful. And rather than a traditional gravy, we were given a reduction sauce fortified with bitter and earthy sage notes.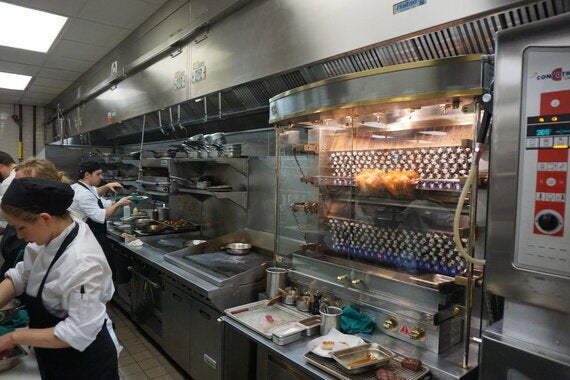 It's assertive stuff, so go easy on the turkey with it. The weakest of the trio was the stuffing. I was expecting a melange of textures: squishy, soft pieces to crunchy ones interspersed with veggies and meat. But instead, the brioche cubes tasted slightly dry and they weren't a cohesive mixture; all the chipolata nuggets settled to the bottom of the bowl.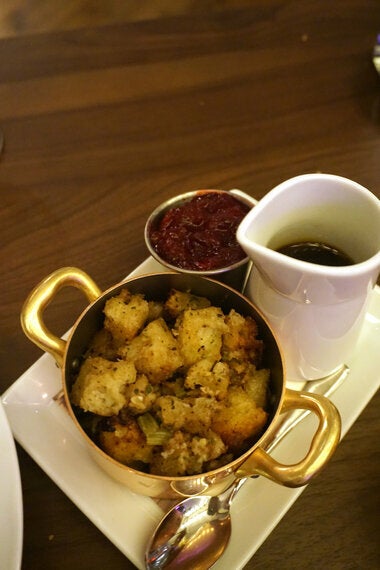 But if I still haven't enticed you, then how about a pearly white poisson instead? The black cod vichyssoise is another main alternative offered. The pan-seared fish tenderly bobs in a voluminous leek fondue, decked out with chanterelle mushrooms and potato veloute. The velvety liquid is enriched with France's BFFs: butter and cream. I think the only issue I had with the dish was that it was a tad saltier than I desired.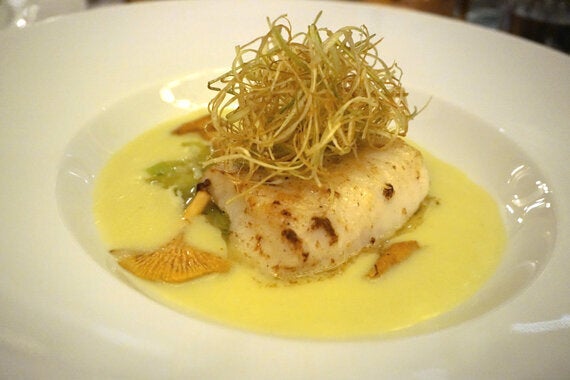 But at Café Boulud, it's not just about decadent fare, they're also about balance. For appetizers, they offer foie gras but its dense weightiness is balanced out with tart crabapple and aged cider vinegar. And if you're feeling inspired, try offering their scallop ceviche (recipe follows) as an appetizer at your next holiday party. This is the part where you can opt for frugality without anyone even suspecting it.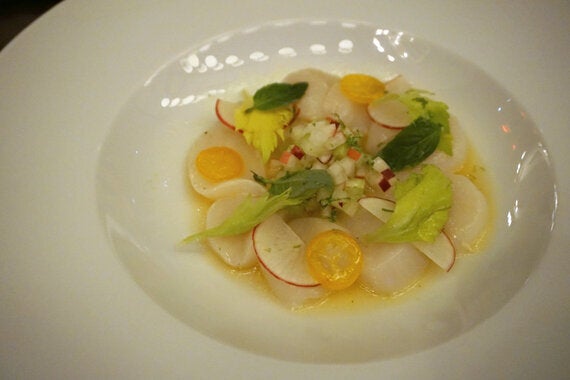 This dish is a breeze to make in advance and would be an ideal "welcome bite" on individual porcelain spoons and offered to guests as they arrive. They're a taste of Christmas by the sea, thanks to the dish's infusion of blood orange and kumquats.
Whether you opt for a celebratory gathering at Café Boulud or inspired to bring French flair into your holiday home, either choice will delight your taste buds.
1/2 cup (120ml) blood orange juice
1 tablespoon (15ml) lime juice
1 tablespoon (15ml) lemon juice
1 tablespoon (15ml) olive oil
1 splash of Tabasco sauce
1/4 cup (60ml) orange juice
2 tablespoons (30ml) lemon juice
2 tablespoons (30ml) lime juice
12 fresh bay scallops, mussel removed (Cafe Boulud uses scallops from P.E.I, but if you can't find those, use the freshest variety you can source)
1 blood orange, cut into supremes
2 red radishes, cut into brunoise
1 tablespoon brunoised celery
2 red radishes, thinly sliced
2 tablespoons kumquat confit
1/4 cup (6g) 12 small opal basil leaves
1/4 cup (6g) 12 yellow celery leaves
For the blood orange sauce
In a small bowl, whisk all the ingredients together; season with salt and pepper and reserve, chilled.
In a medium bowl, whisk the orange juice, lemon juice, lime juice, sugar and salt until the sugar are
dissolved; and reserve, chilled. Rinse scallops in cold water and pat dry.
Add the scallops to the juice 5 minutes before you are ready to serve.
Strain the juice from the scallops, then adjust the seasoning with the olive oil, salt and pepper.
For each serving, arrange three scallops and two blood orange supremes into a circle in a chilled bowl. Add a sprinkling of brunoised radish and celery, lime zest, a few radish slices, and a few slices of kumquat confit. Garnish the top with three leaves each of opal basil, celery and dill. Pour in blood orange sauce to reach halfway up the scallops and drizzle a few drops of olive oil on top. Add salt and freshly ground white pepper to taste.
Disclaimer: the meal was complimentary.