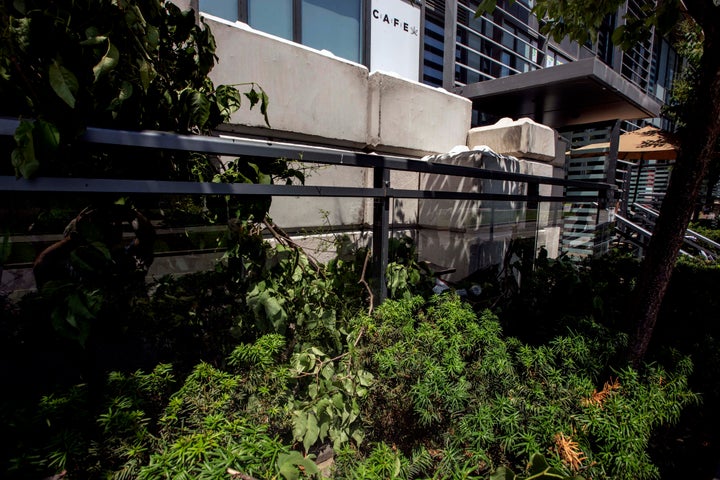 TORONTO — A Toronto illegal cannabis dispensary that's been the target of a police raid and multiple orders to shut down has just won the province's lottery to be considered for a retail licence.
Cannabis and Fine Edibles (CAFE) confirmed with HuffPost Canada that one of its locations, on Harbord Street, has been randomly selected by the province to apply to sell weed legally.
"CAFE has been successful in the lottery process for its application for a provincial recreational cannabis retail license in Ontario," said CAFE in an email.
On the Alcohol and Gaming Commission of Ontario (AGCO) website, CAFE is listed under its corporation number, 11180673 Canada Inc.
The winning location just north of the city's downtown was raided by law enforcement in July; however, it appears to continue to operate. On Wednesday, a tent was set up outside the store — currently entombed in concrete blocks — where customers spoke to staff equipped with iPads.
Toronto police have on several occasions raided all four of CAFE's locations, and laid charges on customers and employees for illegally possessing cannabis, as well as seized iPads with customer names, financial information and orders, debit machines and walkie talkies, the service tweeted in July. The city has also ticketed landlords and operators.
Police referred HuffPost Canada to the City of Toronto for comment, which said it is "aware" the location was selected in the lottery, pointing out this is only the first step in the application process.
The AGCO runs the lottery and oversees the cannabis licensing process and said the 42 new stores will have to apply for a licence and be subject to a full review.
It will not issue a licence if there are "reasonable grounds" to believe that the applicant will not follow the law, or do business in the public interest, or has been convicted or charged under the Cannabis Control Act.
"The AGCO will only licence applicants and authorize stores that meet all legal and regulatory requirements," said spokesperson Raymond Kahnert.
There are currently 24 legal cannabis stores in Ontario — five are in Toronto. The second lottery will provide 42 additional retail licences across the province.
CORRECTION: The original story falsely stated lawyer Jack Lloyd had provided confirmation CAFE had won the cannabis lottery. The story has been updated to reflect that CAFE provided the statement.