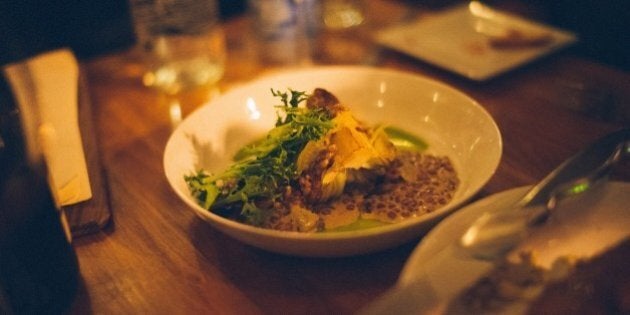 Calgary's restaurant scene has really begun to heat up over the past few years, and 2015 was no exception.
Here are our pick's for the year's five best new restaurants in the city.
What to try: Their tacos al carbon are wood-fired and served family-style. Best paired with "mezcalgaritas" for the whole table.
Native Tongues is part of the BMeX restaurant group, along with sister restaurants Una and Ox & Angela. With a pedigree like that, it's no suprise that the neighbourhood Mexican restaurant's cuisine is top notch. Come for the perfect masa tortillas, stay for the mezcal.
Where: 306 17th Ave. S.W.
What to try: Pigeonhole's cuisine is, well, hard to pigeonhole, so it's hard to pick just one thing. Instead, go for the Russian caviar service, which is served with traditional garnishes: crumpets, capers, egg mimosa, red onion, crème fraîche and lemon.
Where: 607 11th Ave. S.W.
What to try: The Black Apron Beef Rib ribeye is spiced with local, Fratello brothers coffee and comes with a side of cheese curd mashed potatoes.
Last Best is a brewpub that does its best to showcase local, Alberta ingredients — and the intent is evident in the name. The Last Best West was an initiative by Sir Wilfred Laurier's government to market the Prairies to homesteaders. The area was said to be both the last, and best chance for pioneers to settle and shape their future. Last Best does an amazing job of pairing elevated comfort food with local craft beer.
Where: 4 4604 37th St. S.W.
What to try: Try the Earl Grey ice cream. We'll leave the toppings up to you.
Nice Cream fuses sweets with science. It claims to be the only spot in Western Canada to offer liquid nitrogen ice cream. The ice cream blend, made with high-quality local ingredients, goes into a stand mixer along with some liquid nitrogen. Vapour billows out, et voilà — delicious instant ice cream!
Where: 130 12580 Symons Valley Road N.W.
What to try: Fried chicken and house-made Belgian waffles. Enough said.
The Bro'Kin Yolk is located up near Symons Valley Ranch, but trust us — it's worth the drive. Not only are you avoiding the downtown brunch crowds, but you'll be treated to some delicious, local eats.
Also, the food at Bro'Kin Yolk helps a good cause. The breakfast spot is partnered with Mealshare (each Mealshare dish ordered sends a meal to someone in need) and $1 from every water purchased goes towards KidSport Calgary.
Where: 106-1111 6th Ave. S.W.
What to try: The laksa is a rich, creamy coconut-based delight with enough turmeric and galangal to cure any cold.
While not new, Tamarind rebooted itself over the past year to become a completely vegetarian and vegan restaurant. It's never been better. The family-owned restaurant makes all of their broth and tofu in house, which lends itself to some of the best pho in the city.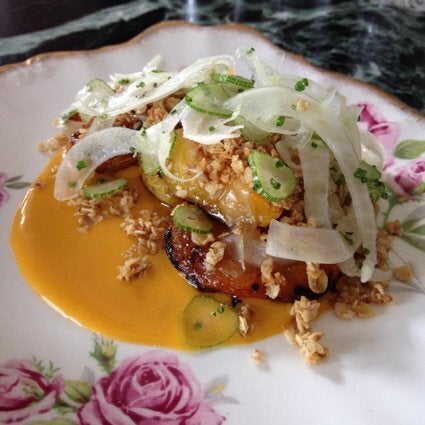 EnRoute's Best Canadian Restaurants 2015