 Calgary sprawl-haters beware: the city's suburbs are going to continue to get bigger and bigger.
The report predicts 50,600 additional housing units will be built over the next five years, with 77 per cent of them going up in new suburban developments.
"The city's long-term goal, as set out in the Municipal Development Plan, is to strike more of a balance between inner-city redevelopment and new suburban development," the city said in a written release.
Story continues below the slideshow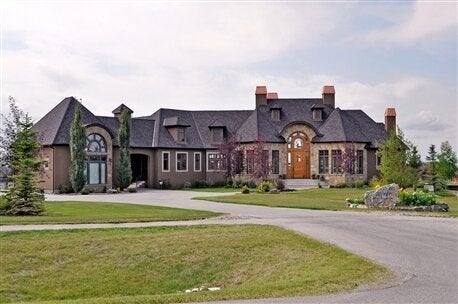 What $5 Million Will Buy In Alberta
The report, used to ensure and maintain enough serviced land to support a competitive housing market, states Calgary has approximately 10-12 years of planned land supply, which will accommodate 310,834 people in mixed single, semi and multi-residential housing.
The report says over the next 3-5 years the city has enough serviced land to accommodate 130,047 people, and will add more to that supply this year.
"The city is prosperous and growing and we will continue to grow and there will be lots of choices for people in more neighbourhoods."
The city is currently constructing a municipal growth framework which is expected to limit suburban development and manage debt by focusing on building other infrastructure including storm sewers, water pipes and roads.
The plan will limit the number of developments that begin at once, so council can better spread the money around.
Homebuilders are wary of the plan, however, arguing the land supply will diminish while demand grows, potentially leading to layoffs in the industry.
"There's less and less subdivisions for people to choose, and these builders won't have any inventory," said Jay Westman, of Jayman MasterBuilt , who told the Calgary Herald he thinks the city wants to "social engineer" more urban density.
"It will hopefully expedite some of the projects so we wouldn't have to wait for the city's 10-year capital list," spokesperson Mike Flynn told the Herald.