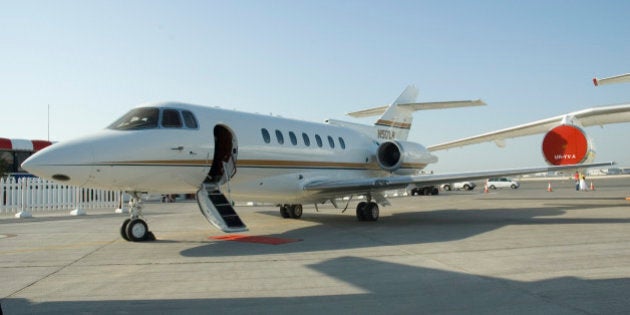 The luxury real estate firm has announced it will offer private jet and helicopter services to certain clientele as it expands its presence in Cowtown, said a Tuesday news release.
Jets operating through Albatross Aircraft Corporation and Million Air will fly clients into Calgary from almost anywhere in the world and the helicopters will take them to see ritzy properties while they're in the city, Postmedia News reported.
"When you're dealing with a lot of these entrepreneurs and business people, executives, time is money to them," Mark Evernden, Sotheby's senior vice-president of sales, told the news service.
"Just to give you an example, I have a $10-million property and a $38-million property out in the Priddis area. We're four and a half minutes from tarmac to property. That's how fast we can get them to a property."
The expansion comes as sales continue to grow in Calgary's housing market, according to the real estate board. Statistics released Monday showed the "highest May activity on record," with a 16 per cent increase over last year.
There were 94 homes that sold for more than $1 million last month, up from 83 in the previous year, while 359 sold in that price range in the first five months of 2014, compared to 318 in 2013, The Globe and Mail reported.
Sotheby's president and CEO Ross McCredie told the newspaper that many American and European buyers are looking into property in Calgary, while Chinese buyers are eyeing high-end condos as investments.
"Calgary's just been awesome for us," he said.
Popular in the Community