Calgary Mayor Naheed Nenshi says there's no nice way of putting it — Uber are a bunch of "dicks."
Nenshi made the comments in Boston as he used the U.S. ride-sharing service Lyft, which is similar to Uber.
The mayor was en route to the Massachusetts Institute of Technology, where he was set to deliver a speech about urban transportation earlier this week.
The driver, who also works for Uber, was already streaming the ride live via Periscope, but once he realizes Nenshi is the mayor of Calgary (which he thinks is in Toronto), he gets excited to chat.
"They are honestly the worst people in the world to me. I've never dealt with people like this before."
After a bit of small talk, Nenshi gets into a mini-rant about Uber.
"Uber — there's no polite way of saying this — have a brilliant business model, and are dicks," says the mayor, who has been pushing for Uber to adopt more regulations in Calgary.
"They are honestly the worst people in the world to me. I've never dealt with people like this before."
When the driver asks him to explain, Nenshi talks about meeting Uber CEO Travis Kalanick at a conference.
"I was like, 'Oh, it's because you're a dick' and this has percolated [through] the entire organization."
Nenshi then explains Calgary's push to regulate Uber, saying the city called for "pretty basic regulations," like insurance and valid driver's licenses, and a fee to the city.
"You actually have to pay a fee, so that we can enforce you, because regular cabs don't get subsidized, they have to pay a fee," Nenshi says.
He then says the city sent people to sign up as Uber drivers to see if they could get through the company's background check.
"How we found registered sex offenders, I don't want to know. And people with convictions for violent crimes? I don't know why we know those people," he says.
"Nobody will tell me and I don't want to know but they all made it through Uber's theoretical background screening."
Nenshi said he didn't know if the city actually sent civil servants or anyone else to test Uber's screening process.
"The answer is I don't know. I don't want to know. But I would be very surprised if the city did. In fact, I can't imagine a world in which the city did."
The mayor also apologized for using the term "dicks," and said he would've chosen his words a bit more carefully if he knew they'd be broadcast.
But he added that he didn't think he said anything he hasn't said publicly.
"Dick is probably the rudest word I will ever say but I've said this before, they are jerks and reams of ink have been written on their government relations philosophy which is in fact that they're kinda of jerks," he said.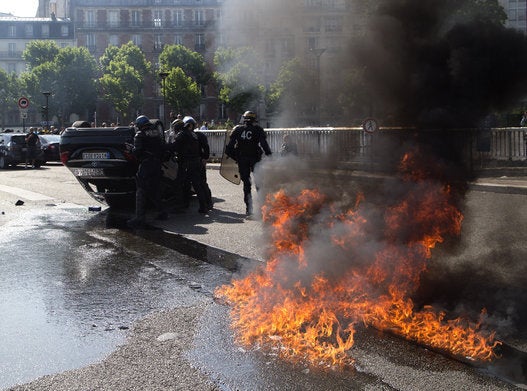 Paris Uber Strike, 2015