A day after a mass shooting at a mosque in Quebec City, Calgary Mayor Naheed Nenshi — the first Muslim mayor to be elected in Canada — shared his condolences as well as a prayer for the victims.
"It's really easy today to feel that the world is dark. It's easy to feel like the world is broken and we're helpless to fix it. But we're not helpless. Every single one of us has the chance to heal the world. It starts in our own communities, it starts in our own hearts and in our own hands."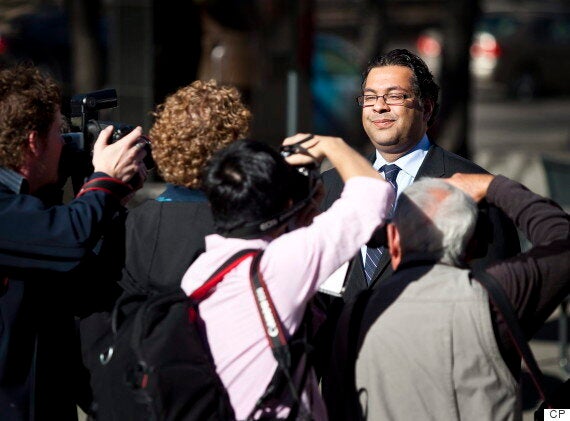 Nenshi told the crowd it's up to Canadians to stand up to Islamophobia and xenophobia.
Six people died in an attack at the Islamic Cultural Centre in the city's Sainte-Foy neighbourhood on Sunday night. Another 19 were injured.
As news of the attack spread Sunday night, Nenshi tweeted: "When Muslims hear of a death, we say Inna lillahi wa inna ilayhi raji'un — We belong to God, and to him we return — I say for Quebec tonight."
In a sign of solidarity, the City of Calgary turned off the lights on the Calgary Tower Monday night, while other public spaces downtown were lit up in blue, white and gold.
Alberta Premier Rachel Notely also shared her condolences on Twitter Sunday night.
Read the full text of Nenshi's speech, off which his video comments were based:
Like all Calgarians and Canadians, my heart breaks as we learned about the shooting in Quebec City.

J'aime notre ville jumelée, Québec, depuis que j'ai passé un été à Laval. Je pense aux victimes, leurs familles et à tous les Québécois.

This terrible act is a reminder that we are not immune to hatred in this country. But we will always stand up to it together.

We stand with Canadians from coast to coast to coast, with our political leaders of all stripes, and with people of all faiths and backgrounds.

We will not accept hatred and fear. We will not accept xenophobia. We will not tolerate those who spread it and those who commit atrocities out of cowardice and hatred. We will not let it break our collective spirit of openness and optimism and love for humanity.

When Muslims hear of a death, we say the words "We belong to God, and to him we return." I say that for Quebec today.

I say this not because the victims of this terrible act of terror were Muslim, but because they are our fellow citizens and because I am a person of faith. And true faith binds all people, no matter their spiritual perspective.

My heart doesn't break because I am Muslim. My heart breaks because I am human.

Today, it is easy to feel the darkness of the world.

I know that it can feel like the world is broken and that we are helpless to fix it. But we are not helpless.

Every single one of us can heal the world. It starts in our own communities and with our own hearts and hands. Every single one of us has the power to create the light we so desperately need in times like these.

And so it is our responsibility today to take action. Actions that not only heal our community, but make it stronger. Actions that, at their core, bring us together.

Meet and know all your neighbours, host a community pot luck, donate to organizations that support refugees and immigrants and our communities, volunteer for events to celebrate who we are as a diverse and multicultural and pluralistic nation.

And, this one is important: denounce hatred and intolerance wherever you find it.

While Canada is a place of sanctuary, safety, welcome and opportunity, we must keep fighting to keep it as such.

When hearts and minds and borders close to humanity, we must take action to ensure ours are open. I applaud our prime minister, our premiers, and my fellow mayors for their words and actions these past few days, but we must also do all we can as citizens.

The world can be dark—and we will grieve—but we will also act to make sure our Canada is a light for ourselves and the world.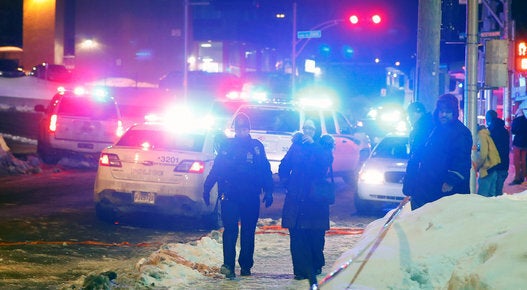 Terrorist Attack Shooting At Quebec City Mosque