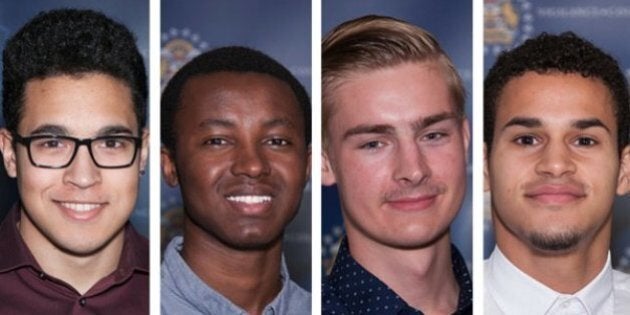 Four young Calgarians were recognized for their bravery Thursday for stopping a sexual assault against a teen girl.
They were honoured with an Award of Exceptional Recognition at the Calgary Police Service Chief's Awards Gala.
On April 2, 2015, at 11:15 p.m., Arnaud Nimenya, Carsyn Wright, James Hielema and Starlyn Rives-Perez were skateboarding in the underground parking lot at Chinook Mall when they spotted a man carrying a young woman who appeared seriously drunk and distraught, according to a release.
The four stopped the man and questioned him, but he eased their fears by showing them he was trying to phone the girl's dad.
He left, carrying the girl into a stairwell, but something didn't sit right with the skateboarders.
She needed help and we needed to be there for her.
They returned to the stairwell to check on the girl, where they found the man sexually assaulting her.
The skateboarders immediately jumped into action, stopping the attack. Nimenya, Hielema, and Rives-Perez gave chase while Wright stayed behind to help the girl.
"You can't just leave a girl and like she was young, 15 years old. She needed help and we needed to be there for her," Wright told Global News.
The group ended up getting into what police described as a physical confrontation with the man to prevent him from escaping. Police arrived, and he was arrested and charged with sexual assault.
Nimenya says he was initially surprised to hear he and his friends were being honoured.
Twenty-five Calgarians were honoured with awards at the ceremony, which took place at the Calgary Stampede's BMO Centre.
Other recipients included John Eddy, who saved a fellow motorist's life after recognizing he was having a heart attack and breaking his car window to perform CPR, and Juan Doph and Jasmine Simpson, who saved a woman and her children from a domestic assault by her ex-husband in a parking lot.
"Calgary is a safe place to live but it doesn't happen by itself, it's safe because of the people that live here and the nature of wanting to help and wanting to look out for each other and that's really a nice comment for such a big city," Calgary Police Chief Roger Chaffin said in an interview with 660 News.