For Korey Peters, deconverting from Christianity to atheism opened a new set of doors - the doors to Calgary's first atheist church.
The unusual idea that grew into Calgary's atheist congregation came to the former Christian when he realized he longed for the sense of community and guidance that comes from being part of a church. But what he didn't miss was all the "the horror, ignorance and superstition," wrote Peters in a guest blog for thinkbig.com.
In 2006, Peters was in the process of leaving behind his fundamentalist Christian beliefs when he moved to the U.K. with his wife. He made good on an off-the-cuff promise he had previously vowed to her -- if they moved overseas he would join her in singing in a church choir.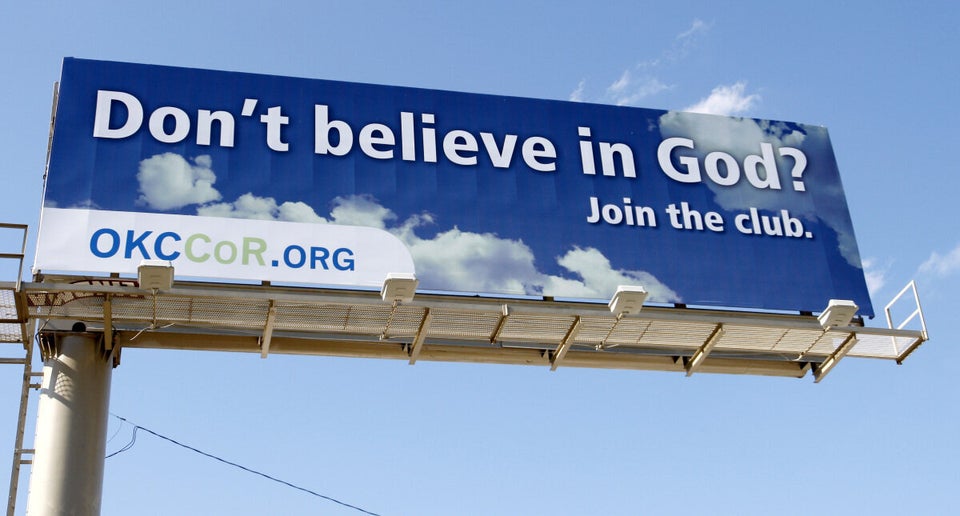 Atheist Billboards
His idea stewed for several years, but in the spring of 2012 a conversation with a co-worker put the wheels in motion.
Peters' colleague's wife was pregnant and wanted to start attending church once the baby was born to ensure the child grew up learning the difference between right and wrong.
Emails to a fellow atheist followed and the following week Peters met with a friend to found The Calgary Secular Church.
Their first meeting was in a pastry shop.
The Calgary Secular Church has a moral and ethical framework that is open to challenge. Their fundamental framework is taken from Universal Utilitarianism.
Their constitution is based on four articles: 1. Minimize real and potential suffering and maximize real and potential happiness, 2. Sustainability, 3. Build a durable local culture and 4. Build a durable global culture.