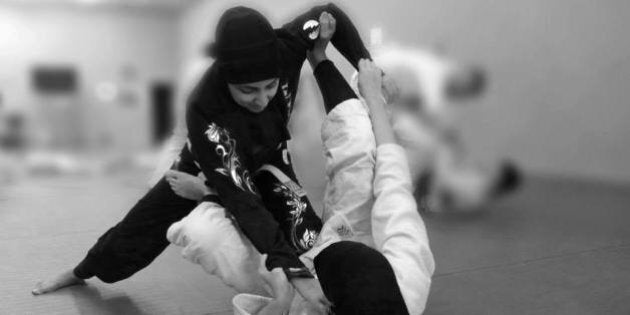 In response to recent acts of violence and Islamophobia across Canada, a Calgarian is offering a self-defence workshop to teach her fellow Muslim women how to protect themselves.
One of the event's organizers wrote on Facebook that the class is "in light of recent attacks on Muslim Women in Toronto and abroad" and will be taught by Zenab Awan, a Brazilian jiu jitsu instructor.
While the Dec. 6 class is focused on Muslim women, she's urging women of all faiths to sign up. "We're all women, we all empower each other."
"We're all women, we all empower each other."
Men are not welcome, so the female attendees have the privacy to remove their hijabs. If women would rather keep their head covering on, they can look to Awan for inspiration — she designed and sewed her own sport hijab for practices and competitions.
"I actually find it a lot easier to roll in a hijab than without one," Awan told the Muslim Female Fighters Tumblr page. "When I roll at home I usually am not in a hijab and I constantly have to stop in the middle of a session to fix my hair. It is very inconvenient."
Women who attend Awan's class will learn both verbal and physical techniques for self defence.
Outburst, a Toronto non-profit group, is holding a series of similar workshops in late November. "Some of us want to strengthen our options to stay safer, this is one way to do it," the organizers wrote in a Facebook post.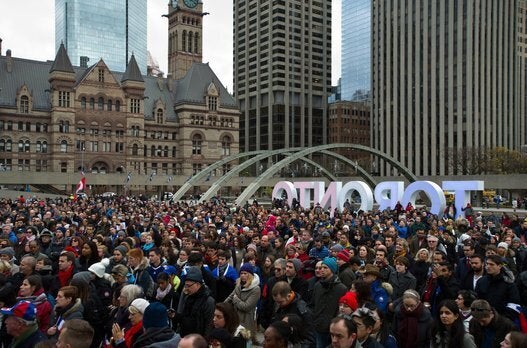 Vigils Across Canada In Light Of Paris Attacks
Popular in the Community