When nine-year-old Sofia Smith decided to shave off her never-before-cut blond locks at a Calgary event last month, she hoped to raise $250 for charity.
Her father Dallas told his daughter she should stretch her goal to $500.
Tearfully, she climbed up on stage at Elboya School on April 21, while a hairdresser buzzed away the hair she'd been growing out her entire life.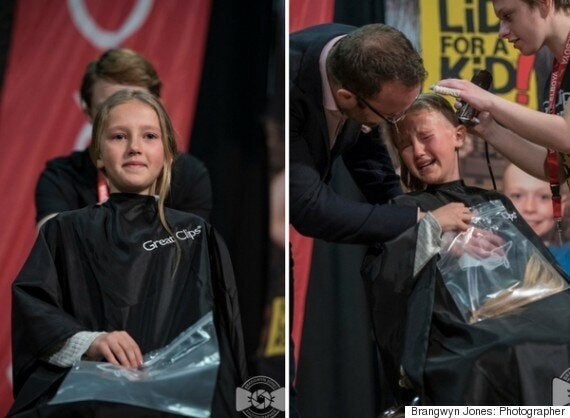 Sofia breaks down while having her head shaved during a Kids Cancer Care Shave Your Lid for a Kid event on April 21, 2017. (Photo: Brangwyn Jones)
On Thursday, almost a month post-shave, her fundraising total climbed just above the $25,000 mark.
She decided to depart with her hair in support of her older brother, Rand, who was diagnosed with lymphoma earlier this year.
"I want him to know I love him very much and I believe in him as he goes through this," she wrote on her donations page on the Kids Cancer Care website.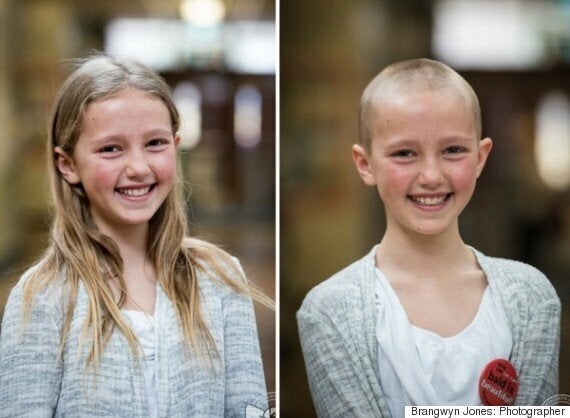 Sofia Smith poses for some before and after photos. (Photo: Brangwyn Jones)
She also dedicated the shave to her mother, Tatiana, who died of cancer when Sofia was four.
It's no surprise to Gail Corbett, manager of communications with Kids Cancer Care, that people have been touched by Sofia and her family.
"That a young girl, so young really, would have that in her, to be able to do that — it's very inspiring."
Seventy other students also had their heads shaved that day, but Corbett called Sofia's shave "one of the most emotional" in the charity's history.
"I want him to know I love him very much and I believe in him as he goes through this"."
Corbett says website visits to Kids Cancer Care have gone up since word of her brave act circulated worldwide.
News agencies as far away as Australia, Europe and Syria have picked up the story.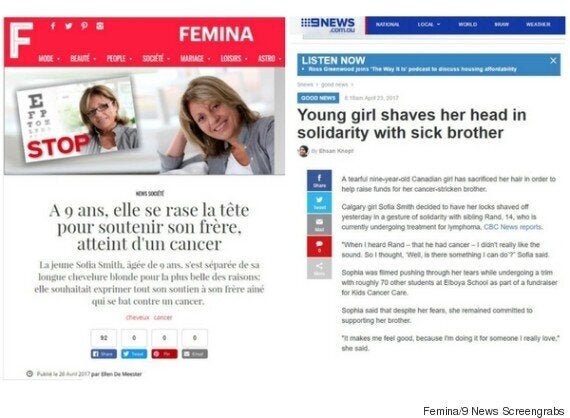 Sofia's bravery has touched hearts worldwide and news agencies in Switzerland (left) and Australia (right) have reported on her story.
"Sofia is so happy she was able to facilitate the fundraising. She is now excited to see all the hairstyles she can try as her hair grows out," her father told Global News.
Both Sofia and her brother will be heading off to Camp Kindle this summer, a camp designed for kids with cancer and their siblings.
Recent economic dips in Calgary have caused the Shave Your Lid for a Kid program to suffer, said Corbett.
"It's just now that we're starting to see a bit of a recovery."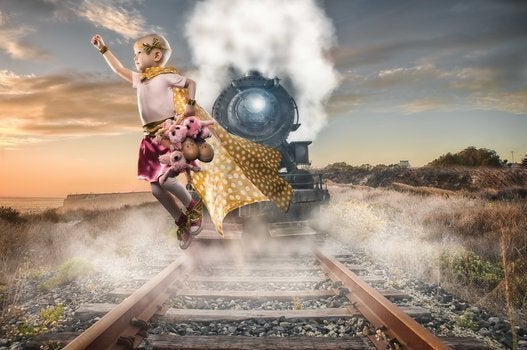 Kids With Cancer Follow Their Dreams In Whimsical Photo Series