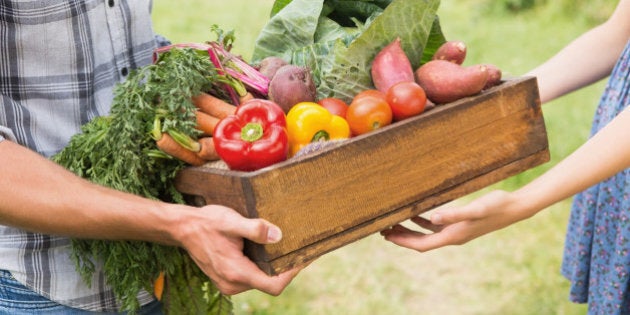 What does it mean to "connect with our food"? There's so much hype and hysteria over this phrase that it's difficult to cultivate an organic experience these days. Not so with the Stratford Chefs League. Their goal is to unite fellow chefs, local farmers, and consumers through a series of culinary events. Since its inception in early 2014, there have been two events entitled A Call To Farms. The event's aim is to strengthen the bond between chefs and farmers, while allowing consumers to interact with their food in ways they typically wouldn't have an opportunity to.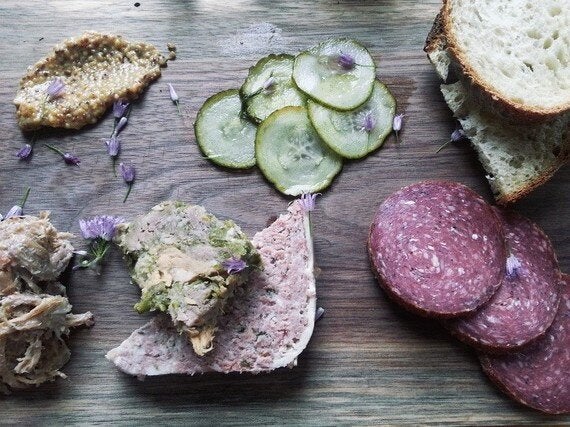 Most recently, we had the pleasure of venturing to McIntosh Farms in Atwood, Ont. Owners Erin and Shawn played host to a string of talented chefs including Ryan O'Donnell from Mercer Hall, Yva Santini from Pazzo Taverna, Sean Collins and Tim Larsen of the Red Rabbit, and Arron Carley and Gilad Rozenberg of the Bruce Hotel. Their gracious participation helps strengthen their own endeavours. In fact, 25 per cent of the proceeds raised from the event goes towards the family farm. It's another way to foster community relationships and educate those about the hard work and dedication involved in running such an operation. And indeed, they and their four children were a gregarious and charming bunch to host a gaggle of us folk on their property.
With a quick stroll through the farm on the property, it was apparent how content the animals were -- the sentiment exuded from the squealing piggies luxuriating in the muddy dunes, the plucky ducks hobbling about, and a whole host of others creatures that were able to roam freely as they pleased. For me, it was a rather bittersweet moment to be faced with these animals that were being specifically raised for consumption. So, for those of us who consume meat regularly, it boils down to appreciation and endeavouring to ensure that they had a good quality of life.
Preaching and weightiness aside, we made our way over to the vast, communal table in the middle of a dirt-entrenched pathway. It was a serene and natural place to have our multi-course meal. Before the festivities, we all had a chance to linger over cheeses from Monforte Dairy, sip on Southbrook wines, honey sausage links stuffed with cheddar, and speak to the chefs preparing our meal.
Each Call to Farms event revolves around a theme. This one was centred on fire -- chefs searched for natural ways to cook food via dugout pits or on fire lit logs stumps a.k.a. Swedish stump stove. The latter had me in a bit of a stupefied trance. It was so interesting to see the blazing inferno in the centre of each stump, and contained no less! Also admirable was to observe the adaptive abilities of each chef reacting to the searing flames and level of heat intensity; since there's no gauge, they relied on their sense of smell, sight, hearing and taste.
Smoke and ash would flutter up around the racks of meat and sauteing roughage. It was soon time to settle in for our feast.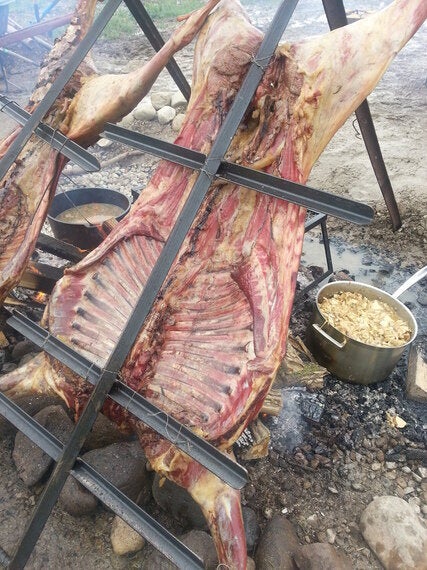 Refined rather than drastically altered, most dishes were graced with simple seasoning and herbs, because it was primarily about showcasing seasonal fare at its peak and allowing the natural flavours to flourish on their own.
Served family style, we began with torn pieces of Lebanese flatbread. They're rickety and squat but puffy with nicely charred sides. They were perfect for slathering on the homemade duck rillette found in our mason jars.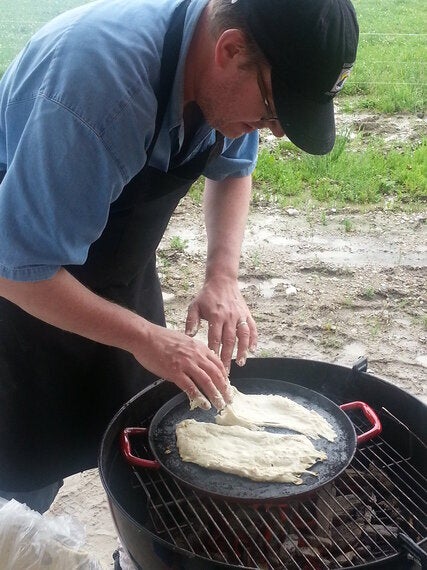 To follow, a pita pocket is stuffed withbarbecue chicken morsels (chicken provided by McIntosh Farm), rhubarb puree, sea buckthorn, chickpea greens and puffed rye. It's an interactive dish and I get a sweet-sour-smokey vibration on my tongue from the flavours and textures at play.
Then, the main spectacle is paraded down the pathway. Two whole lambs (again, generously provided by McIntosh Farms) are broken down and various cuts are mounded on top of each other on wood planks. The platters are massive and shimmering with lacquered, crispy skin; they're no doubt making many mouths water. The mighty meat is contrasted with a haystack of charred asparagus spears. The pleasantly gamey meat is devoured alongside amethyst potato wedges and a forest of plump, roasted mushrooms. The meat was delicately sweet and smokey. I soon abandon my utensils and regressed into a barbarous gnawing of the lamb ribs to get the meat suspended between the bones. Hot damn, it was good stuff. Coupled with the buttery hen of the woods -- it was no wonder the plates got demolished within moments.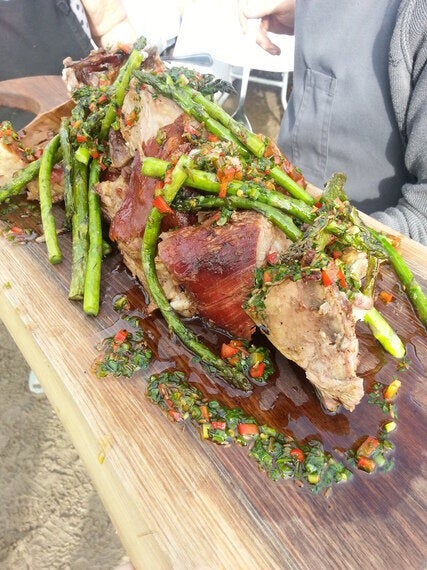 Our sweet ending came with Nicaraguan-sourced coffee from Revel Caffe. The earthiness from the beans tempered the sugar laced chimney cakes -- an enriched dough that yielded a sweet bready cylinder -- was stuffed with foraged strawberries, pickled rhubarb, and duck egg zabaglione. A honey and lavender ice cream accompanied the cake. The nuances in each component brought delight to my palate -- in particular -- the sour rhubarb which helped combat all the rich and sweet going on.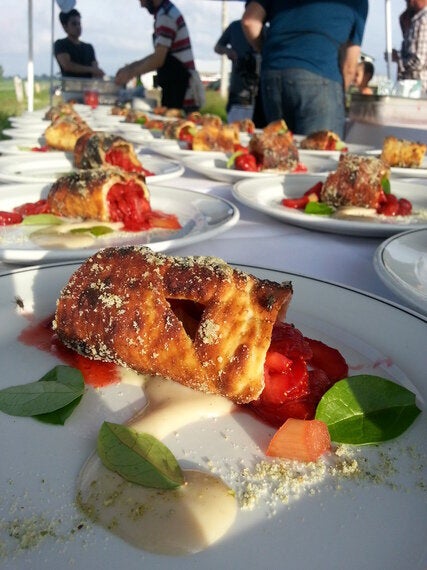 If you're in town for arts and cultural fare such as the Stratford Festival, do also consider unique events such as these. It's not only an opportunity to revel in a feast from local chefs in memorable settings, but also an intimate and educational experience. You learn about the chefs, their appreciation and respect for the local food artisans they work with, and understand--why, collectively-- we need to be more in touch with our food. Their relationship to the land and the animals they work with extends well beyond them--it affects us just as much--and I agree that we need to take more responsibility in being conscientious of our food systems.
All photos courtesy of Tiffany Leigh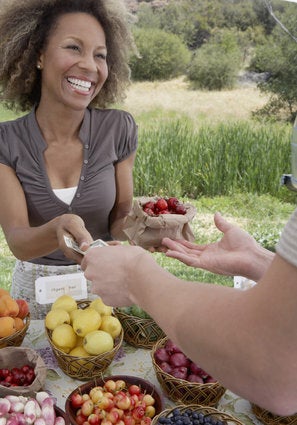 Easy Ways to Make Your Dollar Last Longer at the Farmers' Market