Calgary-raised runner Calum Neff has been racing competitively since 1988. Since 2012, he's taken his daughter with him. And now, he's broken a world record with her.
On Sunday, the athlete, who now lives in Texas, broke the world record for running the fastest marathon while pushing a stroller. Neff finished the Scotiabank Toronto Waterfront Marathon with a time of 2:31, crushing the current record by 11 minutes.
Right there with him was four-year-old daughter Alessandra, who has accompanied dad in a stroller, as he trains and sometimes competes, since she was a baby.
Neff placed 18th overall in a race that drew more that 4,500 athletes.
And he didn't just take his eldest daughter along for the event — Neff streamed the whole marathon on Facebook Live through parenting site "Fatherly."
Running has always been a family event for Neff. He told Canadian Running magazine that he started running with his own father when he was four, doing one-kilometre races.
"When she was a baby she used to fall asleep for a good half an hour," Neff told the magazine. "But now that she's four, she's asking a million questions a second."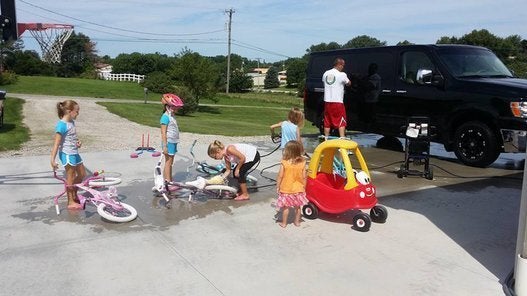 What Parenting As A Dad Looks Like In One Photo
Popular in the Community