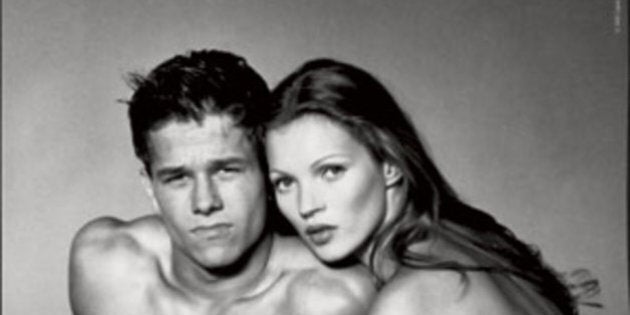 In case you haven't heard, Calvin Klein is the latest clothing company to come out with a campaign that has a lot of people extremely pissed off. The campaign is called, "Perfectly Fit" and it features model Myla Dalbesio modeling what Calvin Klein is calling their "plus sized" underwear. It should come as no surprise that 27-year-old Myla is not what most people would consider anything even close to plus sized.
I repeat that it SHOULD come as no surprise, however, by the reaction on Twitter as well as other social media sites, people do seem to be shocked and outraged. I suppose I understand the outrage in principal, but why are people still so shocked when a company that is known for promoting one kind of beauty continues to do just that? Frankly, if Calvin Klein wanted to do something seriously shocking, they would use a model who was older than 25 years old and wore a size bigger than a four. Now THAT would truly knock me on my ass!
This latest fashion fury comes on the heels of the anger that erupted over the recent Victoria's Secret bra campaign that featured a picture of a group of Victoria's Secret models modeling the brand's new style of bras and the tagline reading "The Perfect Body." Again, I understand why this campaign was offensive and even dangerous, but it's my opinion that we are dealing with these campaigns in a less than effective way. Kudos to the three young women behind the #IAmPerfect movement out of the U.K. that played a role in actually getting VS to change their tagline to the more palatable "A Body for Every Body," but seeing that tagline under the very same picture seemed a little ridiculous to me. When I saw the new campaign, I felt that a more accurate tagline would have been, "A body for every body as long as your body looks like this body." That would have made much more sense to me.
Let's face it, even with the new campaign, young women are still going to watch the waif-like models of the Victoria's Secret fashion shows, strut down the runway with their angel wings flapping behind them and these young girls are still going to feel like crap and that really sucks. I personally battled severe body image issues for most of my life and now lead workshops in schools and I hear from girls all the time about how these models make them feel inadequate, but we are lying to ourselves if we think that calling them out now and then is going to make them completely overhaul their very successful businesses. Sadly we can tell Victoria's Secret that they make young girls hate themselves and we can inform Calvin Klein of how unrealistic and inaccurate their concept of women's bodies are but they will continue to sell what they want, the way they want, to who they want and I hate it too.
Well, I've got two ideas:
1. Let's stop spending our time and resources trying to cut down these clothing companies and focus on building up our children's self-esteem instead.
2. Let's stop putting our energy behind calling out the companies that don't promote realistic bodies and start putting it behind the companies that already do.
Like it or not, we can't control the messages that our kids our going to get, but we can give them the tools and the information they need to ignore them.
My body image workshops used to be just for kids, but now I also work with parents to give them the answers they need to empower their kids to grow up with the self-esteem they deserve and I'm not alone in this. Organizations like NEDIC, Beauty Redefined, Adios Barbie, Shaping Youth and several others are working to help our kids grow up confident in who they are so they'll be less vulnerable to marketers trying to profit from their low self-esteem. The #IAmPerfect movement proves that there is no limit to what we can achieve when we believe in ourselves and seeing young women use their voices the way they did was phenomenal. This reinforces my belief that it's time to redirect our energy away from trying to change the companies that have no interest in changing and towards the companies who are supportive in our desire to create a generation of women who refuse to listen to clothing designers who keep trying to make them shrink until they disappear.
Since Calvin Klein doesn't seem to understand women's bodies, how about we start shopping at the places that do? Here are a just a few stores that carry a wide range of sizes:
Self-worth shouldn't be measured in pounds.