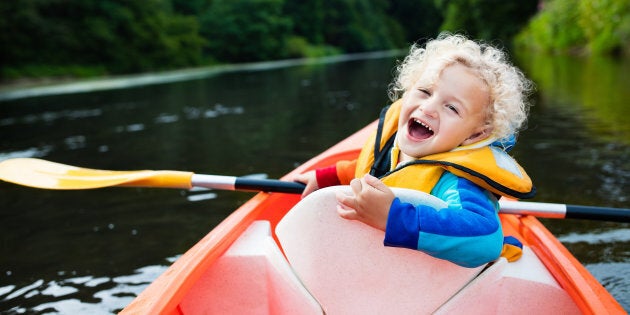 Summer is nearly here, which means vacation planning is well under way.
One popular family-friendly vacation option is camping. It's inexpensive, easily customizable to your family's needs and preferences, and is a great way to get outdoors and explore our beautiful country.
"Camping with children is very rewarding but does involve more planning," Audrey Champagne, a media relations officer for Parks Canada, told HuffPost Canada.
The key to a memorable camping experience is preparation and organization, Laura Catton, Brand Manager, Outdoor Recreation at Canadian Tire Corporation, told HuffPost Canada.
"Make a list of items needed to ensure no necessities are left behind, while being diligent not to overpack," she said. Catton also suggested finding ways to get your kids involved in the process in order to have more fun, whether helping to set up the tent, get water, or prepare meals.
Here's what you need to know in order to make your camping adventure with kids a success.
1. Where to stay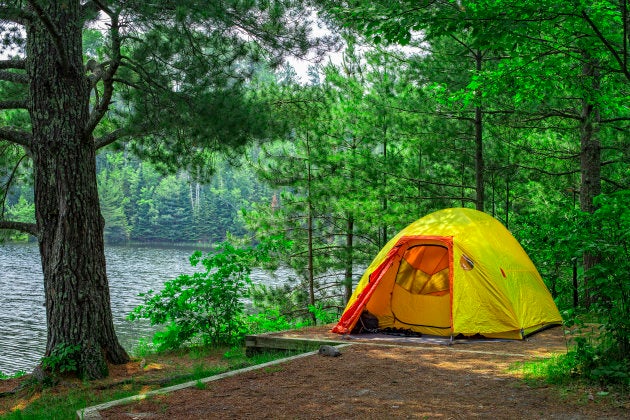 When choosing a family-friendly campsite for your summer vacation, consider the ages of your kids. Families with younger children will appreciate a frontcountry (drive-in) campsite with more amenities, whereas families with older children might be up to the challenge of backcountry (hike, canoe, or kayak in) camping.
You can easily find places to camp by doing a quick internet search — with no shortage of gorgeous Canadian wilderness to take in. Arguably, one of the best ways to enjoy our national parks is through camping.
"With different types of campgrounds offering various levels of amenities and services, you are sure to find a campsite to suit your needs," Champagne said.
Frontcountry campgrounds are often busier and book up faster than others as they offer the most facilities and amenities including showers, flush toilets, theatres, playgrounds, snack bars, and much more. There are even campgrounds with swimming pools.
"Knowing what sort of activities you would like to enjoy on your camping trip — whether it is water sports, fishing or hiking — can help you narrow down which campground is the best fit with your family," Catton said. "Remember, campgrounds often book up well in advance so booking early is a key to getting a spot."
"It can also be a good idea to choose a campsite that is close to the playground," said Champagne, "Kids will be able to go on their own and meet other kids."
If the idea of roughing it and sleeping on the ground doesn't appeal to you, there are several parks with roofed accommodations that strike a compromise.
2. What to pack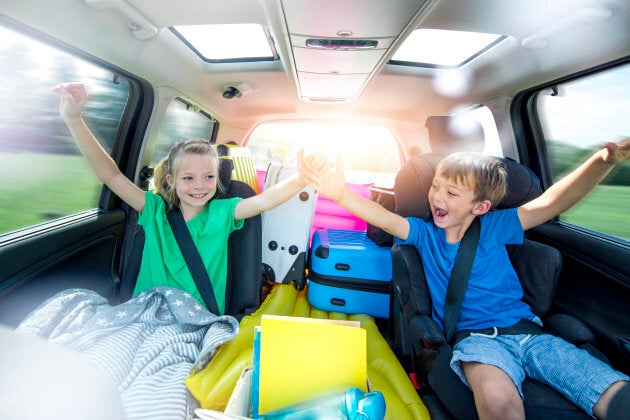 When packing for a family camping trip, it's a good idea to pack extra clothes for the kids.
"Children tend to get wet and dirty faster while camping than at home, so pack several extra sets of clothing and footwear," suggested Champagne.
She says parents can help ease the transition away from home by packing their child's favourite toy, book or blanket.
You'll also need to bring along a tent, air mattress, and sleeping bags — and bring an extra one in case of accidents. Many families worry about how their children will sleep while camping, but it's not usually a problem if you can stick close to their routine.
"Although the kids may toss and turn a bit at the beginning, after a full day spent outside they should be ready for a good night's sleep," said Catton.
And don't forget to bring along a few flashlights — with extra batteries, of course. Child-sized items such as folding armchairs are also good to pack along, as is a well-stocked first aid kit.
Parks Canada has a detailed checklist of what to bring on your camping trip if you work better with an itemized list.
If you don't want to invest in a ton of gear, ask family and friends if they have any items you can borrow. You can also visit your local outdoor outfitting stores to see if they have items for rent.
3. What to eat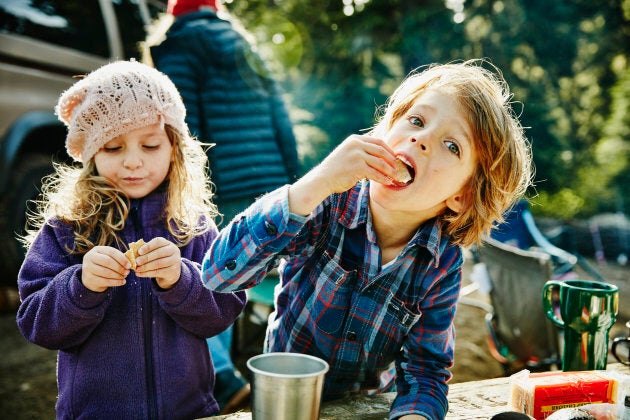 When it comes to eating while camping, parents should pack plenty of healthy snacks for the kiddos to enjoy between meals. Spending lots of time outdoors can make for hungrier than usual little ones.
If you're packing perishable foods, you'll need a cooler in order to keep them at temperature until it's time to eat. It can be helpful to plan to enjoy meals with perishable items early in your camping trip.
If cooking while roughing it doesn't sound appealing to you, healthy prepackaged foods and meals can take some of the stress out of meal times while camping. All foods at M&M Food Market are 100 per cent free of artificial colours, flavours, and sweeteners, and President's Choice offers their Blue Menu items at all Loblaw banner stores. If you're at a cabin or at a site with a higher level of accommodations, you can even get a meal kit like HelloFresh delivered!
Don't forget about hydration while camping with kids — having enough drinkable water and a reusable bottle for each child is essential.
4. How to stay safe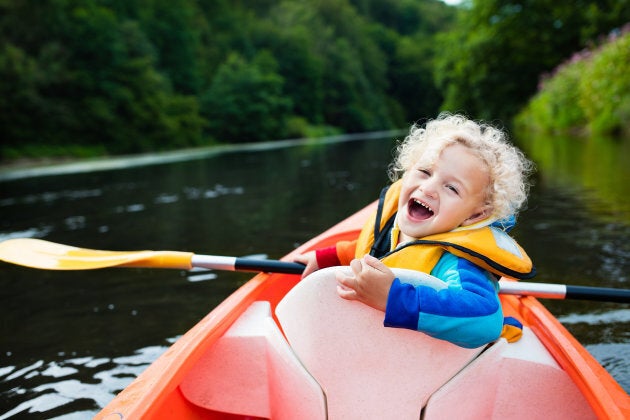 "Ground rules are important to find a good balance between fun and safety," said Champagne.
"Being in the outdoors means that there are some risks that are usually not present when you are at home. Make sure your children know how to be safe around potential dangers near your campsite such as campfires, wildlife, and bodies of water."
And don't forget insect repellent and sun protection when camping with kids.
"Covering up with UPF-rated clothing or seeking shade by a tree, tent, or shelter is also key throughout the day to limit sun exposure," said Catton.
5. How to keep busy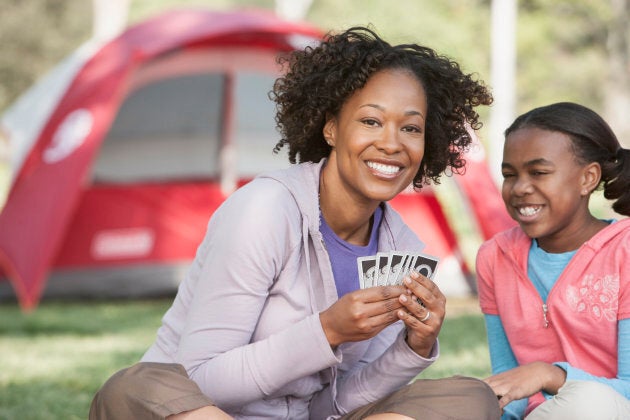 When it comes to keeping kids entertained while camping, Champagne offers a few suggestions, especially for the inevitable rainy day.
"Play board games or card games or read a story in the tent; visit the park's visitor centre to see exhibits and learn about park programming for that day; or put on your rain gear and go for a hike — it will be totally different than going in fair weather. If you research before you go you may learn of some interesting things to visit nearby," she said.
Other fun activities for kids include colouring, reading books, doing puzzles or even watching a family show/movie on a portable DVD player or tablet.
"Lots of campgrounds offer programs for children to participate in like educational sessions with Park Rangers or outdoor movie nights," added Catton. "Always be sure to check the campground calendar and take part in these fun events when you can."
Finally, Catton says to have fun! Family camping is all about spending time together and making memories.
"Camping is a fantastic way to come together as a family, creating lasting memories and a connection with nature."
Popular in the Community