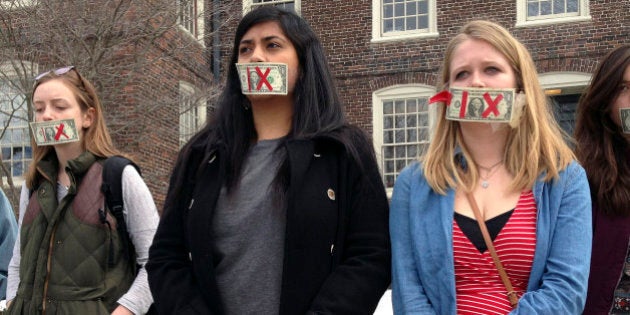 In a few short months, many young Canadians will be starting university or college.
They will be excitedly pouring over glossy school brochures and booking their campus tours.
In preparation, they will probably have lots of questions. Things like where to find the quietest study spots, where to buy the best latte and what kind of meal plan to get.
Though these are valuable questions for first time students, given recent events, there's one question that should be immediately asked by each and every incoming post-secondary student: do you have a stand-alone sexual assault and harassment policy? If so, can I read it?
Sexual violence and harassment on campuses have reached an epidemic level. It is a real and pressing issue for both female and male students, and post-secondary institutions have a duty to take action and ensure that their students are safe.
North American research suggests that 15 to 25 percent of university aged women will experience a form of sexual assault in their academic career.
At Canadian universities, four out of five female undergraduate students surveyed reported having been the victims of dating violence and, of that number, 29 percent reported experiencing sexual assault.
These stats are alarming, but we don't need stats to tell us that we have reached a crisis point. All we need to do is turn on the news or read the paper. In the past several months alone, there has been a steady stream of distressing stories about instances of sexual violence and harassment on Canadian campuses.
At Brock University, it was recently revealed that a faculty member had allegedly sexually harassed one of his students.
Last month at the University of British Columbia, a student was allegedly attacked and sexually assaulted while walking through campus.
In February, a University of Victoria student was arrested after four victims came forward saying they had been sexually assaulted.
Several weeks ago, police arrested a man in connection with a series of sexual assault allegations at McMaster University.
Cases like these have highlighted the severity of the problem of sexual violence and harassment on Canadian campuses. They have also exposed the truth that many campuses are woefully unequipped.
Many schools lack the basic policies, protocols and tools to prevent and adequately address sexual violence and harassment, as well as properly support victims. In fact, many schools adopt a policy of 'silence', forcing victims of traumatic sexual assault and harassment to keep their mouths shut.
Assault victims at Brandon University have alleged they were required to sign an agreement stipulating that they could not speak about their assault to anyone except for counsellors. The consequences of failing to abide by this agreement allegedly involve expulsion.
Several weeks ago, Brandon University stated that they would do away with these silencing agreements. This is a good first step. However, Brandon University has continued to come under fire after they did not produce minutes or meeting agendas for the university's sexual violence task force that allegedly convened last fall. They have also been accused of plagiarizing parts of their task force report on sexual violence.
There are some post-secondary institutions that have taken positive steps to improve upon, or in some cases implement, stand-alone sexual assault and harassment policies.
However, the fact remains that most post-secondary institutions have more robust policies to deal with plagiarism than they have to deal with sexual assault and violence.
It is time to take a stand against sexual violence and harassment on Canadian campuses. No more excuses -- every post-secondary institution from coast-to-coast should have a strong stand-alone sexual violence and harassment policy.
Follow HuffPost Canada Blogs on Facebook