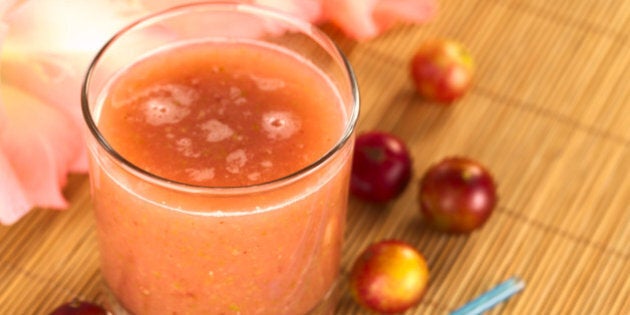 In the midst of winter, it's easy for North Americans to feel vitamin-deprived and start searching for a supplement to bring back the sunshine. And that's where camu camu comes in. The Peruvian "superfruit" is reported to have 60 times the vitamin C of an orange, and helps our bodies' immune systems in a variety of other beneficial ways.
When vitamin C comes from a plant source like camu camu berries, it is more readily used by the body to protect the immune and nervous systems and fight infections with its anti-viral properties, according to NaturalNews.com.
Due to their sour flavour, the berries are not usually eaten whole, but instead, crushed into a powder or pulp, making them very convenient to add to recipes. Camu camu is also sold in capsule form, or as a juice, though this latter form is harder to find in North America. The powder and capsules are readily available at natural food stores and online.
Take a look at these 10 ways you can incorporate camu camu into your daily routine, and let us know if you've found some new ideas in the comments below.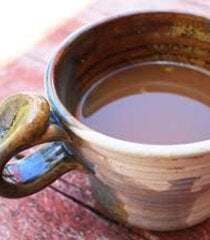 As the recipe notes, heating camu camu powder can decrease its nutrient power, so wait until the end of creating this yummy warming drink to put it in.
Camu And Mango Frozen Yogurt
This awesomely refreshing recipe doesn't need anything as fancy as an ice cream maker — simply freeze the mango into cubes, add yogurt and voila.
Smoothies and slushies are often where camu camu can be found, as it's so easy to just plop another ingredient into the blender. The citrus taste of grapefruit is particularly suited to the berry.
Camu Camu And Mango Yogurt Pops
These gorgeous yogurt pops utilize camu camu juice, so if you find some (it just takes a bit of a hunt), this is a delicious way to utilize it.
Coconut Quinoa Porridge With Camu Chia Berry Compote
The addition of a compote infused with camu camu to this porridge makes a filling breakfast that will last well until lunch.
When you're looking for a little something more than water, lemonade made with camu camu and stevia sounds like a healthy choice to us.
Interestingly, the recipe for these little snacks emphasizes that they can also be fed to dogs, but we think we'll just keep them for ourselves.
Super-Charged Wild Berry Smoothie
The name alone is enough to make us want to try out this drink, but the ingredient list (spinach, goji berries, coconut chunks) makes us think it basically has magical healing powers.
As with the cider recipe, be sure the quinoa is already cooked once you start adding in the extra ingredients, like camu camu powder and maca powder, to ensure their first effects.
This recipe isn't for eating — it's for spreading all over your skin. Thanks to the vitamin C in camu camu, it can help brighten and tighten skin, and its powdered form means it's an easy mask to make.