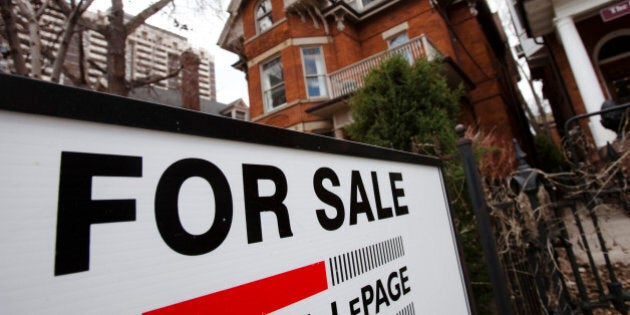 Housing markets in Toronto and Vancouver are extremely hot, and average prices are skyrocketing. Every new data release, real estate report, and housing related comment is scrutinized, debated and analyzed in painstaking detail. A red flag is raised, an alarm bell is sounded, a stern warning is issued or extreme caution is urged by both domestic and international housing analysts and economists almost daily.
According to the Teranet-National Bank House Price Index, Vancouver has seen resale prices increase by 21.7% year-over-year in May. In Greater Toronto (GTA), existing home prices were up 10.6% annually.
With rapidly increasing house prices, prospective homebuyers get priced out of the market or overextend themselves financially. Another major concern involves the arrival of short-term speculative buyers looking to flip homes, many of which are highly leveraged. These two groups are the most vulnerable to losses when a housing market contracts.
With the recent collapse of the American housing market fresh in people's minds, the Canadian government is watching and examining the national and metro level residential markets, contemplating steps to prevent a crash here. There are several theories as to why prices are rising so quickly in Toronto and Vancouver, two of the most common are: Canadians are taking on too much debt, and foreign buyers are driving up house prices.
A common suggestion is that homebuyers should be required to make a minimum 10% down payment to prevent them from over-leveraging themselves and taking on too much debt. In theory, the idea seems reasonable, but in practice it would have devastating and unintended consequences.
First time buyer affordability would worsen and more prospective purchasers would be priced out of the market. In my opinion, it's not the young couple putting $15,000 down on a $300,000 condominium that is driving up the market, it's the house-poor young family set on buying a single-detached home in their desired neighbourhood and putting $150,000 down on a $950,000 home. It's the more established family putting $400,000 down on a $1.5 million dollar property that are skewing prices.
In the GTA, there was a 30% decline in resale transactions annually for homes priced between $300,000 and $600,000, while the number homes sold above $1.5 million increased by 83% (May 2016 versus May 2015 per TREB).
Higher down payment requirements would result in less housing demand, and that has economic ramifications. With every resale transaction that doesn't happen, someone is missing out on earning an income: one less marketing flyer, no commissions are paid to mortgage brokers and realtors, the moving company misses out on a job, the home inspector has less work, as does a lawyer, a banker and a locksmith.
The decrease in new housing demand also impacts architects, urban planners, city employees, asphalt pavers, electricians, framers, hardwood manufacturers, landscapers, local furniture store owners, and even the mail man. This list is just the tip of the ice berg, thousands of other people would also be affected.
The second concern is that foreign buyers are purchasing units, and this extra demand is resulting in higher home prices. There have been complex tax plans proposed to add fees on foreign buyers, the problem being many are not price sensitive, and would keep buying despite a tax.
If the tax becomes too large, foreigners would resort to purchasing under the guise of a Canadian owned corporation or a current local resident; an outright ban on non-domestic purchasers would likely see a similar result. Foreign capital, not foreign buyers is the issue; home purchases by locals are being funded by affluent relatives living in other countries.
The Canadian government is in the difficult situation of trying to find a solution that will bring annual house price increases down, while preventing a drop in house transactions. They need to ensure both home ownership and rental housing is affordable, but they can't erode the housing equity created in existing homes that could result in underwater mortgages.
A major recession or a rapid rise in interest rates could cool the market, but until that happens I'm not sure what preventative action the government could take that wouldn't have negative consequences for consumers. At the end of the day, the government may be not be able to prevent a housing market slump despite a well-planned intervention.
So what do you think: Should we let the market decide who wins and losses, or should the government act knowing they might make the situation worse?
Follow HuffPost Canada Blogs on Facebook
Popular in the Community