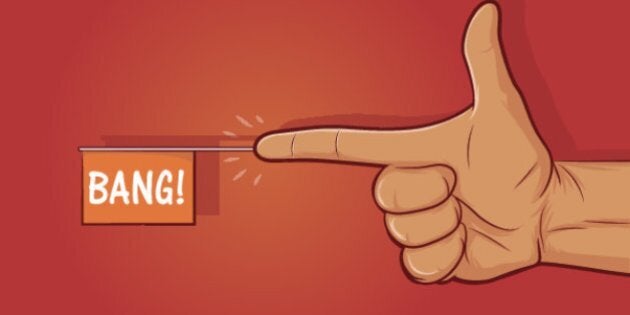 One morning in grade seven, I was talking with my best friend, walking out into the schoolyard for recess and smacked my face on the pillar that divides your typical set of school double doors. We laughed, hysterically, until I realized the boy in front of me, arms stretched out wide, yelling, "You're so fat! You can't even fit through a door!"
He ran around the schoolyard, and all of his friends followed suit, arms out wide, chanting that same ridiculous chant. When I reflect on this memory, I make a gagging noise at the thought. Those kids ran around the schoolyard looking like a flock of chickens, and I was the one feeling ashamed. I can still hear their laughs, the ones that burned me on the inside.
This wasn't my first experience with being fat-shamed, but it's one that has stuck with me forever. I can laugh about it now, but never forget the shame I felt. I never forget how a hilarious moment between friends -- where I was so into our gossiping that I missed the doorway entirely - turned into so much self-hate and self-doubt. In that moment, and many just like it, I wished I didn't exist. I was frozen in fear.
I'm not writing this for you to tell me you're so sorry. I'm writing it because the other day, I had to explain to someone on my Facebook feed why fat-shaming (or any type of shaming, gosh darn it!) is not okay. They didn't understand that shaming was indeed bullying and harassment, and called it rejection and tough love.
I've lived a large part of my life hating food and coping with self-doubt and self-hate by restricting or overeating, because I wanted to be liked (by myself, I've now realized, and others). This stemmed from years of being fat-shamed. I thought the skinnier I got, the more people would like me.
It's clear this Facebooker didn't know their audience.
So, I thought I'd make a list (I! Love! Lists!) to further explain the differences between bullying and harassment and tough love and rejection. Some of these are real examples, from personal experience, and others are common sense.
This is bullying and harassment: When someone drops their lunchbox on the floor in the hallway at school and a bystander kicks their food down the hall, exclaiming, "You don't need to eat that, fat ass."
This is rejection: When someone says, "No. I do not want to go on a date with you."
This is bullying and harassment: When a group of friends is really excited to perform a dance routine at the school talent show, and right before they're about to go on, someone screams, "No fat chicks on the stage!"
This is rejection: Not getting into every university to which a person applied, including their top three choices, even though they have an 85 per cent average.
This is bullying (and obviously assault): Punching someone.
This is rejection: Pitching to a business, hoping they accept the idea and want to buy it, and having them say, "No, thank you. This is not the right fit for us."
This is (cyber-)bullying and harassment: Sending a private photo of a person to everyone.
This is tough love: When a parent is helping their child finish a written assignment and fails them on the rough draft because they know their child can do better, and want them to work harder.
This is harassment: When a person is sitting on the bus and eating an apple and someone beside them says, "An apple a day won't keep me away, honey."
This is tough love (and also my forté): Asking a person to look over a resume or cover letter, and they return it with precisely 6,000 changes.
This is bullying and harassment: Any negative comment or action about person - their sexual orientation, gender, skin colour, age, size, etc.
This is rejection: Calling a cell phone service provider to see if a new phone can be obtained free of charge and hearing, "No, we are not able to give you a free phone. Good day."
We need to deal with bullying and harassment better. We shouldn't say that making someone feel like less of a human being because of who they are and what they look like is a way to toughen them up. We also shouldn't doubt someone who says they are being bullied or harassed. People doubted me and I grew up thinking it was normal to be made to feel like an ant, easily crushed.
I've spent the last six years trying to undo this psychological warfare within my own person. It has not been easy.
Being pushed to work harder, make an important change (for health or other reasons) and even to move on are beneficial for personal and professional development. We need tough love and rejection.
The boy who kicked my lunchbox (specifically, my raisins) down the hallway and told me I was too fat for even basic nourishment? A bully. My dad, who failed me on my book report's first draft, gets an A+ in tough love.
Team, I recommend we use our biggest strengths to make change. My biggest strength is my writing, hence this piece. For some, it might be their ability to lead, which could be put to use volunteering. For others, maybe their bank account is an abundance of opportunity. Donations can be made to organizations that help make places safer.
For those of us who aspire to host a TED Talk one day, open the conversation about bullying and harassment at the dinner table, school, work or community space. More the quiet type? There are endless free online resources about the benefits of reducing bullying, and how to get there. Read them, share them.
All of these options make positive impact and a little bit of (tough) love goes a long way.
Follow HuffPost Canada Blogs on Facebook
Popular in the Community