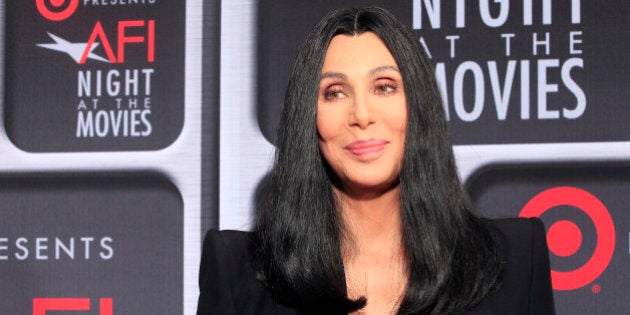 Cher turned 70 recently. When I heard that, a question raced through my mind (don't ask why). Can you wear a thong at 70? At her age, where does a performer go with their public persona when it is tied to less is more in what they wear?
There was her stunning Bob Mackie outfit at the Oscars in 1988. A dress that continues to be held in reverence in the world of red carpet fashion. Her 1989 comeback tour began dressed in a few strips of leather on a battleship. Will there come a time when a thong just doesn't work for Cher? When she can't turn back time?
Madonna has a few years before that age milestone. Will she still be grabbing her crotch on stage at 70? It also begs the question, is grabbing your crotch at 70 sexy? Will she take the stage in her Brunhilde bra and dance all over young men twenty years from now?
Fifty is the new forty, sixty the new fifty and now, as the boomers move on -- seventy has become the new sixty.
Bob Dylan turned 75 and released his second 'old standards' album. Where does he go from here? And what musical genre will he be exploring next? His standards albums have caused very little uproar for the man who defined The Times They Are A Changin'. Dylan has gone from causing the folk world to stop in its tracks in 1965 when he picked up an electric guitar to singing Some Enchanted Evening with the ghost of Mario Lanza in the shadows.
There is a botox and facelift craze among some baby boomer stars too. We have a legion of artists looking more and more like Klingons every year. The cheeks have nowhere to go but the forehead. A little nip and tuck is understandable, but who was the first to posit the notion that puffed out cheeks make you look younger? Many of those botoxed cheeks are large enough to cast a shadow.
Then I wonder -- Liza what did you do to yourself? Cabaret is one of my all-time favourite movies. A command performance that was worth the Oscar she received and always part of a summer time rerun in my world.
Why is aging such a race away from the inevitable for some in the public eye? And yet for Helen Mirren and Maggie Smith such a graceful stage? Discreet elegance, and we love them for it.
Maybe the fear of aging was best described by Sheldon in a Big Bang Theory episode. When asked about his aged grandparents he said "After a while it got to be like watching cheese melt." That was laugh out loud funny to me. It still makes me laugh.
A discussion about aging stars would be lacking if The Rolling Stones were not mentioned. Fans agree that Jagger, looking much as he always has, does a show not far removed from the one he was doing 50 years ago. Then there is the other Stones question: Just how has Keith Richards survived?
At 83, a grizzled Willie Nelson gets more appealing every year. I do wonder if there are just a few hair extensions in his pony tail today. It was, as always, a clever bit of political statement to sing Living in the Promised Land at the Gershwin Award Show.
Jane Fonda at 79 looks more elegant than ever. Thank you Jane, for my morning workout. It's you and me and the Walkout video that starts my day. Adjusting your workouts for time of life is a brilliant 'exercise video' career move. Yes I do remember 'the pony'. And there is not a thong in sight.
I wonder too where some of those performers might be today who lived on the edge and fell off. Janis Joplin is running a second hand bookstore in my town. The Joplin doppelganger has the same -- now- slightly weathered face, raspy voice, kinky hair, and bell bottoms. Every time I see her outside the shop, inhaling deeply on her cigarette, it is like Janis has reimagined herself from the stage to the main street of my little town. I turn the volume up in the car and wail along to Cry Baby. For a moment I am back in my bangles and bell bottom days.
Back to the thong question. Do we really need to see a 70-year-old derriere? Or is age just a number when it comes to thongs as it is with so many things in the boomer world? That fixation with age and number has become a much played anthem for us.
Can you wear a thong at 70? A noun and number juxtaposed perhaps?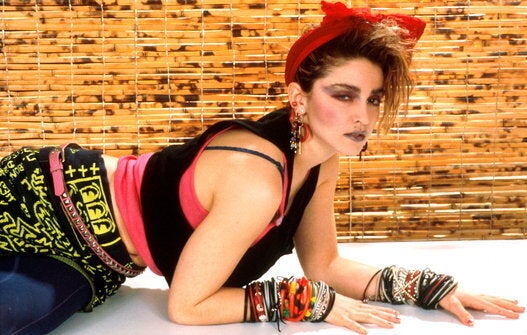 Madonna: 57 Of Her Most Memorable Looks
Follow HuffPost Canada Blogs on Facebook