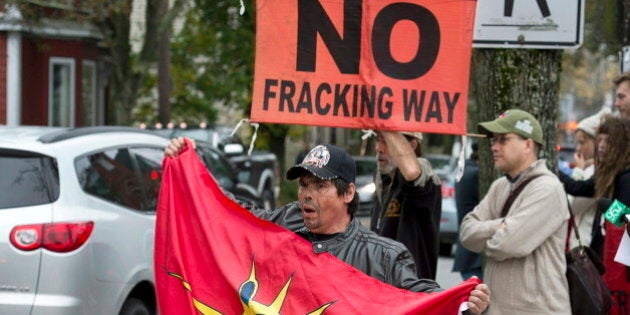 Canada has been singled out as the country with the most risk of conflict with aboriginal communities in a new study examining treatment of indigenous rights and resource development around the world.
"Canada is a developed country and it is having an implosion of the sort that we've only seen in the developing countries," said Rebecca Adamson, president and co-founder of First Peoples' Worldwide, the group that conducted the study.
"We've always seen this erupt when a government refuses to be clear in upholding indigenous land tenure."
The Indigenous Rights Risk Report studied 52 U.S. resource companies and 370 projects around the world, including 16 companies and 76 projects active in Canada. The aim of the survey is to assess how likely it is that conflict with indigenous communities could result in costly shutdowns.
Canada is home to six of the 21 projects deemed to be at highest risk of collapse according to the group's analysis -- more than any other country. Countries such as Argentina, Indonesia and Ghana are its peers on the list.
The Canadian government is "operating like a third-world country," Adamson said, adding that its approach to indigenous rights more closely mimics the Philippines and Brazil than the U.S and Australia.
Signs are pointing to an increasing number of protests and possible violence in the country, she added.
First Nations have been on a legal winning streak in Canada, with nearly 200 court victories recognizing their right to be consulted — and in some cases accommodated.
But companies operating in Canada have no clear regulatory guidelines for how to deal with aboriginal communities, creating an uncertain business climate.
"Canada is caught in a moment of schizophrenia because the Canadian court systems are upholding these cases the way that would be expected from all of the developed countries that uphold the rule of law," Adamson said.
The Harper government's stance on First Nations and resource development has been called into question in recent years, particularly in the wake of controversial changes to native rights in Bill C-45, the Idle No More protests and after violence erupted at a protest against fracking in New Brunswick this month.
Story continues below gallery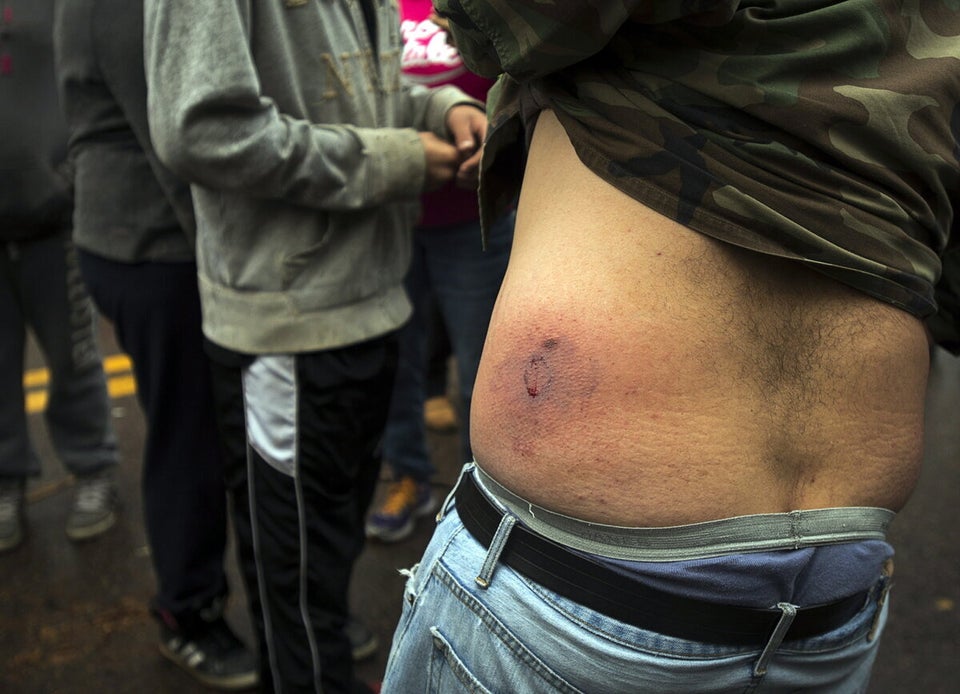 Elsipogtog First Nation Protest Fracking Projects
Canada's risk level was graded three out of five — medium risk — higher than other industrialized countries like the U.S., New Zealand and Australia, which had a risk level of two.
Canada's risk level started at a two when the study began two years ago, but after a series of flare-ups the group moved its risk factor higher citing an inconsistent enforcement of indigenous rights.
The group said Canadian projects scored so poorly partly because of the government's failure to uphold its obligations to First Nations, which is in turn inflicting financial and reputational damage on companies trying to do business in the country.
"The Canadian government may be pro-business but its policies towards First Nations will have very anti-business results," Adamson said.
"You can already see this in the fact it has the highest number of risky sites. Eventually the companies pull out."
Houston-based Southwestern Energy's project in New Brunswick made headlines earlier this month when violence broke out between police and First Nations protesters. That project was ranked highest of the Canadian projects with a risk rating of 4.2 out of 5, the same score as a project in Nigeria.
The company has said the blockades have cost it as much as $60,000 per day. It's a consequence the report said shows why it makes good business sense to respect indigenous rights and work with their communities and a perfect example of what happens when governments ignore aboriginal sovereignty.
The report concluded that Southwestern "executives were ill-prepared and uninformed for how First Nations in Canada can impact their operations, thus leaving investors and shareholders at risk."
Cliffs Natural Resources oft-delayed chromite project in Ontario's Ring of Fire region also ranked highly on the list, with a score of 4.1 out of 5.
The surrounding First Nations in northern Ontario have many concerns about the impact of a giant mining development on their land and traditional way of life. They say an environmental review of the project was too weak.
Canada's oil industry looks to governments to settle issues on land claims, treaty rights, traditional territories, consultation processes and royalty/revenue-sharing positions, said Canadian Association of Petroleum Producers spokeswoman Geraldine Anderson, adding CAPP wouldn't comment specifically on the report.
A spokesman for the Prospectors & Developers Association of Canada said existing regulatory frameworks are strong enough to protect the rights of Aboriginal peoples, though he didn't directly address the allegations in the study.
Such policies "can lay the groundwork for industry, government and Aboriginal communities to benefit from the development of mineral resources," said Nadim Kara, PDAC's senior program director.
The clash between resource extraction and indigenous rights is expected to become more pronounced in the coming years as indigenous people increasingly see their rights enshrined at national and international levels and exercise them more effectively.
At the same time, a shrinking number of available resource discoveries means companies are pushing into more remote regions and Indigenous lands.
The study found that most of the 52 companies studied were ill-prepared to engage and work with indigenous people — a whopping 90 per cent of them had no clear indigenous policy at all.
The report says the moral imperative alone has not been effective in forcing companies and governments to respect indigenous rights. The group aims to show companies that there are good financial reasons to accommodate aboriginal communities, namely avoiding protests, bad press and legal battles.
Popular in the Community