OTTAWA — The federal government will strive to increase its overall aid budget but has no intention of reaching the UN's development goal of 0.7 per cent of gross national product (GNP), International Development Minister Marie-Claude Bibeau confirmed this week.
Bibeau told The Huffington Post Canada on SiriusXM's "Everything Is Political" show that the Liberal government would "try to increase the budget in terms of money, but not based in terms of this [GNP] ratio."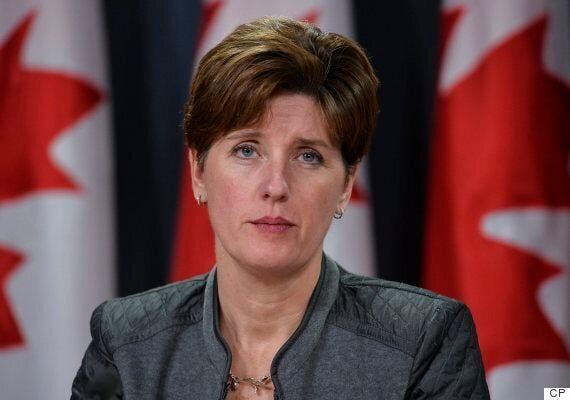 Marie-Claude Bibeau says Canada won't try to meet the UN's development goal in the near future. (Photo: Matthew Usherwood/Canadian Press)
When asked if it was something Ottawa was striving to achieve, Bibeau said, "To be honest, no."
"We are at about 0.24 per cent right now," she said. "We will try to increase our commitment as much as possible, but the 0.7 is not an objective for the time being … not in the near future, at least."
Bibeau said the "0.7 is not achievable in the short term," which is why she has focused on increasing the envelope for development assistance in her meetings with Finance Minister Bill Morneau.
On Thursday, during his fifth visit to Canada, UN Secretary General Ban Ki-moon urged Canada to spend more on official development assistance.
"I believe that Canada has capacity and resources."
Canada is a G7 country, a member of the G20, a "very important" country and also a "very wealthy, rich country," Ban said.
"I believe that Canada has capacity and resources."
I know that the prime minister may have all different priorities, but … I count on your leadership," he said to Prime Minister Justin Trudeau, who was standing at Ban's side.
Only five countries in the world have met the target with consistency: Sweden, Norway, Luxembourg, Denmark and the Netherlands. The Netherlands, however, dropped slightly below the threshold in 2013 and 2014.
Trudeau said Canada remains "strongly committed to development assistance," pointing out his government's recent announcement that it will spend $1.1 billion on humanitarian aid and development assistance in Syria and surrounding regions, but he did not specifically mention the 0.7 per cent goal.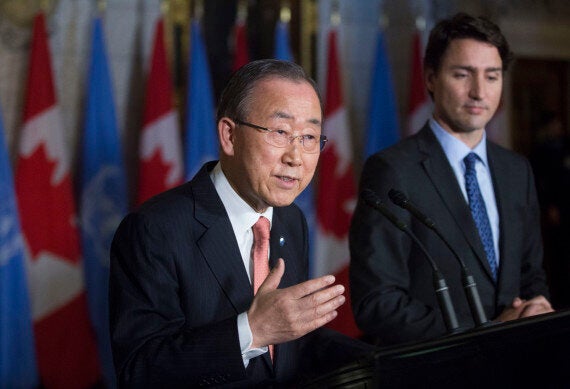 Justin Trudeau and UN Secretary-General Ban Ki Moon participate in a press conference on Parliament Hill in Ottawa, Feb. 11, 2016. (Photo: Chris Roussakis/AFP/Getty Images)
Trudeau's father, Pierre Elliott Trudeau, committed Canada to the target in 1970, when the United Nations General Assembly adopted a resolution calling on economically advanced countries to progressively increase their official development assistance to developing countries to a minimum of 0.7 per cent of gross national product.
A former Liberal prime minister, Lester B. Pearson, headed an international blue-ribbon panel in 1969 that recommended the target. The UN believes the 0.7 per cent figure could halve the number of people living in extreme poverty.
Canada has never reached the target.
In 2014, Britain became the first G7 country to meet the UN goal, The Guardian newspaper reported. Then, last year, Parliament enshrined in legislation its commitment to spending 0.7 per cent of gross national income (GNI) on aid every year.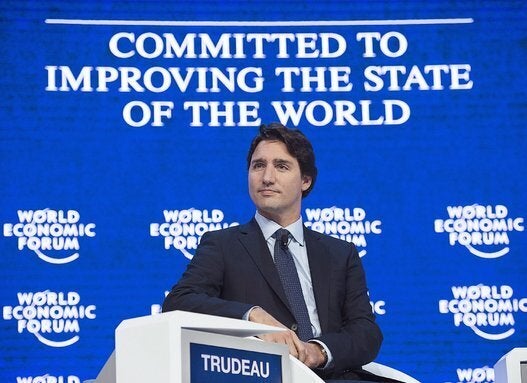 Trudeau Attends World Economic Forum