OTTAWA — Government aid could help provide food and health services to Islamic State fighters, Canada's international development minister acknowledged this week.
Marie-Claude Bibeau made the comments during an interview with The Huffington Post Canada on Sirius XM's "Everything Is Political Show."
"Médecins Sans Frontières or the Red Cross, they will use the money following their own rules," the rookie cabinet minister said. "They will give the services to whoever needs help. Obviously, we will not get involved in any way in this once we have given money to an organization. They give food and services to the people in need, no matter where they decided to go."
Even if it goes to an enemy combatant?
"Yes," said the minister.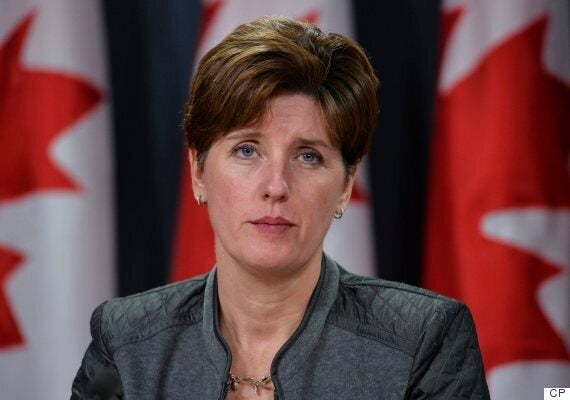 Minister of International Development and La Francophonie Marie-Claude Bibeau speaks to media during a press conference in Ottawa on Monday. (Photo: Matthew Usherwood/Canadian Press)
At a Monday press conference announcing both the new mission against ISIS and an expanded humanitarian assistance in Syria and surrounding regions, Bibeau took great pains to stress that Canada "fully respects the principles of neutrality, impartiality, humanity and independence" which are "vitally necessary in these situations."
In Tuesday's radio interview, she said, "It is very important that we let these organizations work in a complete independent manner and not link it to our military action, for example. It is a matter of security for these humanitarian workers."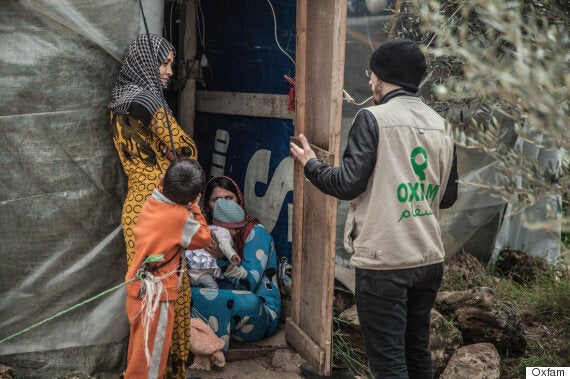 A water and sanitation engineer from Oxfam Intermón talks to two refugee women in an informal settlement in Chekka in the north of Lebanon. (Photo: Pablo Tosco/Oxfam)
Conservative defence critic James Bezan, however, said he believes aid dollars should not support ISIS militants in any way.
"We are dealing with one of the most heinous terrorist organizations that we have ever seen on the face of the Earth, and to think that some Canadian dollars could go indirectly or directly to support jihadi terrorists is unconscionable — and the government needs to rethink this immediately," he said in a subsequent interview.
John McKay, the parliamentary secretary to the minister of defence, called it an "academic argument."
"It's not like everybody walks around with a T-shirt saying I'm a jihadi terrorist," he said. "In a principal sort of way, I agree with James [Bezan]. At one level it is unconscionable, but it is not as if it's clear to somebody handing out water, or a sandwich or giving somebody a blanket, where their background is. Do you have to do an interview every time you hand out water and aid?"
"... to think that some Canadian dollars could go indirectly or directly to support jihadi terrorists is unconscionable."

— James Bezan, Tory defence critic
Humanitarian organizations working under dangerous conditions in Syria said there are important reasons for aid to be delivered in a neutral and indiscriminate fashion.
Stephen Cornish, the executive director of Médecins Sans Frontières (Doctors Without Borders), said that, despite the minister's assertion, his group does not accept any government funding for their work in "active open conflicts" precisely because the principle of neutrality is so important.
Neutrality and impartiality for aid agencies — principles embedded in the 1864 Geneva Convention and expanded in subsequent additional conventions — were first developed so that care could be provided to wounded soldiers on the battlefield, Cornish said. He pointed to Henri Dunant's vision that led to the creation of the International Committee of the Red Cross and won him a Nobel Peace Prize.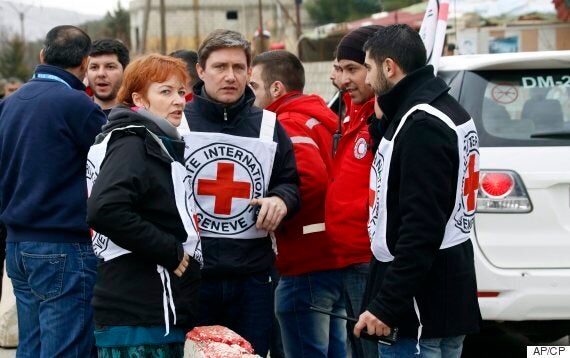 Aid workers in Syria stand near a convoy of vehicles loaded with food and other supplies organized by the International Committee of the Red Cross, working alongside the Syrian Arab Red Crescent and the United Nations, in January. It was headed to the besieged town of Madaya. (Photo: AP/CP)
Aid should be delivered solely based on need, Cornish said.
"It's imperative that we be seen as impartial and neutral," he said. "Otherwise, it is often impossible to be able to bring aid inside a conflict zone."
If aid organizations can't be separated from the political environment around them, combatant parties are unlikely to welcome them and they can neither "save the lives of the innocent population, nor meet the needs of wounded or sick combatants whether they be on any side of the conflict."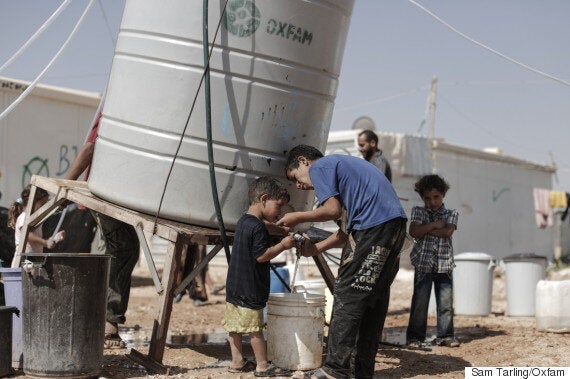 A Syrian child collects water from an Oxfam-supplied tank in Zaatari camp in Jordan, which is home to around 80,000 refugees. (Photo: Sam Tarling/Oxfam)
Nathan Huculak, the deputy chief communications officer at the Canadian Red Cross, and Ann Witteveen, Oxfam's manager of humanitarian concerns, echoed Cornish's comments.
If humanitarian action is perceived to be aligned with a military agenda, workers become targets, Huculak wrote in an email.
"Humanitarian assistance is not another tool to solve a conflict — it is necessary to protect health and life, and prevent and alleviate human suffering."
"Human beings are human beings, and if they need water, we will provide it to them."
Witteveen said Oxfam works with several local organizations in Aleppo and Damascus to offer water and sanitation services.
"We look geographically at where there is water and where there isn't, and we try to ensure that it is available for people, and we don't care which side of the conflict they are on," she said.
"Human beings are human beings, and if they need water, we will provide it to them."
Increasingly dangerous situation for aid workers
Since 9/11, Cornish said, the situation for aid workers has become more dangerous as the U.S. military — and others —blurred the lines between themselves and neutral humanitarian groups.
In Afghanistan, U.S. special forces began using the same type of white cars driven by aid agencies and promising help to communities in exchange for information, said Cornish.
In another example, the military moved its own medical team into a hospital run by a non-governmental organization to operate a clinic for one day, he said.
"When they left, everyone believed on the other side that this was now an installation of the military, and the aid organization that was working there had to leave because it was too insecure for them to stay and treat the population. So for a one-day exercise in hearts and minds, a population was then deprived of health care indeterminately following that."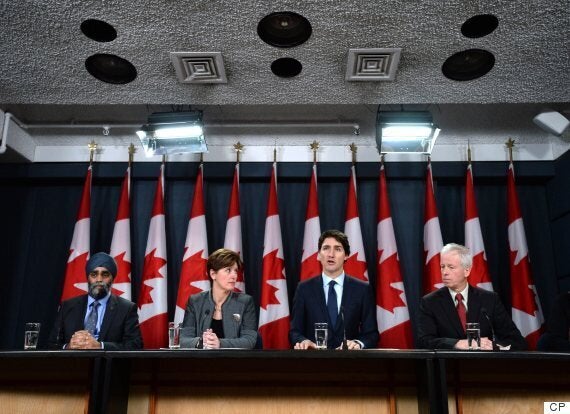 Prime Minister Justin Trudeau answers a question as he is joined by Minister of National Defence Harjit Sajjan, left to right, Minister of International Development and La Francophonie Marie-Claude Bibeau and Minister of Foreign Affairs Stephane Dion during a press conference in Ottawa on Monday. (Photo: Sean Kilpatrick/Canadian Press)
With civilians and hospitals being indiscriminately attacked in Yemen and Syria, Cornish said he was encouraged to see Bibeau speak so forcefully about impartiality and neutrality.
The new Liberal government is not changing federal government policy, Cornish said, but "reaffirming" the responsibilities of countries who are signatories to the Geneva conventions.
"She [Bibeau] is just educating the public about what that means."
$1.1 billion over three years
On Monday, the federal government pledged $840 million in humanitarian assistance over the next three years to provide water, food, shelter, health care, sanitation, hygiene, protection and education in Syria and the surrounding region. Canada will also spend $270 million to help communities with large numbers of refugees address basic infrastructure needs, promote employment and economic growth.
Bibeau, who was recently in Jordan and Lebanon, said the three years of funding should help communities adapt to the strain put on local services by the huge increase in refugees.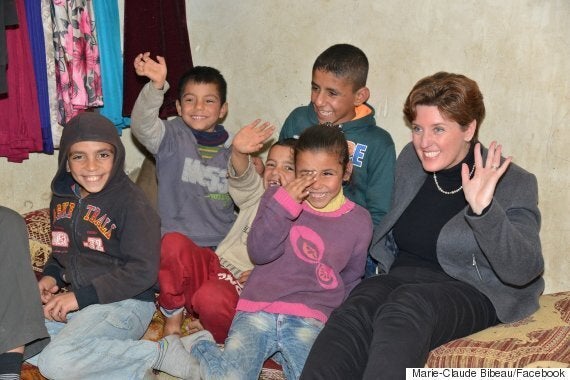 Marie-Claude Bibeau recently visited Lebanon where she visited a Canada-funded project with UNICEF to rebuild a school in Zgharta. (Photo: Facebook)
One municipality in Jordan, she said, grew to 800,000 from 600,000 within two years.
"You can imagine just in terms of waste management, what a challenge this is for them," she said. In Lebanon, 247 schools already have double shifts. "They have their regular children in the morning, and they have the refugees in the afternoon."
Humanitarian assistance is about helping human life, but it's also about addressing concerns before they become a security risk, she said.
"We don't know how long [this crisis] is going to last, but we have to keep the children in school, and we have to find jobs for the adults so they can earn a living, live in dignity and not be attracted by radicalists. This is a very important way to keep these countries as stable as possible and to be ready to rebuild Syria as soon as possible."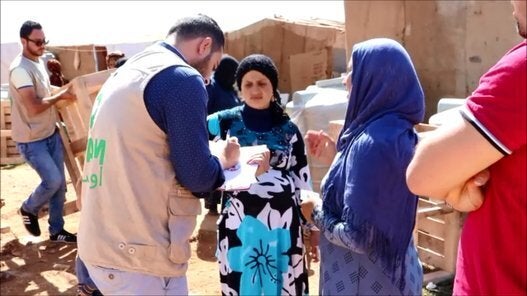 Oxfam Aid Work For Syrian Refugees
Popular in the Community