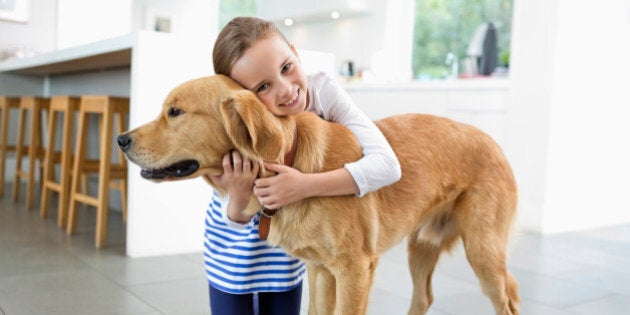 Do you know an animal welfare hero? Someone who has dedicated their life to improving the welfare of animals in Canada?
The Canadian Federation of Humane Societies is seeking nominations for the prestigious CFHS Frederic A. McGrand Award, recognizing individuals who have made an outstanding contribution to animal welfare in Canada. We're looking for people who have devoted themselves as founders or builders in the Canadian animal welfare movement.
There are some incredible stories of ordinary people doing extraordinary things for our animal friends. We love hearing about humans making a difference in animals' lives, because we know the difference they make in ours.
In the past, this award has been given to wildlife rehabilitation pioneers Kay and Larry McKeever, veterinarian and animal welfare advocate Dr. Carol Morgan and farm animal welfare champions Tom and Sharon van Milligen.
Small acts of kindness to animals are so important to communities in Canada. But it's often the quiet, slow and steady work for change that makes a long-lasting difference for animals. If you know someone who had made improving animal welfare their life's work, show them their efforts are appreciated and nominate them for this award.
We're warmed by the stories of everyday animal love and compassion around the country. We want to applaud anyone who chooses the adoption option and saves a life. Animal guardians who do their part by spaying or neutering their pet are underappreciated heroes.
We want to take a moment to also acknowledge the way that other Canadians have taken time in their lives to promote kindness to animals.
Cpl. Nathan Cirillo has been in our nation's thoughts and hearts this week for his service to our country. We've also been touched by his love for his dogs. Cpl. Cirillo rescued an abandoned dog from a lot in his hometown and found it a loving home.
In September, a Calgary bus driver saved a kitten after he heard mewling from his wheel well. He pried the tiny feline out, and the last we heard, he was considering adopting it.
Recently, a farmer in Saskatchewan saved 20 puppies from a field, where they'd been left for coyotes.
It only takes a moment of compassion to make a difference for an animal.
Please visit our website for more information to nominate a welfare hero today!