In 2008, Moscow threw down the gauntlet and made it clear it intends to control the Arctic and its immense resources. The incident, widely reported, embarrassed Canada, exposed its impotence and strategic vulnerability.
That year, Russian President Vladimir Putin honoured scientist Artur Chilingarov for leading an expedition of two research ships to the North Pole. He piloted a small submersible to the seabed, 14,000 feet below, to collect samples and data, and then, before surfacing, he planted a titanium version of the Russian flag. The mission was completed on August 7, 2007, and a jubilant Chilingarov boasted over the world's wire services: "The Arctic is Russian."
Since then the Russians have maintained hegemony over much of the Arctic which is why the announcement this week by Ottawa that it intends to extend its Arctic claim to cover the North Pole was met with disdain by President Vladimir Putin. He publicly ordered Russia's armed forces to expand their presence in the Arctic region, the next day.
The fact is that Canada may announce claims, but it's too little too late and quite beside the point. Canada is not even in the Arctic game and cannot catch up unless it invests hundreds of billions of dollars or, alternatively, joins forces with the rich and powerful United States. Here's why.
Military might counts in the Arctic but not in order to strong arm or invade territories. It's about defending resource ownership and, more importantly, about logistical supremacy in a region that will be the next Suez and Panama Canals. Both require a gigantic navy with infrastructure support and established economic development in the region. Canada has none of these elements in place.
Canada's navy has 8,500 personnel, no seaports in the north and a fleet that cannot operate there. The three Arctic territories have a population of 100,000 people, no rail or roads, and the only economic development is seven mines scattered across its vast territory. Plans announced years ago by the Conservatives to build icebreakers or Arctic escorts have become mired in costs and politics and are years away from completion.
To compare, Russia's Siberia is economically developed with a population larger than Canada's, several cities with more than half a million, 16 seaports along the coast and a navy totalling 140,000 personnel with 282 modernized ships. This includes six super-size icebreakers that maintain and escort ships transiting its Arctic passage.
The American Arctic, or Alaska, is also developed with a population of 700,000, a gigantic oil and mining sector, a $60-billion wealth fund, royalty payments to all residents and rail, road, pipeline and 25 seaports.
Russia's logistical strategy is well advanced and its route, the Northern Passage, has several competitive advantages. It is already ice-free for the summer months and is shorter in distance between Asia and Europe than The Northwest Passage. The journey from Hamburg to Shanghai via the Suez Canal measures 20,000 kilometers, but Russia's northern route is 6,000 kilometres shorter.
Besides, the world's biggest natural gas deposits in northwest Siberia are located midway along the route. A 15-billion Euro Liquefied Natural Gas project is underway and this LNG can be shipped east or west to gas-hungry markets. This will support more infrastructure development.
In 2013, the Russian agency, the Northern Sea Route Administration, granted 213 transit permits compared with 46 in 2012 and four in 2010. Experts, and China, estimate that ships using this route could be moving 25 per cent of the trade between Asia and Europe through the Arctic. In 2014, 431 ships have been granted permits so far.
This year, cargo ships carried ore, coal, fertilizer and grain; supertankers carried crude oil and liquid natural gas and the Chinese used the route. No wonder China is building an icebreaker fleet.
The Russian strategy will pay dividends. Its navy charges enormous fees for accompanying cargo ships, its ports profit from providing services and goods and Moscow will have a means of exporting its liquefied natural gas from Siberia anywhere in the world by sea.
By contrast, this fall the first cargo ship in history traversed Canada's Northwest Passage. The trip shaved 1,000 miles off the journey from B.C. to Finland bypassing the Panama Canal. But the venture was only viable because it was subsidized by the Canadian government which paid $50,000-a-day for a ship escort. Shipping experts claim this route is unviable because of dangers (no rescue or monitoring or repair ports along the way) so insurers won't finance shipping there.
My point is that the Grand Game in the Arctic is underway and Canada sits on the sidelines. In addition, under international law, no country owns the North Pole or the Arctic Ocean region and the U.S., European Union and China maintain that the trade passages must be international, not Canadian or Russian or anything else.
This week's ownership claim by the Tories is based on the fact that five countries that border the Ocean, Canada, Russia, the United States, Norway and Denmark (via Greenland), "own" an exclusive economic zone that extends 230 miles from their coastlines. Those countries, under the United Nations Convention on the Law of the Sea, have ten years from the time they ratify the law to make claims beyond this economic zone. If they can prove their claims, their exclusive rights to resources would extend the boundaries of their underwater land claim. If claims overlap, they are on their own to negotiate among themselves.
To his credit, Prime Minister Harper is staking a greater claim and is the first leader since Diefenbaker to take an interest in the North. (Opposition leaders are so out of the loop in this geopolitical world that it's embarrassing.)
But the reality is that Canada is billions of dollars and one century behind in northern development. These ownership claims will take a decade and are important but beside the point. Canada needs a solution and quickly. Catching up will cost hundreds of billions so my solution is for Canada to join forces with the United States to defend and develop its North.
That may be unacceptable to some Canadians, but they must realize that the status quo is not an option.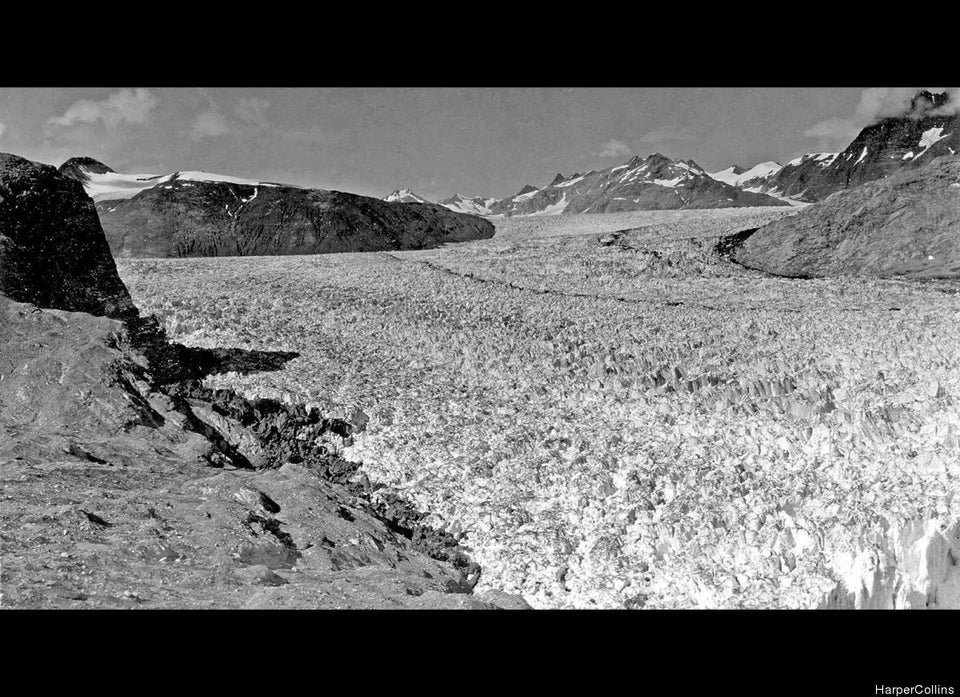 Harper Collins' Climate Change Photos