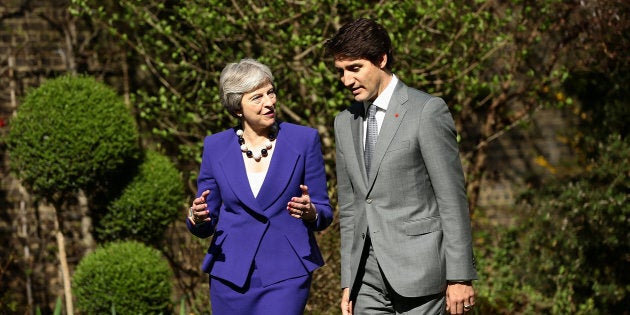 Prime Minister Justin Trudeau wouldn't say Thursday if he supports the idea of banning plastic drink straws in Canada, but wants to discuss the idea with G7 leaders this spring.
Trudeau's British counterpart Theresa May announced that her government is mulling a plan to ban straws and other single-use plastics, such as drink stirrers and cotton swabs, that pollute oceans.
May urged Commonwealth leaders meeting in London this week to take similar steps, calling plastic waste "one of the greatest environmental challenges facing the world." Her government has also pledged to eliminate avoidable plastic waste by 2042.
Speaking later with reporters, Trudeau said Canada has made protecting oceans central to its G7 presidency, particularly when it comes to plastic waste. May's proposal is sure to generate "a lot of interest" among those leaders, he added.
But when asked if Canada might ban plastic straws ahead of the G7 summit in June, Trudeau said only that he was "very open to a broad range of ideas and suggestions" and evidence-based policy.
"We know that macroplastics like straws are a significant challenge in the ocean but we also know that microplastics and nanoplastics represent a real challenge to ocean ecosystems," he said.
'We're going to look at a broad range of suggestions'
Trudeau suggested that Canada prefers to move forward on the issue as part of a "global community."
"We're going to look at a broad range of suggestions, consult a broad range of experts and scientists, and move forward decisively not just as a single country, although Canada does have the longest coastline in the world," Trudeau said.
The prime minister was also asked if his government would support an NDP motion calling for a national strategy to combat plastic pollution.
The motion, tabled by B.C. MP Gord Johns in November, includes a measure calling for regulations aimed at curbing "consumer and industrial use of single use plastics, including... plastic bags, bottles, straws, tableware, polystyrene (foam), cigarette filters, and beverage containers."
The prime minister touted his government's ocean-protection plan but said he is interested in suggestions to do more to protect Canada's coasts.
"I look forward very much to looking into this proposal by the MP," he said.
Trudeau's government has already moved to ban plastic microbeads in bath and body products.
G7 leaders will meet in Charlevoix, Que. from June 8-9.
With files from The Canadian Press