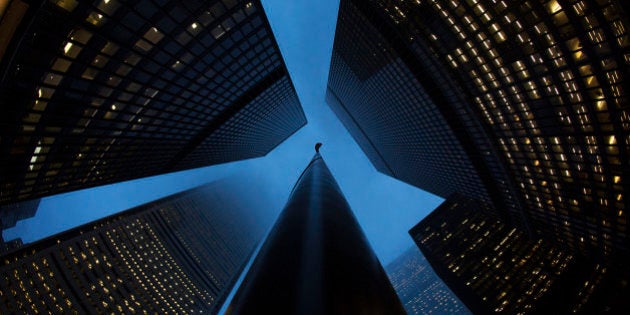 I wouldn't claim that all of the big banks are caught up in scandals over high-pressure sales tactics. The people working at the big banks can tell you that.
This headline from the CBC sums up the problem nicely: "'We are all doing it': Employees at Canada's five big banks speak out about pressure to dupe customers":
"An RBC teller from Thunder Bay, Ont., said even when customers don't need or want anything, 'we need to upgrade their Visa card, increase their Visa limits or get them to open up a credit line.'

'It's not what's important to our clients anymore,' she said. 'The bank wants more and more money. And it's leading everyone into debt.'

A CIBC teller said, 'I am expected to aggressively sell products, especially Visa. Hit those targets, who cares if it's hurting customers.'
On the same day, MarketWatch published this report: Are Canadian banks headed toward a Wells Fargo-style scandal over sales tactics? (Spoiler Alert: It sure looks that way).
This breakdown of trust is a systemic problem. But it doesn't need to be this way.
Using data to create low-pressure opportunities instead of high-pressure sales tactics
I'm not against financial institutions that try to sell. That's just business. If financial advisers can actually provide appropriate investment options for clients in exchange for a reasonable fee structure, we're all for it.
There are ways for these banks to do precisely that, using better data.
Financial institutions are already collecting lots of data on customers, but most aren't using it properly.
Think about this. When you finally get to speak to a live representative in your local branch (after standing in line for 10 minutes), they're often trying to sell you something you don't want or need. It's annoying.
Better data can help ensure clients get the offers they actually want, when they want them. No more advisers trying to sell you on the high-fee fund flavor of the month. Instead, you get a helpful ping on your smartphone about when and how to top up your RRSP or TFSA, just before tax season.
The key is to ensure that offers are timely, appropriate and wanted. (Ethics dictates one should always be able to opt-out). They should take into account behaviour, transaction history and life events you discuss with your adviser, like getting married, having kids or retiring. With this information, it should be easier to make sure clients can get the right offers at the right time, in an unobtrusive fashion.
Partly, that's a technical solution, involving coders, marketers and a host of other specialists. But it also comes back to the financial advisers. They need to ensure they're really asking the right questions and listening to what customers are telling them.
When banks can offer that, instead of focusing on one-size-fits-all sales quotas, customers will win out with convenient, non-intrusive service. Then the bank employees will be able to deliver service that's always for the benefit of the customer, not just to their duty to turn a profit.
Once the banks solve the data problem, that will help solve the other, very human problem
We also need to deal with human nature. It might not be ground-breaking or sexy, but banks just need to stop creating incentives for bad behavior.
One simple solution: don't pay advisers commissions based on getting clients into different investment vehicles. Don't give them bonuses for getting a client to invest in a 'platinum account', whatever that might be.
Bank employees operate just like other humans. When you reward people financially for steering customers into Fund A instead of Fund B, you'll see a lot of customers start moving their money into Fund A. That will happen, whether or not Fund A is actually the best fit for the client.
Don't create a conflict of interest financial advisers. That way, their only focus is on maximizing the investment return for clients.
The solutions are right in front of us. It's going to take a bit of technical skill. Mostly, it will just take the will to do the right thing.
Tea Nicola is the Co-Founder and Chief Executive Officer of WealthBar, one of Canada's first robo-adviser services, with full-service online financial adviser offering diversified portfolios of low-cost ETFs, insurance and financial advice. Passionate about personal finance, Tea is looking to change the way Canadians save by making investing easier.
Follow HuffPost Canada Blogs on Facebook