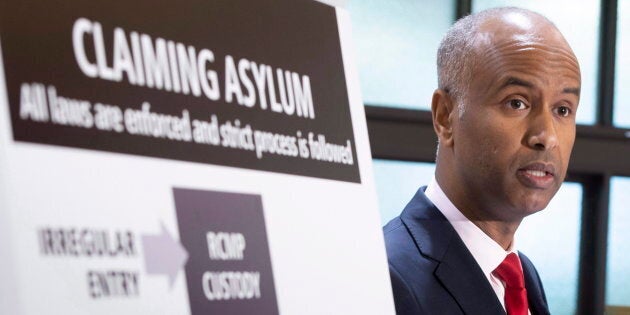 The issue of irregular border crossings looks to be putting Prime Minister Justin Trudeau in a politically vulnerable spot, a new poll suggests.
According to numbers released by the Angus Reid Institute, two-thirds of Canadians — 67 per cent — agree that the situation constitutes a "crisis" and that Canada's "ability to handle the situation is at a limit." Another 33 per cent told the firm the situation was being "overblown" by politicians and the media.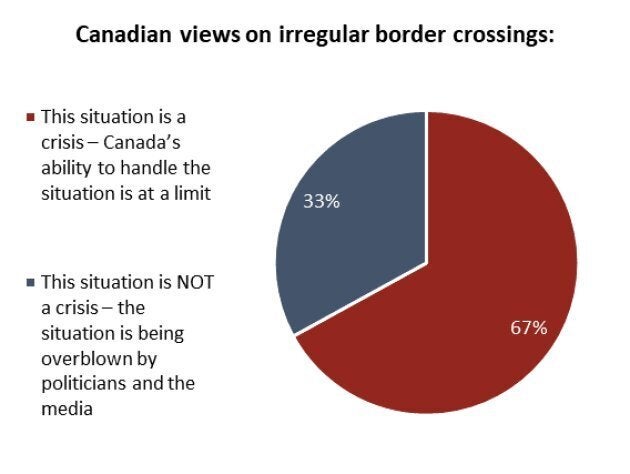 Fifty-six per cent of respondents who voted Liberal in the 2015 election and 55 per cent of NDP supporters agreed that the matter had reached a crisis level.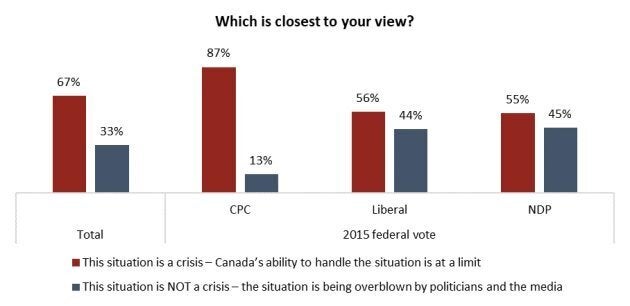 The survey comes two weeks after Trudeau shook up his cabinet and appointed former Toronto police chief Bill Blair to serve as the new minister of border security. The government said at the time that Blair would be responsible for "irregular migration."
At a testy House of Commons immigration committee meeting the next week, Tory MPs argued Blair's appointment was mostly a political statement, in part because the Canadian Border Services Agency will not report to him.
At that same meeting, Liberal MPs, Public Safety Minister Ralph Goodale, and Immigration Minister Ahmed Hussen disagreed with how Tories have framed the asylum issue as a crisis.
"The fact of the matter is that this is not a crisis," Hussen said. "This is a challenge that many countries face, including Canada."
Though not a new issue, Donald Trump's election in the United States spurred an influx of people crossing the U.S.-Canada border. Trump moved to bar refugees and visitors from seven Muslim-majority countries and ended the "temporary protected status" of thousands of people from countries such as Haiti.
According to government statistics, more than 30,000 people crossed from the U.S. to Canada outside of official entry points since 2017 to claim asylum. Most have crossed into Quebec and Manitoba towns.
Under the Safe Third Country Agreement between Canada and the U.S., those seeking asylum must do so at the first country in which they arrive. However, in what has been dubbed a loophole, the pact only applies at official border points.
While those who cross the border irregularly are arrested by the RCMP, they are entitled under international law to make an asylum claim after facing a background screening.
The Angus Reid Poll shows that while awareness of the issue is high, 48 per cent of respondents overestimated that more than 50,000 people have crossed into Canada irregularly since 2017.
Once presented with the correct figures on border crossers, 65 per cent of respondents said it still amounted to "too many people for Canada to handle," while 29 per cent said that number is "manageable." Drilling down further, the firm found that 56 per cent of respondents who voted Liberal in the last election and 53 per cent of those who voted NDP agreed it amounted to "too many" people.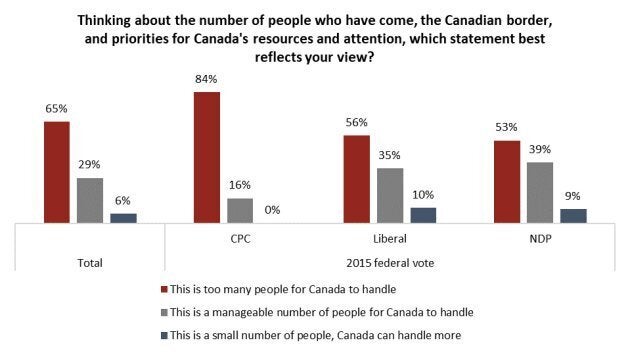 Six-in-ten respondents also told the firm that Canada is "too generous" toward would-be refugees, a spike of five percentage points since the question was asked last year.
Doug Ford's new Progressive Conservative government in Ontario has sparked headlines in recent weeks by blasting federal Liberals over the costs of providing asylum-seekers with housing, health care, and other services. Calling the situation a "mess" that Ottawa needs to clean up, Ford's government wants the feds to pony up $200 million to cover, among other things, shelter costs and social assistance.
The Trudeau government has so far offered $50 million to help provinces dealing with the matter, including $11 million for Ontario, $36 million for Quebec, and $3 million for Manitoba.
Federal Liberals have also taken exception to the Ontario PCs' repeated characterization of the asylum seekers as "illegal border crossers."
Seventy-one per cent of respondents told the firm Canada should be focusing "exclusively" or "mostly" on border security and monitoring, while 29 per cent said the focus should be on assisting new arrivals.
'Genuine refugees' or not?
The apparent apathy being felt among some towards the newcomers may be related to doubts about whether they are fleeing legitimate danger or persecution.
Just 27 per cent told the firm they see border crossers are "genuine refugees," while 40 per cent said they are people seeking economic opportunities. The rest said about half the border crossers are genuine and half are opportunists.
Federal New Democrats have called on the Trudeau government to suspend the Safe Third Agreement, arguing that Trump's America is no longer a safe place for refugees. Tories want the pact enforced along the entire border, which would amount to a massive undertaking.
Asked what to do with the pact, 43 per cent said it should remain in force, 30 per cent said it should be suspended and another 27 per cent weren't sure.
In another sign of possible trouble ahead for Trudeau, the poll had some good news for his chief rival. Forty-eight per cent of respondents said Conservative Leader Andrew Scheer was the major party leader they most trusted to handle the issue, compared to 35 per cent for Trudeau and 16 per cent for NDP Leader Jagmeet Singh.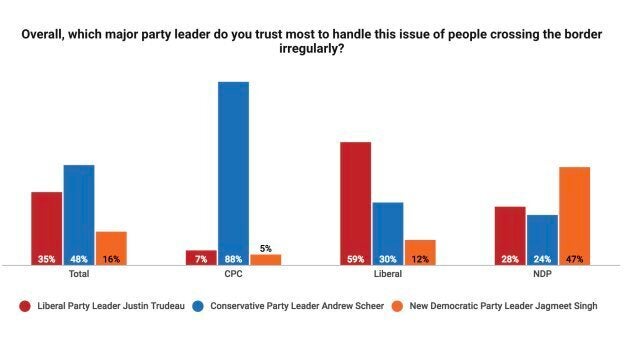 The Tory graphic, which showed a black man walking over a graphic of Trudeau's tweet and about to enter Canada through a broken fence, was panned online as racist and pulled by the party.
The Angus Reid Institute conducted an online survey from July 25-30 among a representative randomized sample of 1,500 Canadian adults who are part of the Angus Reid Forum. The firm says a probability sample if this size would carry a margin of error of 2.5 percentage points, 19 times out of 20.
With a file from The Canadian Press