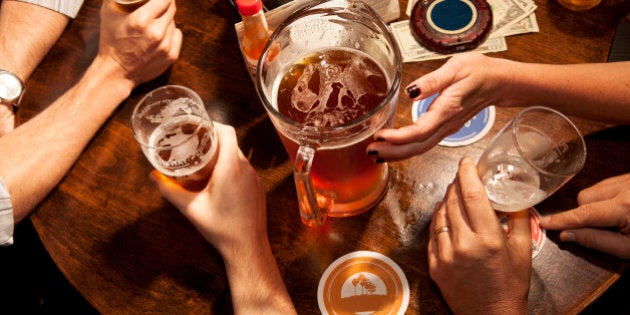 There's no question that craft beer is hot right now.
Now's a great time to branch out and find something new: we've selected 11 of the country's most intriguing new breweries. Cheers!

11 New Breweries In Canada
Like this article? Follow our Facebook page

Or follow us on Twitter
Village is a brewery with a mission: 10 per cent of its bottom line is put towards supporting local arts and community. The brewery has assembled a 50-person team of accomplished Calgarians who help with the brewery's mission and support each other — and are, of course, beer fans. Village also makes space in its shop available to local artisans.
To try: Farmer, a farmhouse ale with refreshing cucumber
Collective Arts aims to combine its owners' love of beer with their love of the arts by pairing with artists around the world, from fellow brewers to musicians, visual artists, and filmmakers. They feature artwork on their bottles and their website's blog. And they're open to suggestions and proposals for new collaborations.
To try: Rhyme & Reason, an extra-pale ale that avoids bitterness
This Manitoba brewery is different from other North American microbreweries in one key way: the ingredients that go into their beers are grown on site at their estate brewery. Can't get more local than that!
To try: Farmery Premium Lager, a classic light lager
Uncle Leo's is a Nova Scotia-based brewery, but it has Newfoundland roots, having been inspired by the owner's uncle and the home brews he would sell at his Placentia Bay general store in the 1940s. This brewery's classic beers are made without added fillers or preservatives.
To try: Uncle Leo's IPA, a straight-ahead brew
Toronto's Bellwoods Brewery isn't just one of the best new breweries in Canada — it's among the best on the globe. Bellwoods was recently named the third best brewery in the world in the RateBeer best of 2013. The Bellwoods microbrewery opened in 2012, and earlier this year they expanded to include a retail store, including growler sales. The brewery frequently brews in collaboration with other beer makers, and creates forward-looking flavour combos.
To try: Witchshark, a super-hoppy double IPA
This new East Vancouver brewery was founded by three friends who initially owned a restaurant together. But the trio had a longstanding love of craft brewing, and decided to get back to that with Parallel 49. They have an inclusive approach that aims to have a beer for everyone, and keeps a sense of humour intact.
To try: Old Boy, which has hints of chocolate and caramel
Le Castor Brewing Company
This Quebec brewery focuses on organic beer, made by partners who got interested in brewing while in Scotland completing an internship in traditional timber framing. The owners launched a woodworking company called Hamlet before getting the idea for Le Castor, and their timberwork shop is where they first started brewing; their microbrewery officially opened in June.
To try: Wee Heavy Bourbon, aged in oak bourbon barrels for three months
District is the first locally owned and operated brewery in Saskatchewan's capital city, having launched just this past summer. Its co-owners aim to help the microbrewery trend grow in their home province.
To try: Mus Knuckle, a pale lager
Lake of Bays Brewing Company
http://lakeofbaysbrewing.ca/
Lake of Bays is based in Ontario's Muskoka region, which is known more for beautiful cottages and scenery than beer. They brew with fresh Lake of Bays water, adding a special local touch, and their beers are made with all-natural ingredients.
To try: Top Shelf, the official beer of the NHL Alumni Association
Beer is not exactly celiac friendly — it's traditionally full of gluten, thanks to the use of barley (and sometimes wheat) in the brewing process. Some companies offer a gluten-free beer, but the results are hit or miss. But this Quebec brewery, which focuses on gluten-free brews, is doing it right: Glutenberg won the bronze, silver, and gold awards at the World Beer Cup in 2012 in the gluten-free category.
To try: Glutenberg Red, made with roasted chestnuts and a gold winner at the 2012 World Beer Cup
Last month, Olds College in Alberta — in collaboration with Ontario's Niagara College — launched the first brewing training program in Western Canada. Olds' residents and visitors can sample the students' work at a hotel attached to the campus, or they can visit the attached retail store and take some home.
To try: Get in touch to see what's brewing, as it'll change as the program runs