OTTAWA — The Conservative government's first majority budget focuses on business-friendly incentives aimed at creating jobs while reducing the size of the public sector and eliminating or cutting many programs that don't jibe with the party's ideology.
"It signals a very profound change in direction," said Ian Lee, an assistant professor at Carleton University's Sprott School of Business.
"This is going to be a transformational budget and ironically, not because of the budgetary stuff in the budget, it's going to be transformational because of so many policy initiatives, changes and direction," he added.
Budget 2012, titled Jobs, Growth and Long-Term Prosperity, has the Tories slashing $5.2 billion from public services — a figure they'll reach by 2014-2015.
Some of the departments hardest hit include National Defence, which is wrapping up operations in Afghanistan, Public Safety, Health Canada and the International Assistance Envelope. The federal government will spend $900 million to eliminate approximately 19,200 federal jobs (including attrition), mostly in the national capital region.
GALLERY: FEDERAL BUDGET HIGHLIGHTS
They plan to scrap the National Roundtable on the Environment and the Economy, a group that provides advice on the environment, saying they don't need their advice any more. They will make it more difficult for charities, such as environmental groups that oppose pipeline developments, to engage in so-called political activities. The CBC will be chopped by $115 million. The youth program Katimavik will be killed.
Diplomats will have to live in less ritzy accommodations and public sector workers will be forced to work until age 65. Public employees will see some of their severance packages eliminated and, eventually, they will contribute more to their pensions. MPs will be asked to do their part too, the government said, but any pension changes for them won't take effect until the next Parliament.
The federal government will streamline environmental reviews to ensure the speedy approval of natural resource development projects, such as the Northern Gateway pipeline. It will spend $306 million next year for research and development, business investments, and help for entrepreneurs to bring their products to market.
The Tories aim to refocus the National Research Council toward "business-led, industry-relevant research" while slashing the Social Sciences and Humanities Research Council of Canada's budget by $14 million – all while chasing free-trade agreements with renewed vigor.
On the labour front, the Tories will revamp the immigration system, killing a backlog of 300,000 skilled foreign worker applicants by sending them their money back. New applicants will be judged on whether they fit with current labour demands and applications have been capped at 10,000 annually.
The government will also invest heavily in Aboriginal education, as well as infrastructure to provide clean water on reserves. The budget also aims to help young people get "tangible skills."
The budget will bring significant changes to Employment Insurance (EI), encouraging people to work while receiving benefits and standardizing qualification standards.
As expected, the age to qualify for Old Age Security and the Guaranteed Income Supplement benefits will be raised from 65 to 67, but the change won't take effect until 2023 and will be gradually implemented over six years. Starting in 2013, however, the federal government will allow seniors to defer receipt of their OAS benefits for up to five years, a move which will result in a slightly higher benefit. The government predicts the cost of the program will explode as the Baby Boom generation retires.
Finance Minister Jim Flaherty said he has used the budget to lay out a clear policy direction for the country.
"The plan's measures focus on the drivers of growth. Innovation, business investments, people's education and skills that will fuel the new wave of job creation," he told reporters Thursday.
"This is the largest budget we have done, it is looking at the longer term … up to 2020 and beyond," he said, waving the 500-page book in the air.
GALLERY: FEDERAL BUDGET HIGHLIGHTS
(Story Continues Under Gallery)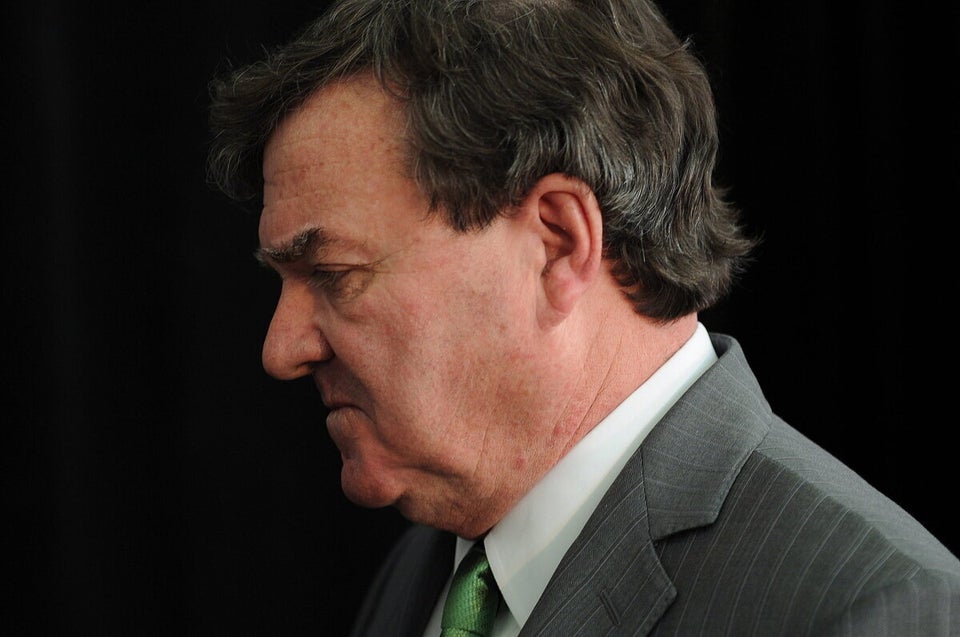 Canada Budget 2012 Highlights
Flaherty called his cuts "moderate" and dismissed the notion they were ideological.
"I'm not a very ideological guy, I guess because I get people mad at me for not being a strong enough fiscal conservative," he said. "We are a moderate, pragmatic government that responds to the facts as they are," Flaherty added.
The focus is more on prosperity than austerity, said Lee. "What they are saying is this isn't just about doom and gloom and downsizing and layoffs, I think what they are trying to say is we are not just doing this for the sake of doing this, we are doing this because … this is going to free up resources to allow us to go down a different path."
Allan Maslove, a former editor of the series "How Ottawa Spends," believes there is no argument to be made for severe budgets cuts.
"The deficit is already coming down quite rapidly … (and) the economy is still pretty weak. Over the last several months there's been no real growth in employment," he said. Cutting expenditures to balance the budget is not a way to strengthen the economy. If it does anything, it weakens the economy," he told HuffPost.
"They didn't need to cut, they could have invested in infrastructure …They could have done more for young people who are waiting to get into the labour market," said Armine Yalnizyan, a senior economist with the Canadian Centre for Policy Alternatives. "There is no response to the middle class getting hollowed out."
Despite the opposition, Flaherty's fiscal plan will receive guaranteed smooth sailing in Parliament. As the first budget in a majority mandate, it's also the time when big and painful changes — if a government wants to make them — are usually made, before spending ramps up again just in time for another federal election.
"If they are going to do anything controversial or unpopular, now's the time to do it," said Liberal MP John McCallum. "It's the first time that (Harper) is in an unfettered position and can do what he wants."
Weakening environmental reviews for pipelines plus major cuts of services to Canadians at a time when unemployment is so high, "those are not really Progressive Conservative actions," McCallum added, "those are hard core Conservative action ... It's ideological."
Budgets are ideological tools, argued Donald Savoie, the Canada research chair in public administration and governance at l'Université de Moncton. "It is the most important instrument to give life to your policies."
He believes that just like Liberal Finance Minister Paul Martin's budget in 1995, which slashed services and health and social transfers to provinces, Flaherty's budget 2012 will be a "game changer."
But, he cautions, if people are sitting at home thinking this budget will redefine the role of the federal government, it is not going to happen.
"No government will redefine the role of the public sector in one budget, it's done over a series of budgets," he said.
CORRECTION: A previous version of this story stated that the budget will kill a backlog of 460,000 skilled foreign worker applicants by sending them their money back. The actual number is 300,000. The story also stated applications will be capped at 10,000 annually, the number has already be capped.