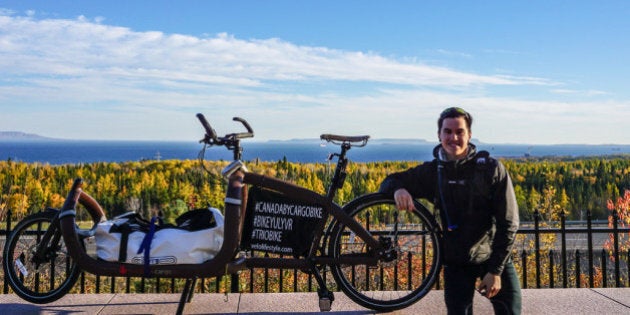 Before opening Allo Vélo (a bike boutique and café in his Montreal neighborhood of St.-Henri -- Lamar Timmins toured many countries around the world, but never took the opportunity to explore his home country of Canada. So when TrioBike -- a Copenhagen-based manufacturer he distributes across North America -- announced the arrival of a brand new, lightweight cargo bike in late 2014, a seed was planted.
The endless possibilities of a cargo bike
"In the bike industry, timing is everything," Lamar explains. "And with fall being a slow time of the year, I contacted TrioBike and pitched them the idea of using their new design for a cross-Canada tour, from Montreal to Vancouver."
This would be the first time anyone attempted such a vast distance on a cargo bike. But Lamar saw it as the perfect way to show people across the country what a cargo bike is, and what it is capable of. The mission was a simple one: "I wanted to inspire individuals, families, and businesses to consider the endless possibilities of a cargo bike."
Once TrioBike provided their blessing, they shipped him a model direct from the factory, giving him two weeks to prepare. He did some research online, drawing up a rough itinerary, and learning what to expect in each region, but knew he would be reliant on his iPhone for the logistical details of his trek.
The bike arrived from Copenhagen on Oct. 1, and Lamar hit the road to Ottawa the next morning, aiming to arrive in Vancouver before his 27th birthday, just 37 days later.
Packing it light and packing it right
"My goal was to not break the bank and buy all sorts of new gear, although I knew this sort of trip would require some specific garments adaptable to the cold, rain, perspiration, and inside pressure from my body temperature," he said.
Luckily, Lamar had a good friend who worked at Arc'teryx in Montreal, and was more than happy to lend him some synthetic underlayers (which are breathable, quick-drying, and antimicrobial), as well as provide plenty of tips around solo camping in cold conditions.
While the cargo bike afforded the ability to carry additional gear, Lamar knew that every pound would count. He packed a duffle bag with a Poler Stuff one-man tent, a MEC inflatable mattress, and a -7°C-rated North Face sleeping bag; opting not to pack cookware for the additional weight, attraction of wild animals, and extra time needed to cook his own meals.
Another essential item was a solar battery charger, which allowed him to charge his phone, camera, and bike lights every single night.
Relying on the kindness of strangers
When it came to getting a good night's sleep, Lamar utilized three different options: motels/hostels, camping (sometimes with permission, and sometimes without), and free "hosted" accommodation (from sites such as Couchsurfing or Warm Showers).
"Motels were the most convenient option, but could really bite in your budget," he said. And in some towns, hunters or truckers booked all available rooms by 5 p.m., something Lamar found out the hard way, forcing him to scramble for a place to pitch his tent.
While camping was easy on the wallet, it required a great deal more preparation, especially during inclement weather. "Eventually I got into a very efficient routine for finding a suitable spot, setting up camp, and then departing the next morning."
However, Lamar attributes the most memorable parts of his voyage to Warm Showers, a site designed to connect touring cyclists with hosts in cities worldwide.
"Not only does it ease your expenses, but being on the road can be very lonely. It's a great feeling to be welcomed to a warm home, hot shower, home-cooked meal, and a comfortable bed." Many of the hosts even met Lamar along the highway to help carry his gear, or cycled several miles with him to ensure he wouldn't get lost.
Burning over 6,000 calories a day
A typical day for Lamar would begin at 7:30 a.m., with a bowl of nutrient-rich oatmeal and hemp seed. He would then ride for seven to eight hours, often pedalling over 200 kilometres, with several stops for refuelling.
"Food was definitely an issue for me, because I was burning over 6,000 calories a day, so my body was constantly playing catch up." Any opportunity Lamar had to eat something, he would. In between meals, he would consume snacks on an hourly basis (like a Clif Bar or piece of fruit).
It wasn't always easy sailing, and there was more than one occasion when Mother Nature nearly got the better of him. Lamar recalls shouting out in anger during one particularly tortuous day climbing steep hills in the cold, driving rain outside Sault Ste. Marie. In another instance, he spent two days stranded at a gas station in Maple Creek, Sask., after snow squalls and 70 km/h winds made cycling impossible.
Blog continues after slideshow: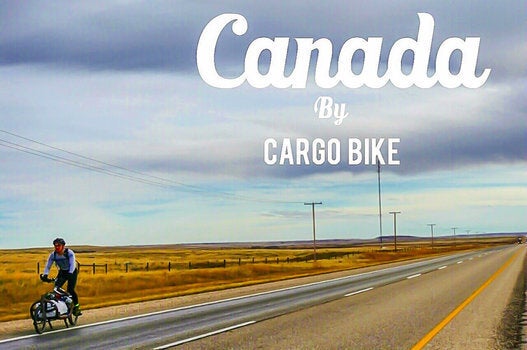 Canada By Cargo Bike
Connecting and promoting with Instagram
Knowing he was under pretty severe time constraints, and would often run into areas with limited Wi-Fi/data, Lamar decided to keep it simple and focus on promoting the entire trip on Instagram.
"That way, I could engage directly with followers in every city I visited, and their comments made it clear that people were really rooting for me. I even had invitations for dinner, or a meet-up at a café or bar."
A Canada-proof cargo bike
After putting 4,000 kilometres on the TrioBike Cargo, Lamar's faith in its versatility paid off, and he can safely say that it is a Canada-proof cargo bike. The lightweight frame, Gates Carbon belt drive, Shimano 11-speed internal hub, and Schwalbe tires made it ideal for conquering our country's challenging terrain. And amazingly, with regular visual checks, Lamar had zero maintenance issues over the length of his journey: the belt drive remained tensioned, and he didn't have a single flat tire.
While Lamar doubts he will revisit this particular path again, it has certainly whet his appetite for touring by cargo bike, and his mind is already planning the next big adventure. The challenges and experiences acquired from this trip have inspired him to consider a tour of Africa -- from Cairo, Egypt to Cape Town, South Africa.
But first up will likely be an East Coast trek -- from Montreal to P.E.I. -- ideally with a few friends. "Canada is a beautiful country, and there's no better way to see it than by bike," Lamar reflects. "This was, by far, the most challenging journey I've ever done. Mother Nature was both kind and twisted. It brought me to a whole new level of endurance, both physically and mentally. It truly was an experience of a lifetime."
To view the full collection of photographs taken by Lamar, please click here.
Chris Bruntlett is the co-founder of Modacity, a multi-service consultancy focused on inspiring healthier, happier, simpler forms of urban mobility through words, photography and film. Follow him on Twitter: @modacitylife.
Popular in the Community