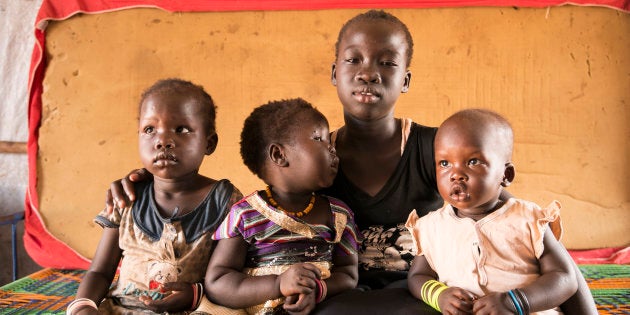 By Jamie McIntosh, VP of Programs and Policy, World Vision Canada
International Development Week was a time to celebrate the tremendous progress we've made in ending human suffering. But I wasn't raising a glass.
As my wife and I shuttle our energetic 11-year-old daughter to her spectrum of after-school programs, we give thanks for the many opportunities she has at her fingertips. For Isabella, the question isn't whether she has any options in life — it's which will be the most fulfilling.
But, as a development worker, my mind so often turns to the girls whose opportunities have been brutally ripped away, along with their childhoods. Millions have been torn from communities in places like Syria, South Sudan, Somalia and Afghanistan.
These girls don't get to study math and biology, learn a new sport, or dream of becoming a dancer, schoolteacher or surgeon.
Their home countries are plagued by conflict, economic disaster or the anguish of prolonged drought. Millions are enduring the multiplied chaos of several crises at once, and their young bodies and brains are fracturing under the pressure.
In such turmoil, governments often can't or won't provide the basics of life — including education. This is a loss beyond all reckoning.
The emptiness of lost education
There's so much to learn from looking in the eyes of a girl. In my years of travel, I've seen everything from bubbling joy and unquenchable hope, to desperate sadness and utter emptiness. It's education that so often determines whether those eyes sparkle, or simply stare.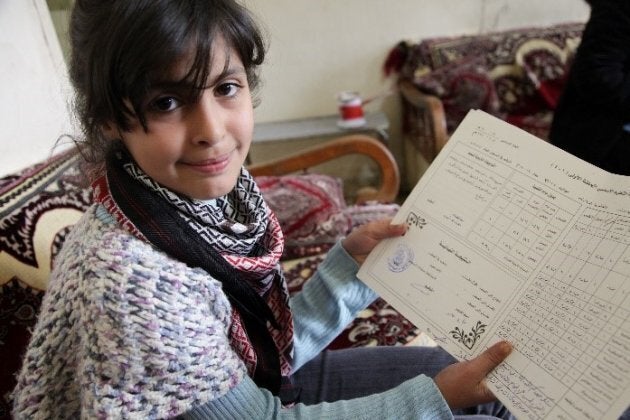 I think of Jouri, a refugee from Syria, who, when rushing to pack before fleeing her country, reached for her school report card. The paper tells the story of a committed, eager student with big dreams for the future.
When the camera clicked, they captured a girl whose brown eyes were a mixture of immense pride and profound, aching loss. "Look what I can do," they seemed to be saying. "I am strong — and I'm not finished yet."
When a girl is severed from her education, she loses so much more than the joy of daily learning. She is robbed of her hope for the future. And to steal a girl's hope — especially when it's critical to her emotional and psychological survival — is a crime beyond reason.
A lifeline denied
There are many ways educational programs can safeguard a girl's future. Education is a proven strategy in helping girls realize, embrace and defend their human rights. Such learning can make the difference between promise and tragedy.
A girl living far from home and security can run dangerously short of allies. She's separated from the network of people — including teachers — who once nurtured her. Her resources have been stripped bare.
There's no question that we must protect girls from harm. But we must also empower each one to use her own voice, to stand up for her own rights, to seek dignity and assistance in times of crisis. Without these things, a girl can be alone in the crush of a refugee or IDP camp. She's more vulnerable to child labour, or abuse of all kinds.
Some parents will arrange a marriage for their daughter in desperate hopes that she'll be protected and cared for. Such a move can introduce a whole new series of dangers. Child marriage brings with it the danger of physical abuse, isolation from family and the risk of forced pregnancy while she's still a child. It often shuts all paths of opportunity, as girls are so often treated like disposable property.
We need to equip girls to both participate and lead.
Another generation lost
This means a second generation of girls,the children of refugees, is now growing up in compounded crises — millions without the empowerment of an education.
The world is working together to sustain life everywhere with food, clean water and medical care. The importance of these things is undeniable, and they're the rights of every child.
But let's consider what's to happen when the wars and droughts end. An overwhelming majority of families express the hope of returning to their home regions. This means that today's children — including girls — could be crucial in helping their countries rebuild for the future.
Just think what we're asking of these children. How can girls contribute the ideas, the peace building, the job skills, the leadership and the vision to help create new realities for their countries, without the necessary tools in their hands?
We need to equip girls to both participate and lead. But, without education, the lifeline connecting girls to that future is brutally severed. They're left gasping for air, their dreams of tomorrow growing ever fainter.
Canada can lead the way
With Canada hosting the G7 summit this June, there's never been a better moment to focus on one of the most neglected issues facing the world today.
A Declaration to Educate Girls in Crisis could catalyze a fire of hope amongst millions of girls around the world, and provide a living legacy for regions that will one day be ready to pick up the pieces. A ready generation of women can contribute far more effectively than millions whose hopes died in the flames with their last report cards.
It's incumbent on all of us to keep girls in the game, for themselves, for their children, and for all the people in their countries who have struggled so hard to survive.
In the months to come, we'll be asking you to help support the push for a Declaration to Educate Girls in Crisis. We all stand to gain by speaking up. With every generation of girls which remains uneducated amidst crisis, the world sustains a critical loss.
For the sake of girls like Jouri, let's not wait another moment.