Canadians were very excited when the Liberal government announced the rebirth of the mandatory census.
Data-gathering tickled their fancies, apparently, and legions of census-hungry Canadians even posted photos of themselves with their paperwork on social media.
Loving, hip parents smile as their daughter tries to repeatedly fill out the census' online questionnaire. That's not how a census works, Stock Image Amanda. (Photo: Getty Images)
Statistics Canada has taken an early look at the census' response rates, and it seems like Canadians filled the living s*** out of it.
Although the agency is still calculating exact response rates, early indications show the short-form census had an overall response rate "approaching 98 per cent," Marc Hamel, director general of the census program, told The Huffington Post Canada in an email.
Late filings could change rates
Response rates for the long-form census were about 96 per cent, Hamel added, which is higher than those of the last two surveys in 2011 and 2006.
StatsCan's chief statistician Wayne Smith told The Globe and Mail that this is "probably the most successful census since 1666" — as in, the very first one.
The calculations are still early, though, and the response rate could rise or fall slightly when, for example, late filings come in.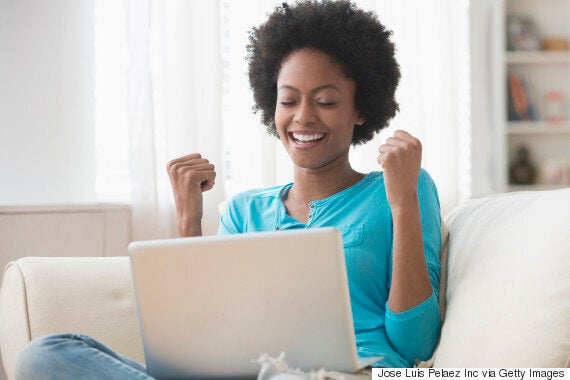 This is probably how most Canadians celebrated after providing the federal government with information about their households. (Photo: Getty Images)
Despite its apparent success, the massive data-wrangling project had a few bumps along the way.
StatsCan had to suspend collection in Fort McMurray, Alta. when the gargantuan wildfires ravaged the city in May. Around 90,000 people were forced to evacuate the city.
Hamel said StatsCan is working with local and provincial authorities in Alberta to determine when census operations can resume.
The agency's online system also crashed briefly when the collection process launched. The initial thought was that Canadians' enthusiasm for the survey brought the site down, but according to CBC News, design flaws caused the issue.
Many Canadians also complained about how the agency's employees kept nagging them to fill out the survey when they had already done so, Global News reported. One Calgarian told the broadcaster she felt "hunted" after getting so many calls reminding her about the census.