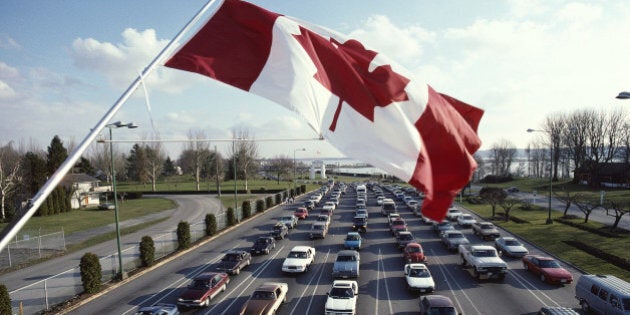 A new index of global emissions released Tuesday at the Paris climate talks finds Canada among the worst performing nations when it comes to greenhouse gas emissions and climate policy.
Even though Canada's position remains low, it represents a slight improvement from last year, when the country came in last out of 58 nations profiled in a 2014-2015 report.
This year's index report notes a "slight positive trend can be seen in Canada, which improved its performance by two places."
But the report, produced every year for the last 11 years by Climate Action Network Europe and Germanwatch, attributes the majority of Canada's improvement to the work of the provinces and acknowledges that no visible efforts to improve Canada's climate standing have been made at the federal level in recent years.
The slight increase in Canada's standing is due to early indication from the Liberal government and Prime Minister Justin Trudeau that Canada will be a more constructive player on the international climate stage.
The report analyzes emission levels, future projections, energy intensity and deployment of renewable energy, as well as climate policy for each of the countries.
"The new government has already announced increased efforts regarding climate policies, which was rewarded in Canada's policy evaluation where it climbed 12 places," the report states.
No countries were successful enough in their climate action to be listed in the top three position. Denmark was ranked highest above all countries in fourth place, followed by the U.K., Sweden, Belgium and France.
"We see global trends, indicating promising shifts in some of the most relevant sectors for climate protection and important steps towards a transformation of the energy system," Jan Burck, from Germanwatch and author of the index, said.
He added the overall energy intensity of the world's economy is on a downturn.
"The years 2013 and 2014 saw for the first time a higher amount of newly installed capacity from renewables than from all other energy sources combined; indicating that many countries have already started decarbonising their energy sector."
"In the next years, it will be crucial to decarbonise the energy sector on a global scale," Burck said.
Nations Hammering Out Plan to Eliminate Fossil Fuels in Paris
Countries are working hard to produce a major climate treaty at the COP21 Paris climate negotiations by Friday.
The goal of the treaty is to limit future warming to below catastrophic levels. New efforts are being made to keep temperatures from rising more than 1.5 degrees Celsius, a stronger target than the current limit of two degrees.
Countries are currently in high-level deliberations, working on the draft text of an agreement that addresses the world's need to eliminate the use of fossil fuels by around mid-century.
Canada has come out in support of pursuing the stronger 1.5 degree target, as well as supporting a legally binding agreement that includes a regular review of countries' emissions and emission reduction efforts.
Trudeau has promised to meet with provincial premiers 90 days after the end of the climate talks to discuss a pan-Canadian framework for addressing Canada's emissions. A new Liberal government climate plan is expected to be released around April of 2016.
Sidney Ribaux, co-founder of Équiterre, said Canada has so far been strong on human and indigenous rights.
"We want to see them maintain that position," Ribaux said at the climate talks in Paris.
"I would like to have seen Canada come out with some language around the 2050 [de-carbonization] argument. So far, we haven't seen anything from them."
An absence of strong, clear and long-term climate targets creates an uncertain context for both businesses and other jurisdictions of government, Ribaux said, adding he hoped Canada would announce new climate goals in Paris.
"It would have sent a good message, both domestically and internationally, to have released that here."