Take that, Ottawa: Vancouver tops you when it comes to the best spots to celebrate Canada Day.
A Hotwire.com survey found that Vancouver is the second-most-booked destination for the national holiday. (Toronto takes first place.)
So, you're in Vancouver for Canada Day. Now what should you do?
If it's fireworks you're after, head to Canada Place, where the sky over Burrard Inlet will erupt with a symphony of sparkles at 10:30 p.m.
Make an evening of it and arrive early to see Canadian rocker Bif Naked headline a free concert from 6 p.m., check out the extreme sports show or the exhibition of Canadian inventions. There will even be a citizenship ceremony taking place.
Up in Whistler, the resort has an environmentally-friendly celebration planned, with a pedal parade through the Village. There will also be live music, a reaffirmation ceremony for Canadian citizens and a fireworks display starting at 10:15 p.m.
Fed up with modern times? Take a step back in time with the Cariboo community of Barkerville, where an authentic Dominion Day celebration includes a tug-of-war, a grease pole climbing competition, and food and dancing at the saloon.
Check out the best places for fireworks and other Canada Day activities in Vancouver and B.C.: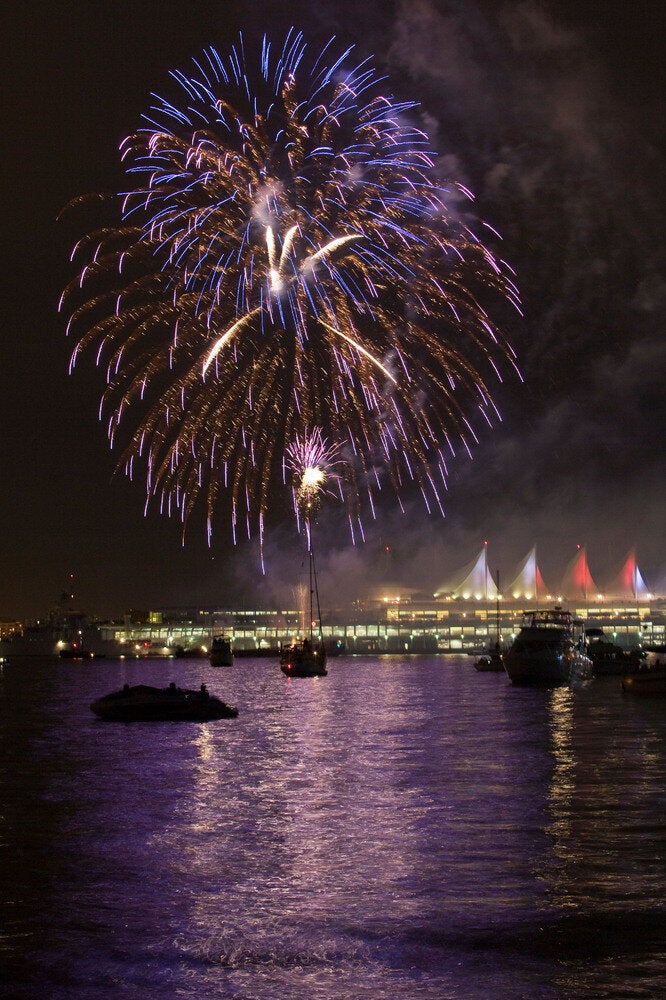 Canada Day Fireworks And Activities In B.C.
Canada Day at Canada Place: Where better for the occasion? The annual celebration on Vancouver's waterfront is a rallying point for the city on July 1. Canadian rocker Bif Naked headlines a long list of musicians who will play throughout a day packed with activities such as a citizenship ceremony, an extreme sports show and a parade downtown. The fireworks begin at 10.30 p.m.
Dominion Day Celebrations in Barkerville: Come to Barkerville, where you can party like it's 1899! The historic town in B.C.'s Cariboo region will celebrate Confederation with a good-ol'-fashioned tug-o'war, greasy pole climb, and food, drinks and dancing at the old-time House Hotel Coffee Saloon.
Steveston Salmon Festival: Steveston Village's Canada Day celebration is an all-day festival beginning with a parade through the historic fishing village. The mass salmon barbecue is the big draw here, but there's also a carnival and a trade show to check out. Organizers top things off with a spectacular fireworks display in Garry Point Park.
Surrey Canada Day: Talk about going all out! Surrey's Canada Day celebration has booked Sloan and 80s band Platinum Blonde to fire up the crowd at the Cloverdale Millennium Amphitheatre.
North Vancouver Canada Day: North Vancouver hosts its own Canada Day celebration. There will be concerts throughout the day at Waterfront Park, including Canadian folk band Tiller's Folly and country act Smith and Jones. Perhaps the biggest attraction will be a fleet of Royal Canadian Navy defence vessels.
Victoria Celebrates Canada Day: Canada Day in B.C.'s capital actually unfolds over three days, with performances by Hey Ocean!, The Odds and Rocky Mountain Rebel Music. Also featured at the party will be A Flavour of Canada, a food village with multicultural culinary treats.
Canada Day in Whistler: Whistler does its best to be environmentally-friendly in all it does, and Canada Day is no exception. Resort celebrations begin with a Pedal Parade through the Village. There's also an outdoor concert series, a reaffirmation ceremony for Canadian citizens and a fireworks display in Whistler Olympic Plaza.
Canada Day at Granville Island: If going downtown is too much for Vancouver residents, they can always retreat to Granville Island, where an all-day party includes a parade, jazz performances and a Canada Day ceremony at Ron Basford Park.
Canada Day Run in Pacific Spirit Park: What better way is there to celebrate Canada Day than munching on greasy food while watching parades all day? Why, something healthy, of course! Pacific Spirit Park is hosting 10K and 5K runs through UBC's extensive forest trail network. There's even a 1K kids run!
Langley Canada Day: Langley will host its own Canada Day party, way out in the Fraser Valley. Hightlights include a bouncy castle, a velcro wall and a lineup of performers including children's entertainers Bobs and Lolo. Fireworks take place at 10:30 p.m. between sets by The Piano Man, a Billy Joel and Elton John impersonator.