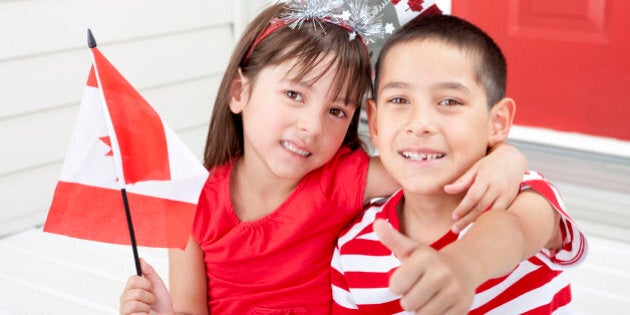 Summer has officially started, and students are excited to leave the classroom behind. School will soon become a distant memory for many learners as they head off for summer break.
Although the classrooms will be empty for two months, who says the learning has to stop? Taking advantage of holidays, celebrations and festivals presents great opportunities to reinforce teachable moments. And what better summer learning opportunity is there than the biggest birthday party in town on July 1?
Canada Day presents the perfect opportunity for kids (and the adults who love them) to explore our country's unique history, culture and identity. As an added bonus, there are many free activities from coast to coast that are educational and free for the entire family to enjoy.
Here are 10 suggestions for kids to celebrate and infuse some education into Canada Day:
Canadian musicians will be performing concerts all across the country this long weekend. Check out your neighbourhood line-up of festivities featuring local talent. My son's favourite pop stars, Sonshine and Broccoli, will be performing in Downtown Welland for their Canada Day celebrations.
2) Celebrate Canadian Authors
Check out books written by celebrated Canadian authors. Growing up, I loved Lucy Maud Montgomery's classic Anne of Green Gables. There are also many educational children's books that are all about Canada. For inspiration, check out Canada concept books by artist Per-Henrik Gürth. Young readers will delight in ABC of Canada, Canada 123 and Oh, Canada, just to name a few.
3) Play games, crosswords and puzzles
There are many great games to play in honour of this special occasion. Quiz young minds with Canadian trivia, crosswords and puzzles featuring picturesque landscapes.
4) Annual Canada Day BBQs
Have a look at what your local Member of Parliament is planning for the festivities. Many host free barbecue lunches with face-painting and games for the whole family. Children can also schmooze with the local MP for an in early introduction to Canadian politics.
Take a field trip to your favourite toy store for some inspiration. For all the children who love dolls, Maplelea Girls are perfect for Canada Day. This niche line of dolls captures the spirit of Canada's unique geography, heritage and culture. Start the collection with red-haired Jenna from Canada's East Coast and work your way to Charlsea from Canada's West Coast.
Canada-themed baked goods are a delicious treat for this special day. Every birthday deserves dessert! Children can design a Canadian flag cake. They can also bake and decorate cookies in the shape of a maple leaf. This is a great activity for kids to practice fractions and measurements and enjoy festive treats at the same time.
7) Sample Canadian cuisine
For all the little gourmets, seek out Canadian favourites and delicacies or try Canadian recipes with local ingredients. Make a batch of pancakes and break out the maple syrup.
For all the little Picassos, plan arts and crafts with a Canadian twist. The options are endless. Encourage students to create paintings and drawings around their favourite Canadian landmarks or cities. Visit your local dollar store to stock up on supplies and print out colouring sheets online.
9) Visit museums and galleries
With several closures around holidays, you may be surprised that the doors remain open to many museums and galleries on Canada Day. Expose students to new learning and cultural experiences with trips to the ROM, Ontario Science Centre, Ripley's Aquarium or the zoo.
Show your Canadian spirit and dress up in red and white. Wear the jersey or cap of your favourite sports team or your custom hometown T-shirt. I certainly will be breaking out my Peace Collective Toronto-vs-Everybody tank top.
Follow HuffPost Canada Blogs on Facebook