I just love this time of year! The fruits of summer are coming into season, and each mouthful bursts with juicy freshness.
I always like to tell people that they should eat veggies like it's their job, but in July it's completely reasonable to make fruit a top priority! Sure, we have access to many of them year-round, but in my opinion there is nothing quite as divine as fresh, local strawberries.
So here's a little secret about me -- I am completely addicted to ice cream. But because I am lactose intolerant and celiac, I don't indulge often. One way that I get my ice cream fix is by creating fruit-based alternatives!
Did you know that frozen bananas -- on their very own -- can be blended into a thick, ice cream alternative? It's a culinary miracle! I like to jazz mine up with the addition of freshly picked Ontario or Quebec strawberries -- it makes the "nice cream" a lovely shade of pink, complements the banana flavour, and adds the nutritional benefits of strawberries.
Why I am bananas about bananas
Let's not kid ourselves -- bananas are not a locally grown food. But, they do offer many other amazing health benefits. And they're fun! Did you know that botanically, bananas are actually a berry? Give that a minute to process!
One serving of banana contains 110 calories, 30 grams of carbohydrate and 1 gram of protein. Bananas are naturally free of fat, cholesterol, and sodium. Bananas also provide a variety of vitamins and minerals.
Try to select organic and fair trade bananas when possible. Fair trade ensures that workers in southern countries like Costa Rica, Nicaragua and Ecuador are treated equitably.
The benefits of strawberries
Strawberries are considered one of the healthiest fruits in the world. Packed with antioxidants, they can lower blood pressure and protect your heart. They contain many essential vitamins and minerals, and are also sodium, cholesterol and fat free.
Strawberries are an excellent source of vitamins C and K as well as providing fibre, folic acid, manganese and potassium. They also contain significant amounts of phytonutrients and flavanoids which makes strawberries bright red. So pretty!!
Strawberries do tend to have pesticide residues, but this can be largely mitigated by a thorough rinsing under cold water! If you can find organic strawberries that's great, but don't sweat it if you can't. The tastiest ones tend to be the ones grown closest to home, and I'd rather you get the benefits from eating them, than avoiding them out of fear.
So let's get down to the recipe! This recipe is perfect on a hot summer's day, and its lovely pink-red hue makes it a SMART choice for Canada Day!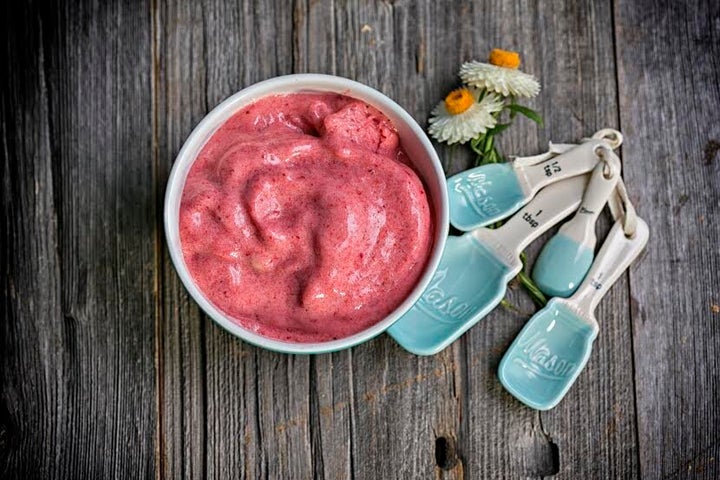 Strawberry Banana Ice " Cream"
I have been dairy intolerant since I was 5 years old. I can so clearly remember my mom making me this ice cream. It is thick, creamy and so easy!!
Your love for THIS will be better than ice cream.
Ingredients
3 ripe, frozen bananas ( the darker the banana, the sweeter it is! My dad told me the dark spots were little spots of brown sugar- dad is ALWAYS right!)
1 cup of frozen strawberries
3 Tablespoons of cashew milk
Add all of the above in a food processor or blender and puree.
Want to learn more about living SMART? Learn to see food not as the enemy in your health journey, but as a friend, with Kathy Smart's five-week Live the Smart Way Program.
Follow HuffPost Canada Blogs on Facebook