OTTAWA — Canada defended its record on economic and social rights in front of a United Nations committee this week, arguing that the way it treats indigenous people, as well as those with limited access to food, housing and social assistance programs, isn't as bad as First Nations, human rights advocates, and poverty alleviation groups contend.
Randy Fobister, deputy chief of the Grassy Narrows First Nation, told The Huffington Post Canada that his community in northwestern Ontario went to Geneva, where the UN's committee on economic, social and cultural (ESC) rights hearings took place, to put pressure on Ottawa to clean up a mercury contamination that in the past 40 years has poisoned fish, caused chronic health problems and killed the band's traditional way of life.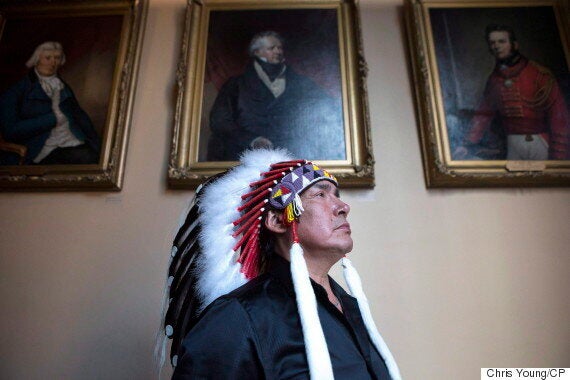 Grassy Narrows First Nation Chief Roger Fobister is pictured in front of portraits of former lieutenant-governors of Upper Canada at the Ontario legislature. (Photo: Chris Young/CP)
"We need the support of the whole world to hopefully get things moving," Fobister told HuffPost. "The mercury still affects our community members, the youth and the newborns. It's very frustrating when you know every day the [water treatment] plant is unsafe.
"That is a basic right to have clean drinking water and safe water."
During the 1960s, Fobister said, the government of Ontario allowed a pulp and paper mill to dump about nine tonnes of mercury into the Wabigoon-English river system that flows through his community's land. There has never been a clean-up and its water remains unsafe even after boiling.
This week, Grassy Narrows was among 30 civil society organizations that took part in the UN's review of Canada's obligations under the International Covenant on Economic, Social and Cultural Rights (ICESCR). The independent check occurs every 10 years.
No ministers, MPs in Geneva
On Wednesday and Thursday, UN committee members took turns questioning Canadian public servants — no ministers or MPs were on hand for the review — on a range of issues from poverty, housing, and homelessness to indigenous issues, government spending on social expenditures, and gender discrimination.
Canada came mostly under fire, however, for failing to allow the Charter of Rights and Freedoms to be used to enforce social and economic rights, several participants said. Committee members peppered the Canadian delegation with questions, wanting to know why Canada did not accept a more inclusive definition in the charter's section 7, the "right to life, liberty and security of the person."
"It's time for Canada to take a step forward and set out a more ambitious, braver interpretation of the charter."
"It's time for Canada to take a step forward and set out a more ambitious, braver interpretation of the charter to enable it to fully protect all ESC rights as enshrined in the covenant," Spanish committee member Mikel Mancisidor de la Fuente is quoted by Amnesty International as saying.
Without the charter's protection, the committee said, economic and social rights are relegated to a "secondary status," several individuals tweeted from the hearing.
"Someone who feels that their charter rights are being violated — for example, their right to life because of homeless or acute poverty — has no place to go in this country to make those legal arguments," Leilani Farha, executive director of Canada Without Poverty, told HuffPost.
"To me, it is simply unacceptable that we would have a Charter of Rights and Freedoms that is only available to people who have claims that are not related to poverty and homelessness."
Protection against homelessness not a charter right
In her opening remarks to the 18-member committee, Canadian heritage assistant deputy minister Rachel Wernick said Canada's experience with "peaceful pluralism" had taught Canadians to accept that the strength of their society depends on the "full participation of all its citizens."
She pointed to the courts and said Canadians have access to a "common base of human rights protections," according to her opening statement. "Where Canadians consider themselves to be subject to violation of their rights, their avenues to advocate, challenge, and seek redress are accessible and well-established," she told the committee.
But in Canada's written brief and its responses to questions, the federal government made it clear that it does not consider protection against homelessness and poverty to be a charter right.
"While the Canadian Charter of Rights and Freedoms (charter) mainly protects civil and political rights, it protects some aspects of the Covenant, namely, freedom of association, indigenous and treaty rights, mobility, language and minority language education rights," states Canada's response to the list of issues highlighted by the UN committee.
Ex-NDP MP: 'You can't have it both ways'
Craig Scott, a York University law professor, and former NDP MP, suggested Canada was perhaps being a bit more honest with the UN committee than it usually is. Traditionally, he said, the federal government demonstrates a lot of "hypocrisy" by letting the committee believe that the rights outlined in the covenant are included in the charter but argues the opposite in domestic courts.
"There is a dance going on, where … on the one hand they are absolutely trying to minimize the impact of the covenant on charter interpretation, and on the other hand they are trying to maximize the impression before the committee that it is taken seriously," he said. "You can't have it both ways."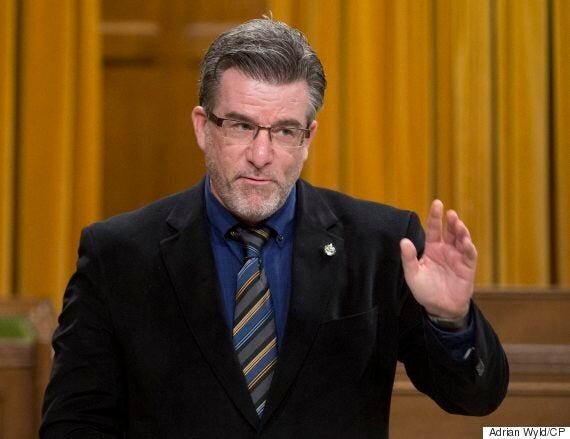 Former NDP MP Craig Scott speaks in the House of Commons in 2014. (Photo: The Canadian Press)
Ian McLeod, a senior adviser with the department of justice, told HuffPost that Canada's covenant obligations are implemented primarily through a large body of laws and regulations, at all levels of government, as well as a wide range of policies and programs.
Canada is committed to the "progressive realization of economic, social and cultural rights protected by the covenant," he added.
For Farha, who spoke on behalf of the Canadian non-governmental organizations, that is not good enough.
"Where can people claim these rights? And if they can't claim them, then how are you sure that you are actually meeting your international human rights obligation?"
A need for judicial enforcement?
The UN states that "judicial enforcement of human rights is fundamental. A right without a remedy raises questions of whether it is in fact a right at all," it notes on its website.
And while judicial enforcement isn't the only way to protect rights, the UN says, it plays a "clear role in developing our understanding of these rights, in affording remedies in cases of clear violations and in providing decisions on test cases which can lead to systematic institutional change to prevent violations of rights in the future."
The covenant, which Canada became a party to in 1976, states that men and women must be treated equally; that all peoples have the right of self-determination; that "in no case may a people be deprived of its own means of subsistence"; that all individuals have the right to work, to a decent living and have the right to form or join a union; the right to social insurance; the right to an adequate standard of living, including food, clothing and housing and the continuous improvement of their living conditions; the right to be free from hunger; the right to the highest attainable standard of physical and mental health; the right to education; and the right to take part in cultural life and enjoy the benefits of scientific progress.
A country that becomes party to the covenant is expected to use "the maximum of its available resources" to progressively realize all the rights outlined.
Canadian NGOs say social expenditure spending in Canada hasn't increased, as a percentage of GDP, since 1949.
"If we were to simply spend one per cent more of our GDP — just one per cent more — we would have at our disposal $19 billion, which could go some distance in solving poverty, homelessness, First Nations housing conditions, water conditions, and a violence against women strategy," Farha told HuffPost.
Poverty group contacts justice minister
On Monday, Canada Without Poverty and several other groups wrote to Justice Minister Jody Wilson-Raybould and a number of her colleagues to express their deep disappointment that Canada was taking the same position it had taken in 1998 by arguing that the charter does not protect a full range of economic, social and cultural rights.
"In light of Canada's new commitment to respecting human rights and engaging with the United Nations, and in light of your government's new commitment to addressing the profound socio-economic disadvantage of indigenous peoples in Canada, this position is inconsistent and incoherent," the group wrote. "We are expecting new, different and more forward-looking positions from your government."
The federal government is also committed to strengthening social assistance programs and lifting more Canadians out of poverty, she said. The government is developing a national poverty reduction strategy, plans to support the Housing First initiative to help the homeless find stable housing, and is developing a new early learning and child care framework to deliver affordable, high-quality, fully inclusive child care in Canada.
The federal government will also make post-secondary education more affordable for students from low- and middle-income families, Wernick said, and strengthen the employment insurance system, removing provisions for new entrants and re-entrants that disproportionately affect immigrants and younger workers. Wernick also noted how the Liberals had restored the interim federal health program for resettled refugees and asylum claimants.
"They are playing with lives … as if they are not important."
Fobister, from the Grassy Narrows First Nation, said he thinks the Trudeau government is on the right track when it comes to indigenous issues, but he too believes the courts should be used to ensure the covenant's human rights.
"The right to water is very important. Water is life. They are playing with lives … as if they are not important," he said.
"It's been a long battle and we are not going away," he added, referring to the 900 plus people – most of them children - who live on his reserve. "This is our homeland, and we are here to stay, and as long as the mercury is in the water on our land, we will still keep fighting."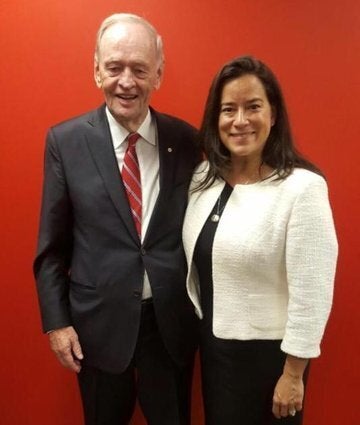 Meet Canada's Indigenous MPs
Popular in the Community