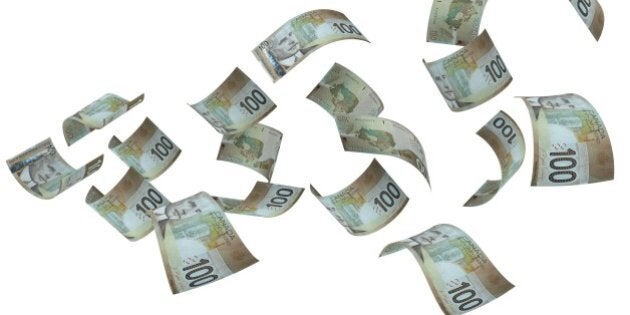 Despite economists' declarations that Canada emerged from recession in the third quarter, two new reports out Monday indicate more trouble on the horizon in the fourth quarter.
"Heightened global economic uncertainty and ongoing energy price weakness continues to weigh on the Canadian manufacturing sector," RBC chief economist Craig Wright said.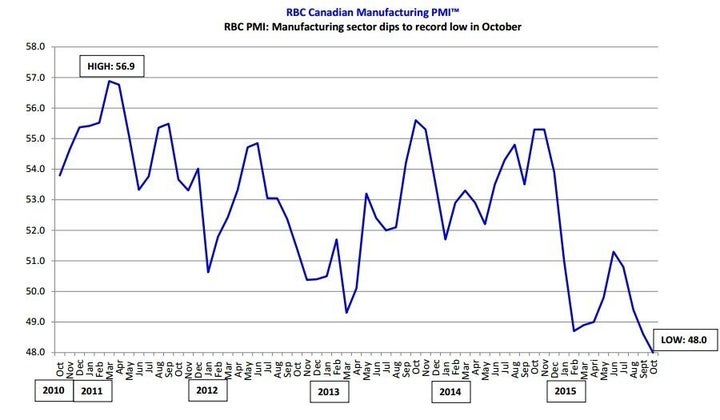 The index — which launched in 2010 and therefore doesn't cover the 2008-09 financial crisis — came in at 48 in October, its lowest reading on record. Any number below 50 suggests manufacturing is shrinking.
The RBC PMI is considered a "leading indicator," meaning that — unlike stats about unemployment or inflation — it can tell you where the economy is headed.
A measure of U.S. manufacturing activity, released Monday, shows manufacturing is doing better, but only slightly, stateside. The ISM's manufacturing index came in at 50.1 in October, down from 50.2 in September, suggesting U.S. manufacturing is barely growing.
Canadian Investors Bailing On Canada
Another leading indicator is capital investment. On that note, Bank of America Merrill Lynch had bad news for Canada Monday, with an analysis showing money is flowing out of Canada at the fastest rate of any country in the developed world.
It's the result of a collapse in oil investment, coupled with … nothing else. That is, nothing is replacing the lost oil investment money, and investors are taking their money elsewhere.
"This is Canadian investors that are pushing money abroad," Credit Suisse foreign exchange strategist Alvise Marino told Bloomberg.
"The policy in Canada the last 10 years has greatly favored investments in energy. Now the drop in oil prices made all that investment unprofitable."
This marks a breathtaking reversal from last year. In the space of 12 months, Canada went from having an inflow of money equivalent to 4.2 per cent of its economy annually, to an outflow of money equivalent to 7.9 per cent of the economy, according to BofA/Merrill Lynch.
UPDATE 11/3/2015: A Bank of Montreal economist is disputing the numbers put forward by BofA Merrill Lynch.
"While there's little debate the balance has deteriorated sharply over the past year, it has not been anywhere near as bad as the article states," Benjamin Reitzes wrote in a client note Tuesday.
Reitzes says the outflow of money is at 3.4 per cent of GDP currently, not 4.2 per cent as BofA had calculated. And a year earlier, it had already been negative, with money flowing out of Canada at a rate of 1.1 per cent of GDP.
"There's no sugar-coating the deterioration, but it comes as no surprise given the drop in oil prices," Reitzes wrote.
Original story continues below.
The outflow of money means the loonie is likely to fall further as demand for the currency continues to weaken. But that's a positive for the economy as a whole. RBC's Wright says he expects that a falling dollar will still rescue Canadian manufacturing this year.
"A strengthening U.S. economy and weaker Canadian dollar will fuel demand for Canada's exports, resulting in a shift to positive growth territory," he said.
— With a file from The Canadian Press