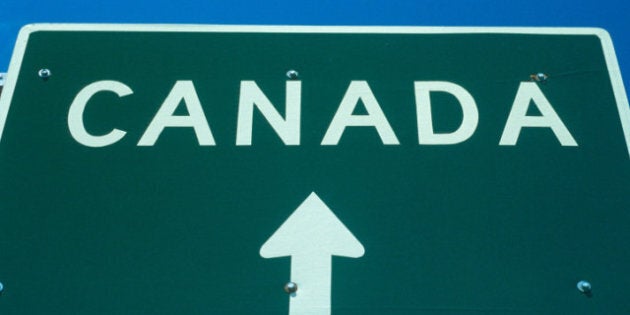 Canada created jobs at a rate more than five times as fast as the United States in September, according to numbers released in the two countries Friday.
It's yet another sign that, even as the two economies have grown more integrated through NAFTA and other initiatives, their natures are beginning to diverge fundamentally.
Given that the U.S.'s labour force is roughly 10 times as large as Canada's, that makes Canada's job creation rate, per capita, more than five times as fast as the U.S. The U.S. rate is barely enough to keep up with population growth.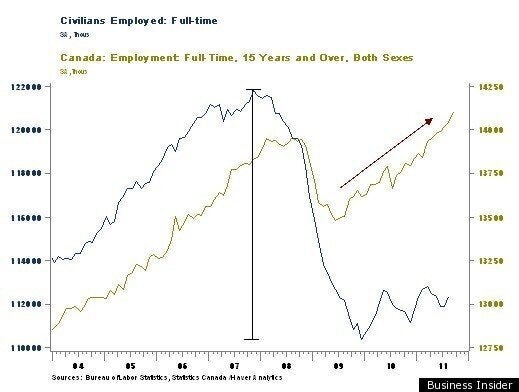 The chart, based on numbers from Statistics Canada and the U.S. Bureau of Labor Statistics, shows a roughly 3.5 per cent drop in the total number of jobs in Canada in the early months of the crisis, followed by a multi-year bounce-back that has brought employment levels back to near where they were before the recession.
By contrast, the U.S. figures show a roughly 9.5 per cent contraction in the labour market, followed by a period of slow to nonexistent job growth.
For those following the fortunes of the U.S. and Canadian economies, this comes as little surprise. Canada's economy has grown increasingly reliant on commodities exports, even as manufacturing has seen substantial declines. The U.S., meanwhile, is a net commodities importer and thus can't rely on that industry to fall back on during the crisis.
The divergence was illustrated this week by a report from CIBC World Markets that asserted Canada is weaning itself off the U.S. market, and increasingly turning to emerging markets for export growth -- and doing so out of necessity.
"In the past diversifying into emerging markets was a bonus but now it's a matter of survival," CIBC economist Benjamin Tal told the Financial Post.
But even as Canada and the U.S. grow apart economically, the two countries are still pulling closer together politically. The Canadian Press reported this week the two countries are on the verge of signing a new security perimeter deal that will increase information sharing and speed up the movement of goods and people across the border.
The plan is expected to come with a $1 billion price tag for Canada.
CORRECTION: An earlier version reported that the above chart showed a 5.2 per cent decrease in the number of jobs in Canada. The chart shows a 3.5 per cent decrease in the months following the 2008 financial crisis. The text has been edited to reflect the correct number.