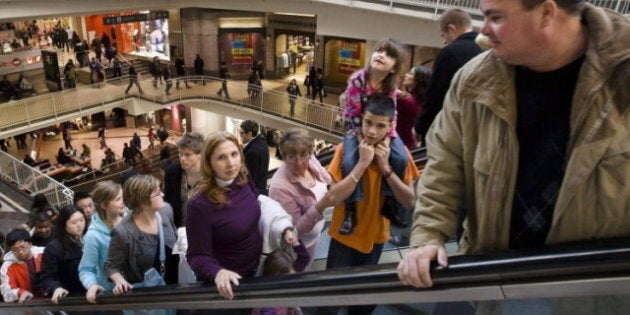 As unsettling economic news dominates the headlines, evidence is mounting that Canadian consumer spending will continue to disappoint in the months ahead.
A pair of studies released Thursday show that wage growth and consumer confidence have both ground to a halt -- a sign, warn economists, that consumers aren't in a position to give the economy the boost it needs.
Despite a recent uptick in inflation, which hit 3.1 per cent in August, Statistics Canada data released Thursday shows that wages are failing to keep pace, with average weekly earnings increasing just 2.2 per cent in the year ending in July.
"The majority of Canadians are just not getting wage gains that are commensurate with the rising cost of living," explains Scotiabank's Derek Holt, who blames uncertain times -- during which he says workers have been weary to push for a raise and employers reluctant to part with profits -- for the stagnation.
As Holt sees it, too much emphasis is being placed on job growth; it's how well those jobs pay, he says, that will determine how wide consumers are willing to open their pocketbooks.
"What's happening to the average wages of all workers matters a lot more than just adding a few tens of thousands of jobs each month … at the margin," he says. "It's going to be the wage picture that drives most of the consumer spending outlook, and that in turn explains why we've had a pretty soft consumer so far this year."
After retail sales in Canada fell in July (the 0.6 per cent drop followed three months of consecutive gains), Holt predicts that consumer spending numbers in August and September will "come in a lot weaker than what the consensus is expecting."
And if the current mood among consumers is any indication, he may very well be right.
Though confidence was up slightly over the previous month, stemming four months of consecutive decline, Pedro Antunes, director of national and provincial forecast says he "wouldn't call it an increase."
"Given a margin of increase around these surveys, I would just call this kind of stable from the already weak point that we had in August," he says.
The survey, which gauges consumers' attitudes toward their financial positions, employment prospects and making major purchases, put confidence in early to mid September at 75, which is still significantly below the average of 100.
But considering the uncertainty that has mounted in the past few weeks, Antunes says the current picture may be even worse.
"We hear about the turmoil with respect to Greek debt, and the possible consequences on financial markets, we've seen equity markets just bounce around like a yo-yo," he says. "These latest factors weren't even happening when we did the survey, so you have to worry about how consumers might feel at this very moment."
Despite these ominous signs, however, neither Scotiabank nor the Conference Board of Canada is forecasting a return to recession. In the longer term, Holt says falling commodity prices, borrowing costs and a decline in the value of the Canadian dollar will act as a "shock absorber," and "free up household incomes."
"I think it's an environment in which to err on the side of caution," he says, "but with a hopeful eye that once we get beyond the next six to nine months or so, we may be looking at a bit of a better outlook."