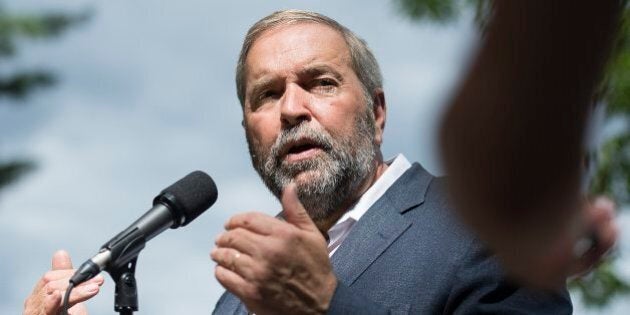 Thomas Mulcair's decision to drop out of a debate about women's issues forced organizers to pull the plug on the event entirely on Monday.
Over 50,000 Canadians had signed a petition supporting an "Up for Debate" proposal to hold a federal leaders' debate focused on women's issues. The campaign included backing from the Canadian Centre for Policy Alternatives, Native Women's Association of Canada, and Oxfam Canada.
"This debate is an important opportunity for all parties to speak to how their policies will affect women," said spokeswoman Melanie Gallant to The Huffington Post Canada earlier this month, prior to news of the event's cancellation.
"We made time for the conversation 30 years ago — it's essential we make time for it now."
Women's issues were last placed front and centre by federal party leaders Ed Broadbent of the NDP, Conservative Brian Mulroney, and Liberal John Turner in 1984.
Liberal Leader Justin Trudeau reacted to the news by expressing his disappointment.
According to iPolitics, the cancellation is due to the NDP leader pulling his participation after committing to it in November.
Mulcair's status comes weeks after his party released a shortlist of the debates he would participate in, but Up for Debate did not make the cut.
On July 30, the NDP announced Mulcair would not participate in any debate that Conservative Leader Stephen Harper didn't attend. Harper never agreed to the women's debate.
The NDP leader had earlier been adamant that there be a designated leaders debate to address concerns around gender equality.
"I believe I'm the only leader of a recognized party in Parliament to have said that I'm willing to participate in a debate on women's issues," he boasted to reporters on Feb. 25.
"I'd like to have a specific debate on women's issues."
Advocates have long criticized the noticeable absence of women's issues from federal campaign agendas. According to Oxfam's Kelly Bowden, "The word 'woman' was only mentioned four times" at the Maclean's debate on Aug. 6.
Despite the event's cancellation, Gallant told HuffPost Canada that organizers are keen to explore alternative formats to get party leaders talking about women's issues. She said more details will be released as they are finalized in the coming weeks.
A coalition of over 175 organizations were behind the Up For Debate campaign to steer women's rights and gender equality into a national discussion.
UPDATE: Four federal party leaders have agreed to address women's issues in one-on-one interviews. Up for Debate organizers say they have confirmed participation from the NDP, Liberals, Greens, and Bloc. The completed interviews will be screened at Toronto's Isabel Bader Theatre on Sept. 21.