When Liberal candidate Karen Ludwig learned that someone had painted black swastikas across one of her roadside election signs, she was not only shocked, but also angry.
"That's a pretty serious symbol to use against democracy and the people who support it," said the incumbent of the largely rural New Brunswick Southwest riding. The vandalism happened on Sunday or Monday.
Her face has also been punched out of a second sign around the same time.
"To literally deface my sign, as a woman, is unconscionable," Ludwig said. She took to Twitter Monday, saying she will not be "muzzled" by intolerant and hateful behaviour.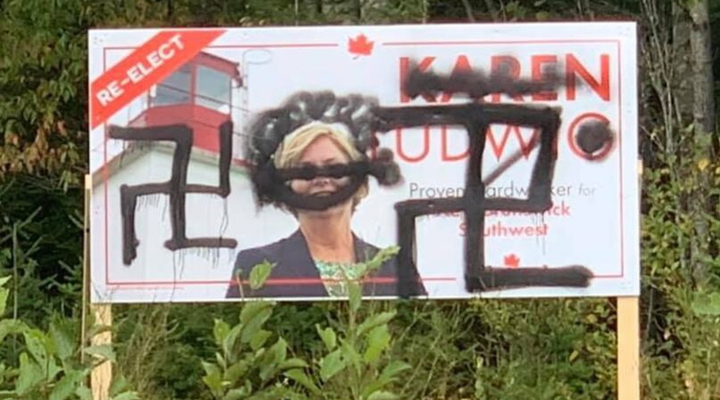 "If people don't like a political party, they can take a stand and vote," she said in an interview. "I have been calling out bullying and intolerable behaviour because that's part of leadership."
Ludwig said she will be replacing the sign vandalized with swastikas, but the ones with her face removed will stay up for now. She explained she only has a limited number of signs — due to fundraising constraints — and it "sends a message" about the kind of discrimination women in politics face.
"It's a hate crime. It's done to try to harass women, people of colour, LGBTQ+ persons, and others out of politics."
Last election, Ludwig made history as the first woman to win the New Brunswick riding. Over the past four years, she's experienced both tremendous support and some pushback, especially on Facebook where the negative and inappropriate comments "get really loud."
"Why do people feel so threatened they have to make these comments?" Ludwig said. "It's not OK because people are watching, young people are watching and we don't want to turn them off of politics because of this negative rhetoric."
The Nazi symbols were painted on campaign signs in two other ridings over the weekend.
In Montreal, at least six of Liberal candidate Soraya Martinez Ferrada's signs were defaced in the Hochelaga riding.
Conservative candidate Mariam Ishak's signs were vandalized in Pierrefonds-Dollard. She learned one sign was ruined by a swastika on Saturday, the second on Sunday and a third on Monday. She said she reported the destruction to police.
″I was expecting (sign) vandalism, I see it in all campaigns, but this is really pushing it," said Ishak in an interview. "This is not something that's regular in my riding — it's a community of a lot of ethnicities, united and diverse. You see people working together."
Residents have reached out to Ishak on social media, conveying their support and reinforcing her campaign strategy of "acceptance and tolerance."
Canadian Anti-Hate Network executive director Evan Balgord isn't surprised these incidents are happening more often in this election "than any other in recent memory."
"It's a hate crime. It's done to try to harass women, people of colour, LGBTQ+ persons, and others out of politics. Those candidates have to have 10 times the courage to run," Balgord said.
He pointed to Elections Canada recently granting the Canadian Nationalist Party — accused of advocating for white nationalism — permission to become a registered party, and the creation of the People's Party of Canada "with so many candidates and organizers exposed as bigots or full blown neo-Nazis that I've lost count," Balgord told HuffPost.
"Both are seen by the alt-right, neo-Nazi movement as vehicles to introduce whitewashed white supremacist talking points into the mainstream."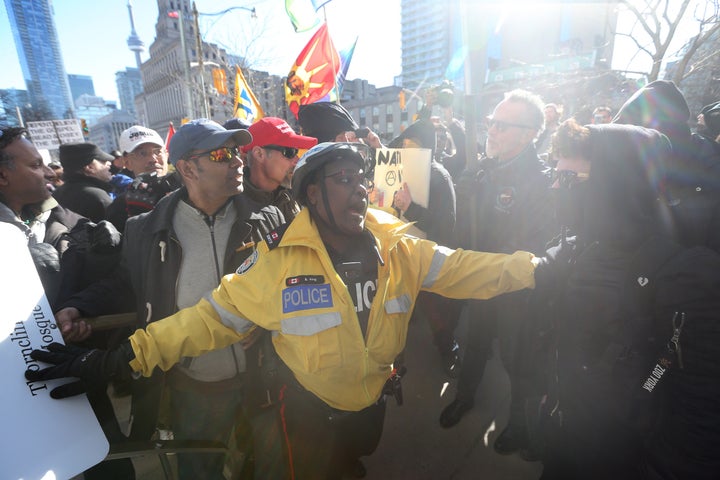 He said MP candidates should recognize that hate incidents are commonplace and under reported, and Canada has few tools to keep people safe from hateful individuals.
Balgord hopes if elected, the MPs champion solutions such as re-introducing a law that allows hate speech complaints to be dealt with through the Canadian Human Rights Tribunal, rather than the courts. Before the law was repealed in 2013, the tribunal could levy fines up to $10,000 and issue cease and desist orders.
Since her signs were defaced, Ludwig has researched the swastika symbol, and discovered the icon isn't banned in Canada, as it is in other countries. In Germany, for example, displaying Nazi symbols can result in a 3-year jail sentence.
She said if she's re-elected she will look to change Canada's rules.
Editor's note: This story has been updated with comments from Mariam Ishak and Evan Balgord.