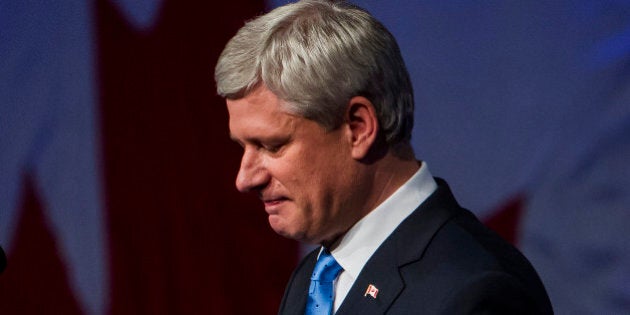 Well... the Harper decade is over.
Harper's concession speech almost seemed anti-climatic. Tonight's loss may have been anticipated by his team. It was not a devastating loss for the Conservatives. The Harper Conservatives did govern for almost a decade, an accomplishment considering how, during the minority mandates, it often seemed the Harper government would soon be defeated. Also, at roughly 100 seats, the Conservatives are a strong official opposition -- this is not a 1993-style wipeout by any stretch.
The Conservatives will live to fight another day.
Harper had fundamentally changed Canada with a militaristic approach to foreign policy and obstructing international agreements on climate change, leading to Canada being denied a seat on the UN Security Council.
Domestically there was a war on science with the cancelling of the mandatory long form census and the muzzling of scientists. The 2015 election campaign had been one where the Conservatives fostered racial division using the niqab and "barbaric cultural practices" as wedge issues, this is a change from a Canada where multiculturalism had been a consensus value across the spectrum from New Democrats, to Liberals, to Progressive Conservatives.
It was great that the victory speech of Prime Minister Elect Justin Trudeau signaled a clear break from Harper, with a speech where he emphasized the values of multiculturalism and diversity, spoke about a woman in hijab and denounced the politics of division. Given that one of Pierre Trudeau's iconic achievements was official multiculturalism, this was a fitting item to begin the second Trudeau era in Canadian politics. Could this be the beginning of a reset from Harper's changes? Was Harper an aberration rather than a long-term realignment of Canadian politics?
Also, what about all those predictions of the demise of the Liberal Party after the 2011 federal election? Whereas in many other western countries liberal parties were long ago supplanted by social democratic ones (Britain being one example), in Canada the Liberal Party continues to persist while the NDP seems back to its perpetual third party status (at least for now).
In the interests of full disclosure, I helped the campaigns of a couple of Liberal candidates in New Brunswick. In my home province, Tory strongholds like Fundy-Royal went Liberal. In New Brunswick-Southwest, controversial MP John Williamson was defeated with Karen Ludwig (a candidate I personally know along with her campaign manager) elected. Ludwig is someone who will be a strong voice for rural economic development.
In Greater Toronto, previously defeated MPs like Omar Alghabra, Mark Holland and Navdeep Bains were returned to Parliament.
This election spoke to a volatile electorate where the NDP went from contenders for power to third place, while the Liberals went from third to a majority government. Was 2011 an aberration? Was Harper's conservatism an aberration? Was the NDP breakthrough an aberration? Or is it a signal that the electorate, especially progressive voters, are especially volatile?
This would speak to an environment where Prime Minister Justin Trudeau cannot take anything for granted, where he must work hard to earn and maintain the trust of voters.
It was a surprisingly bad night for the NDP with many high-profile and capable MPs, Megan Leslie in Halifax being one example, going down in defeat. Capable candidates like Olivia Chow and Jennifer Hollett in Toronto also met defeat in tough Liberal-NDP races. However, while these results are disappointing to many partisan New Democrats, at least for progressives it was a good night in that Harper was defeated.
For the Green Party, Elizabeth May was re-elected but they did not elect more MPs. Though in my riding of Fredericton the Green candidate finished a strong third ahead of the NDP candidate who finished fourth (at the provincial-level the riding of Fredericton-South was the second provincial riding in the country -- in 2014 -- to elect a Green MLA).
The Green Party is an important voice for sustainable economic development so at least they are still represented and they have potential growth in places like Victoria and in Fredericton.
Something clear about this election, electoral reform is needed. It is unfortunate that so many voters were forced to choose between voting their conscience and voting for an option that they did not like but felt could get out Harper.
Hopefully the Liberals' majority mandate will not mean that electoral reform falls by the wayside. It is absurd that Canada has an electoral system where less than 40 per cent of the popular vote can mean a majority government and absolute control in Parliament. While in Atlantic Canada the Liberal sweep was stunning, the truth is not all Atlantic Canadians voted Liberal.
A minority Parliament could have been interesting, maybe a greater push for electoral reform and possibly coalition governments that could put Canada more in line with other Western democracies and be an improvement over 2008 when "coalition" was a dirty word.
Nonetheless, it is great that Harper is out and Justin Trudeau deserves to be given a chance to govern this country. Also, for all those who think Justin Trudeau will never be as great as his father -- did Pierre Trudeau ever take a political party from third to majority government?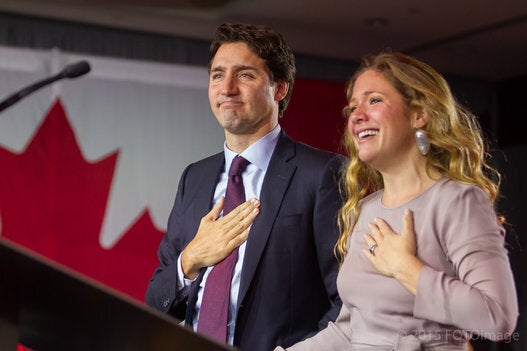 Soirée électorale
Popular in the Community