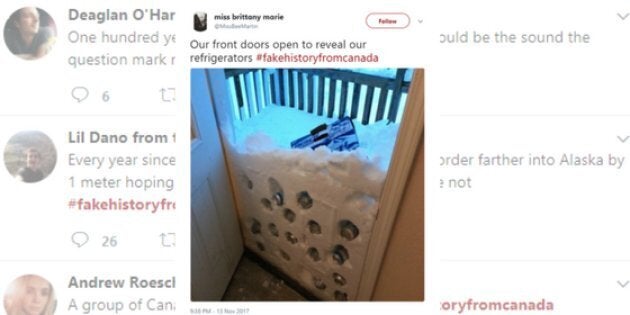 Poking fun at ourselves in a witty way, a nod to Canadiana, and a base understanding of historical facts?
Mustering the same enthusiasm we usually reserve for pub trivia nights, Canadians flocked to Twitter to add their own fake history to the canon. And the results prove what we already knew about ourselves: we are a country of hilarious geeks.
The tweets poked fun at our dialect, our borders, and our idiosyncrasies.
And our sports teams, our housing markets, and our climate.
Newfoundland and Labrador, in typical Canadian fashion, was the butt of several jokes.
And neither our most-treasured musicians nor our sweetest commodities were safe.
We Canadians seem to love laughing at ourselves as much as we love hot poutine on a cold night. Earlier in November, a Saskatchewan resident's tweet on Canadian courtesy in a grocery store went viral, and the Stats Canada twitter account— a satirical account that posts fake statistics — has more than 600,000 followers.
That's almost as many people as you'll find in a Tim Hortons drive-thru at 8 a.m. on a weekday.