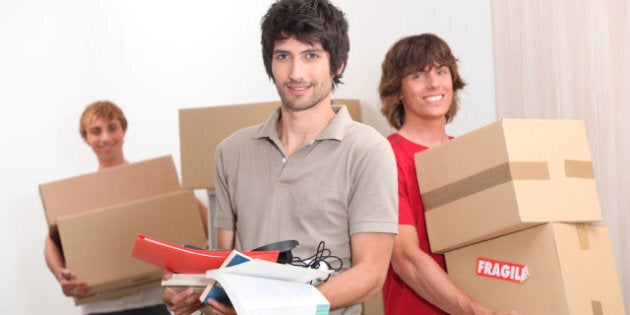 More and more young adults in Canada continue living under their families' roofs.
The report found that young adults stayed at home either because they never left their nests in the first place or returned after living somewhere else — most likely living near campuses for school. The proportion, however, is a slight drop from 2006 when at least 42.5 per cent of young adults were still living at home.
"I stayed at home because it was more cost efficient so I only had to pay for courses, books and transportation," Megan Gallant, a Toronto early childhood educator, told the Huffington Post Canada.
Still at home today, Gallant says she wanted to move out but didn't want to get sucked into pay high rent prices in Toronto. "It sucks of course being an adult and living at home, but I managed. I'm an only child and my parents would keep me home forever if they could, so no issues there," she said.
Gallant also got engaged recently, and says saving for her wedding and moving didn't go hand-in-hand. "I did have money saved up, then I got engaged, so all my money went to the wedding," she says. This move toward marriage actually runs counter to the Census 2011 findings, where more couples are in common-law relationships than getting married.
Like Gallant, more Canadian young adults found living at home a reasonable option to save for their futures. The report found that adults most likely lived with their parents for a source of emotional and financial support. However, other reasons for staying in the family home could include not being in a relationship, cultural preferences, the cost of housing, pursuit of higher education or finding a job in today's economy, Statistics Canada found.
Across Canada, the highest proportion of young adults living in their parental homes in 2011 was in Ontario with 50.6 per cent while Saskatchewan and Alberta had the lowest proportions.
When it came down to age, young adults in their early twenties were more likely to live at home compared to those in their later twenties. One of these 20-year-olds is Hinal Ghelani of Toronto.
"I live at home but my parents prefer it that way. I think I'd probably like to live on my own or at least move so that I'm closer to campus but it's cheaper and a cultural preference for my family," Ghelani says.
The census found that more men (47 per cent of them) in their twenties lived at home, compared to 38 per cent of women. Most of these young adults also had never been legally married, but 2.1 per cent also had a spouse or common-law partner at the parental home.
Are your young adults still living at home? Are you a 20-something still using your parents' laundry machine? Tell us your story in the comments below:
LOOK: Census 2012 Canadian highlights: