The United Nations and at least one NGO have called on Prime Minister Justin Trudeau to address water issues in Canada's First Nations, citing human rights and cultural reasons.
Human Rights Watch called on Canada to address the water advisories affecting more than 100 First Nations communities in a "dispatch" report on its website.
Senior researcher Amanda Klasing wrote that Trudeau promised during his federal election campaign to end these advisories within five years.
Canada defended its record in February at the United Nations, which wrapped up its 10-year review of the country's commitment to the International Covenant on Economic, Social and Cultural Rights.
Deputy chief Randy Fobister, told The Huffington Post Canada he attended the hearings to pressure Ottawa to help clearn mercury contamination in the water that has poisoned fish and caused chronic health problems in his community over the last 40 years.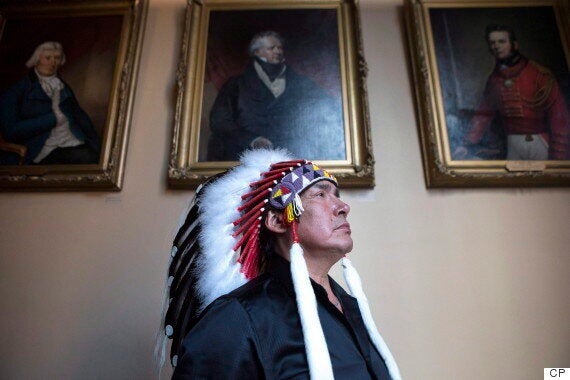 Grassy Narrows First Nation Chief Roger Fobister is pictured in front of portraits of former lieutenant-governors of Upper Canada which hang in the Ontario Legislature on Aug. 24 2015. (Photo: Chris Young/The Canadian Press)
"It's very frustrating when you know every day the [water treatment] plant is unsafe," he said, adding that it's a "basic right" to have safe and clean drinking water.
The UN report said First Nations do not have proper water regulations. It called on the government to respect economic rights to water and its cultural significance for First Nations peoples.
"We are water, and we need water to stay alive."
In 2010, the Ontario Native Women's Association collected reflections from 11 grandmothers about the sacred relationship indigenous peoples have to water.
Inuit woman Rhoda Innuksuk said if water cannot be used to bathe, people cannot stay healthy.
"We are water, and we need water to stay alive," she said.
Women in particular are "carriers of water," because women's bodies have the capacity to host and sustain the life force water represents.
"You can't have birth without water," Métis woman Maria Campbell said.
"That time between the spirit world and being born, you can't have that without water."
In February, a First Nation community in northwester Ontario called a state of emergency due to radioactive particles and higher than normal lead levels in its drinking water, according to APTN News.
"It's a very scary issue."
The community also has high cancer rates — believed to be linked to the water.
"It's a very scary issue," land manager Norma Girard told the news outlet.
"How many more of our people do we have to see suffer and die from cancer?"
Northwest Angle #33 has been handing out bottled water to residents since 2011, funded by "wherever we can find it," Girard said.
Residents have been relying on portable water-treatment facilities for the last 15 years, which were put in place at the time as a "temporary solution," she added.
Shoal Lake 40, an isolated reserve on the Manitoba-Ontario border, has been under a boil-water advisory for 18 years. Indigenous Affairs Minister Carolyn Bennett recently announced the community would be getting an all-weather road connecting the community to the mainland.
A company called Unique Foods Canada also announced last week it would be donating 30,000 bottles of its vitamin-enriched water to Shoal Lake 40, and to Six Nations First Nation in Ontario, according to Vice News.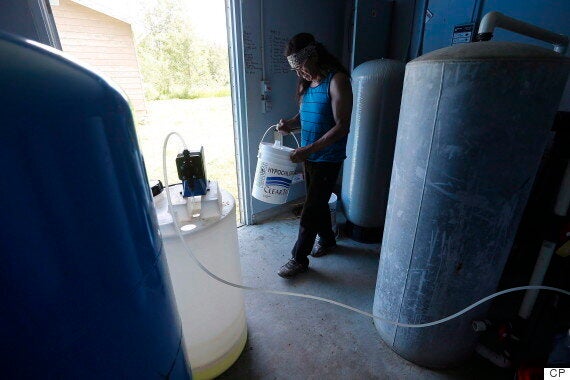 Kavin Redsky, Shoal Lake 40 First Nation water plant operator, prepares to treat water from the lake with chlorine in one of the community's ten water treatment plants. (Photo: John Woods/The Canadian Press)
Six Nations Chief Ava Hill said that community was grateful for the donation, but Daryl Redsky of Shoal Lake 40 says it isn't a long-term solution.
"Oh heck! So we don't need a water treatment plant, we'll just get water bottles sent," Redsky said. "It's a long-term benefit to the company, but it's not a long-term solution to our community."
First Nations peoples have also faced the threat of water privatization, or public-private partnerships between companies and the government, according to the Council of Canadians.
In 2006, the Department of Indian and Northern Affairs announced it would be pursuing partnerships with the private sector to upgrade infrastructure on reserves, after natural gas company Terasen Utilities created a new subsidiary called First Nations Utility Services.
The UN report called on Canada to live up to its commitment to ensure First Nations peoples have safe access to drinking water and to sanitation, while ensuring their participation in the managing process.
—With files from the Canadian Press, and The Huffington Post Canada's Althia Raj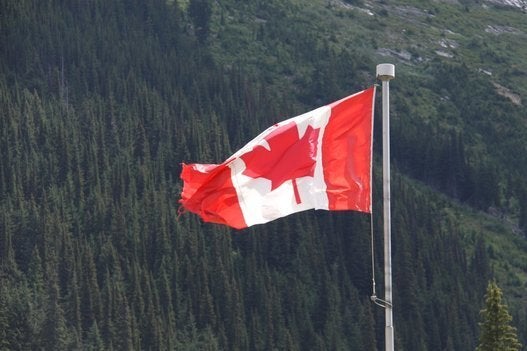 11 Facts About Canada's First Nations
Popular in the Community